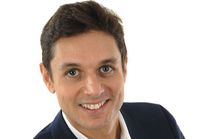 By Nathan Rao
Published: 13/09/2023
-
16:14
Updated: 13/09/2023
-
16:29
A near 500-mile stretch of American coast is braced for torrential rain, devastating winds and 'life-threatening' rip tides as 115mph Hurricane Lee flexes for impact.
The monster vortex was last week hurtling northwards clear of the US mainland before later weakening into a tropical storm.
---
However, a freak resurgence has seen Lee reawaken with a furious temper, turbo-boosted back into a category-3 hurricane and on a collision course with the American coast.
New England, Maine, the northern Leeward islands, the Virgin Islands, Puerto Rico, Hispaniola, the Turks the Bahamas, Bermuda and 'most of the US east coast' will be under threat through this week.
Weather Channel (IBM) meteorologist Domenica Davis said: "Lee is still a major hurricane, with winds 115mph, it is a category-3 storm.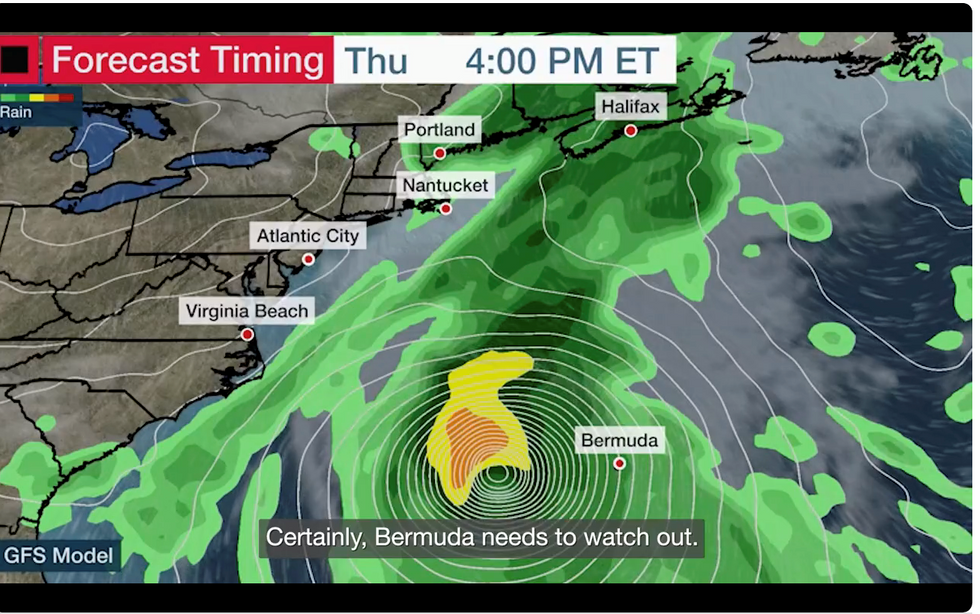 Hurricane Lee path along the US east Coast
The Weather Channel
"South-eastern New England you need to pay attention to the Lee forecast, and this is going to be important for you as we go into the weekend.
"The official National Hurricane Centre track is bringing this storm into the Gulf of Maine by this weekend.
"This will be a weakening system but how weak it will it be well we don't know that just yet."
Weather models disagree on the exact point of impact, although both American and global systems flag the US east coast.
MORE US WEATHER
US weather warning: Hurricane Margot forms in Atlantic as THREE mega storms head for America
US weather: East coast facing freak storm resurgence as Hurricane Lee returns
US weather: NFL season start at risk as freak weather triggered by heat dome and Hurricane Lee hits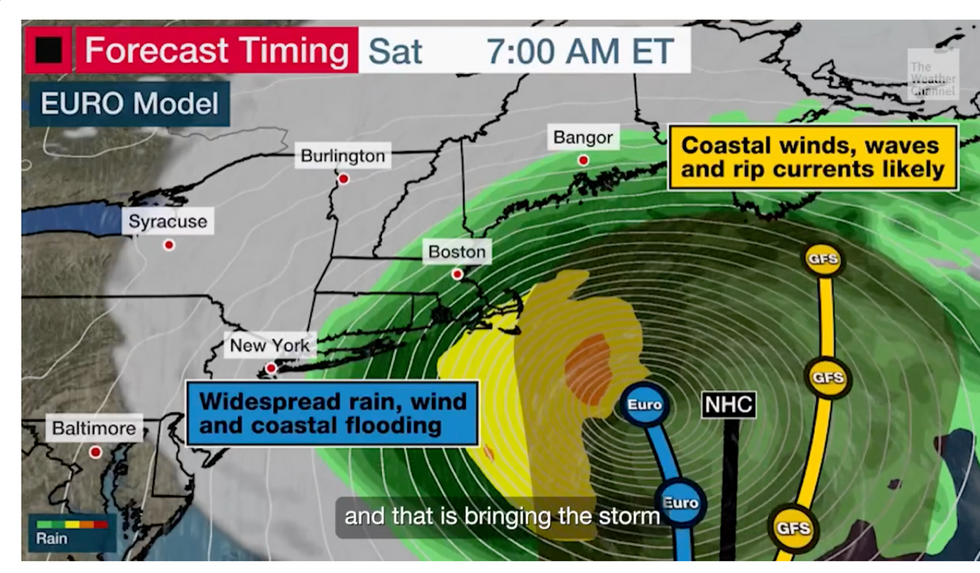 Weather models show Lee strengthening
The Weather Channel
The path prediction, or 'cone', of the storm had last week indicated that Lee would only brush State coastlines before heading to Newfoundland.
Ms Davis warned this weekend will bring the highest risk of impact from the storm which will include 'very dangerous' sea conditions.
She said: "What is interesting is that the cone is including south-eastern New England, so we are going to watch very closely this forecast.
"Bermuda needs to watch out but as we go through this weekend is when we expect to see some of the effects of this storm.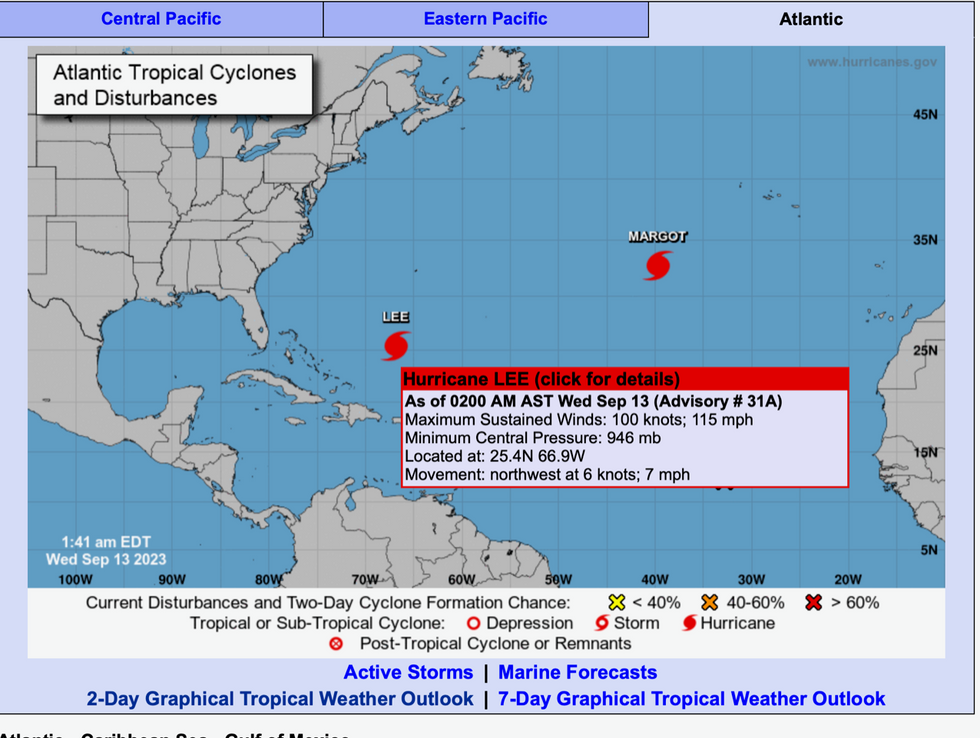 Hurricane Lee in the Atlantic
NOAA
"Regardless, what we are going to see all along the east coast is continued high surf and very dangerous rip tides."
In Lee's wake, another hurricane Margot is building strength and heading north-north-westwards in Atlantic waters.
A third low-pressure system off the coast of Africa has been flagged by the National Hurricane Centre (NOAA) with a 70-per-cent chance of building into a third tropical storm.
Jim Dale, US weather correspondent and meteorologist for British Weather Services, said: "These systems are currently queuing up in the Atlantic.
"Sea waters are unusually high at the moment, and this is giving these systems fuel to build, as we have seen with Lee and Margot.
"At the moment it is a waiting game, and in terms of where will see the impact of these storms, it is all to play for."
A spokesman for the NOAA said: "The National Hurricane Centre is issuing advisories on Hurricane Lee, located several hundred miles south of Bermuda, and on Hurricane Margot, located over the central subtropical Atlantic.
"A broad area of low pressure over the eastern tropical Atlantic continues to produce disorganized showers and thunderstorms.
"Gradual development of the low is expected after that and a tropical depression is likely to form by this weekend while the system moves west-north-westward or north-westward."