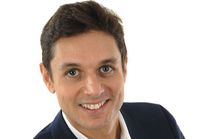 SIMMERING ocean waters have plunged America's hurricane season into 'unknown territory' as a battalion of mega-storms assembles in the Atlantic.

As Hurricane Lee continues its path towards the eastern seaboard, another hurricane – Margot ­– and a third potential storm have lined up in its wake.
---
The US National Hurricane Centre (NOAA) is watching Lee and newly formed Hurricane Margot in the mid-Atlantic, and a tropical disturbance ­– an organised pattern of thunderstorms in a hurricane zone with the potential to develop into a full-scale storm ­– off the west coast of Africa.
Margot, currently whipping up winds of 80mph, is expected to strengthen over the coming days to 90mph driven by sea waters steaming at an unusually high 28C.
It comes as Hurricane Lee, which was downgraded to a tropical storm at the weekend, underwent a sudden resurgence to a category-3 hurricane.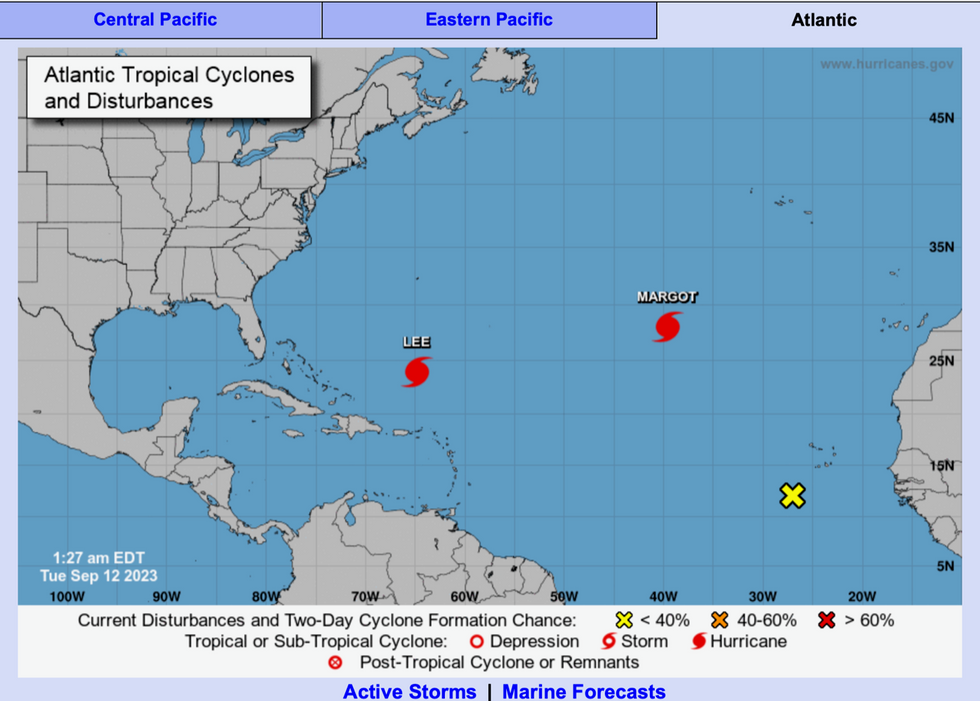 Three storms building in the Atlantic
NOAA
Jim Dale, US weather correspondent and meteorologist for British Weather Services, said: "We are now in unknown territory as to how these things forming in the Atlantic are going to materialise over the coming days.
"The warming of the ocean waters will fuel these systems, but it is difficult to predict exactly what they are going to do, whether they form into more severe storms and what track they take.
"After Lee there is Margot and another system that has formed, and it will be the high pressure over the US which determines, if these storms head to the US, how far they get inland and what impact they have.
"At the moment, it is helping to keep them at bay."
Increasing climatic temperatures leading to hotter oceans is thought to be behind an unusually active 2023 hurricane season.
In addition, storms are feared to be unusually potent, fuelled up by energy and moisture in the tropical waters.
The National Hurricane Centre said that Margot could hit 100mph in the next day as its 'inner core' intensifies over tropical waters.
A spokesman said: "Margot has continued to become better organized over the past several hours.
"Global models indicate that the upper-level tropospheric flow over Margot should be conducive for some more strengthening during the next 36 hours or so, with diffluent anticyclonic winds aloft over the system.
"The official intensity forecast is about the same as the previous one and remains close to the model consensus."
Hurricane Lee has once again roared into life threatening the eastern coast with a colossal sea surge and damaging winds.
The furious tempest has once again built into a 'major hurricane' hurtling with winds of 120mph towards Puerto Rico.
Bermuda, Canada and north-east America are all on alert for 'dangerous' tides and rip-currents.
Chris DeWeese spokesperson for The Weather Channel (IBM) said: "After weakening over the weekend and undergoing an eyewall replacement cycle, Hurricane Lee has restrengthened into a major hurricane with maximum sustained winds of 120 mph.
"The storm is forecast to move to the north of Puerto Rico and the Dominican Republic before atmospheric conditions cause it to take a northward turn over the western Atlantic around the middle of the week.
"Regardless of where it tracks over the next several days, the hurricane will send dangerous high surf and rip currents to the US East Coast all week."