Eamonn Holmes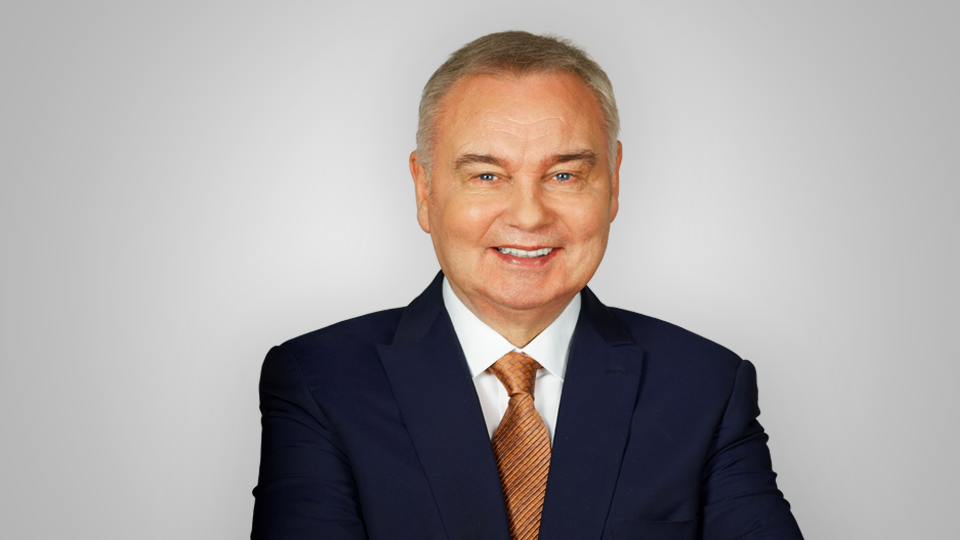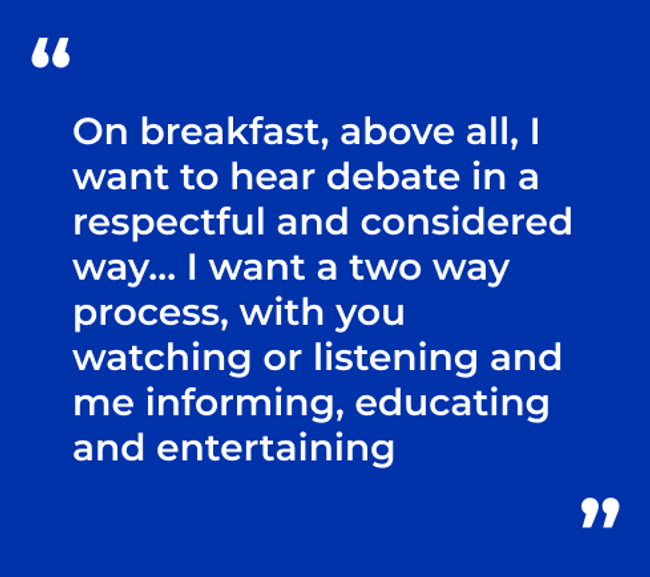 @EamonnHolmes
Why is working on a news programme so special?
News is what makes me buzz. I love lots of different types of broadcasting but there's something about news, especially when it's developing or breaking, that nothing else can beat.
Which presenters have had the biggest influence on you?
Sports anchors were my great heroes growing up. Desmond Lynam will always remain my broadcasting idol. He was always so calm under pressure. With the exception of Jeff Stelling on Soccer Saturday, those sorts of programmes and presenters don't exist anymore. But they will with me on GB News Breakfast.
What's the most important thing about Breakfast?
You need to wake up to something that you didn't know when you went to bed the night before. That's our job on The Breakfast Show. Be sure you are in good hands. It's what Isabel Webster and I do.
What do you enjoy most about working with Isabel?
We know each other's strengths, weaknesses and specialties. We can read each other. We want to bring you news that is relevant to you, that reflects what you care about and we want to listen to you as well. If it matters to you - it matters to us.
What style do you bring to GB News?
I'm simply myself. And I'd like to think 42 years on the telly hosting five day a week live television gives me your trust. It should be like getting on a plane and feeling safe with the pilot flying you, or the doctor operating on you in hospital. But I haven't stopped learning. Technology changes, society changes, the world changes and I know I am continually changing with it.GB News Breakfast aims to be new and exciting, yet also cosily familiar.
Some people have criticised you for joining GB News. What's your message to them?
Don't go by what you read or hear. Trust us by what we do and how we do it. I want to hear debate, differences, even dissent. But on Breakfast, above all, I want to hear it debated respectfully and in a considered way. I always bring you news and views but most of all I want a two-way process, with you watching or listening, and me informing, educating and entertaining. I'll not offer you a shouty Breakfast but I'm serious when appropriate. News is a serious business but it doesn't mean we all can't smile sometimes as well.
Outside of work, what matters to you most?
Sleep! But if I'm not sleeping - keeping my family bonds alive and relevant. Two of my four children live in Belfast as does my (so far) only grandchild. My mother who is 93 is there too, as are my four brothers. That stretch of water separates me from a lot of people who are important to me and it also separates me from a parallel life. So it matters to me to be in Belfast. So, that's where you'll usually find me if I've gone missing.
What are you most proud of yourself for?
I was taught at school that pride is a sin! I've always tried to do the right thing but so have most folk. I think that's an answer for others...
What makes you angry?
Bullying. And people in the public eye who pretend to be one thing and are exactly the opposite. Our disrespect as a society towards the elderly leaves a lot to be desired as well. The abuse of animals, litter louts and fly tippers also bring out the worst in me.
The best and worst advice you've ever been given?
Work in Breakfast TV and you'll have your rent paid by 9am was the best.
What job would you be doing if you weren't on TV?
I suspect I'd be a publican running my own bar or a PE teacher...or both !Motto you live life by?I believe the harder you work, the luckier you are likely to be.
What makes Britain great?
So many things! Community, newspapers - even the bad ones are interesting, educational or entertaining. TV and radio, the Royal Mail, football at all levels, farms and the amazing NHS.