Published: 18/09/2023
-
10:02
Updated: 18/09/2023
-
10:54
GB News presenter Mark Dolan has blasted the judgement culture surrounding actor and comedian Russell Brand, following allegations of sexual assault, rape, and mental abuse.
The claims came to light following an expose documentary, Dispatches, made by the broadcaster Channel 4.
---
The 90-minute programme, named Russell Brand: In Plain Sight, aired on Saturday night and brought to light a series of allegations against the 48-year-old British star.
Speaking on his GB News show, Mark Dolan tonight, the presenter discussed the case after four women, including one who was 16 at the time, alleged sexual assaults occurred between 2006 and 2013, while Brand was working for BBC Radio 2 and Channel 4.
WATCH MARK'S BIG OPINION BELOW:
​Mark said: "We've got to do something about what the internet and social media in particular is doing to us as a species.
"A case in point is the devastating and horrific set of allegations against the actor and comedian Russell Brand, allegations that could barely be more egregious, rape, sexual assault and mental abuse.
"In a previous era, these allegations would be investigated by the authorities and you would hope that justice would prevail either way."
Dolan continued: "Now, I don't have a clue what's going on with this Russell Brand story, and neither do most of us. But it hasn't stopped scores of people on social media weighing in on either side, with Brand supporters calling him the victim of an establishment media deep state stitch up and others celebrating what they perceive to be this famously womanising narcissist receiving his just desserts.
"It strikes me as deeply wrong to take either view. These are human beings.
"We're talking about Russell Brand himself, who denies the allegations, and his alleged victims, whose harrowing stories were told in a compelling, well researched and fastidiously executed Channel 4 documentary.
"Not to mention the bold journalism of the Times and The Sunday Times. I agree with my friend and excellent colleague Emily Carver, who struck the middle ground just right in what is emerging as yet another ridiculous culture war."
Russell Brand took to social media ahead of the premiere of the Channel 4 programme, posting a video statement in which he said he was facing a "litany of extremely egregious and aggressive attacks".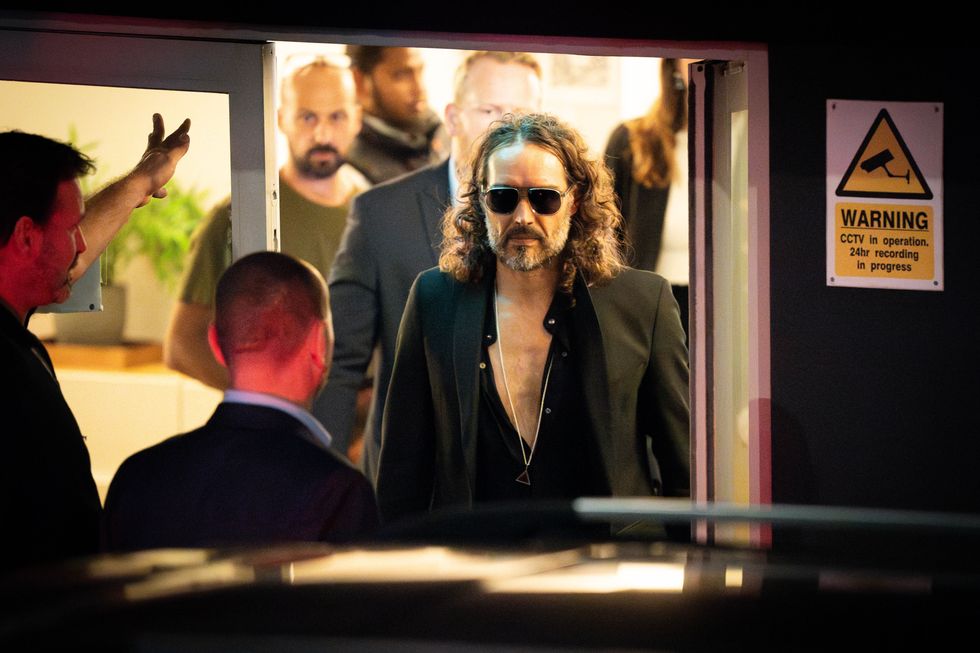 Russell Brand leaves his Wembley comedy show following allegations of sexual assault
PA
He added that all of his relationships have been "consensual" and accused the media of a "co-ordinated attack".
Mark Dolan concluded his take on the allegations, saying: "So here's what I've got to say. Calm down everyone. Stop taking sides.
"Let's have a proper police investigation and due process. Let the alleged victims be heard in relation to those devastating allegations and let Brand himself be innocent until proven guilty as enshrined in Habeas Corpus of 1166.
"Yes, that law module at uni wasn't a complete waste of time. The only goal here is not point scoring on Twitter or Instagram, but the truth and justice for all."