By Jack Otway
Published: 14/09/2023
-
12:57
Updated: 14/09/2023
-
15:17
American sports coach Kim Russell has been removed from her position at Oberlin College in Ohio.
Russell has been at loggerheads with Oberlin officials ever since posting her personal viewpoint on transgender swimmer Lia Thomas.
---
Thomas caused controversy by winning an NCAA championship in March last year, with the 24-year-old competing against biological women.
Russell reacted to Thomas' triumph by responding to a post that congratulated Emma Weyant, who came second.
🆕BREAKING: Head Women's Lacrosse Coach at Oberlin College is breaking her silence in an @IWF documentary after being "burned at the stake" for her support of single-sex sports & speaking out against allowing men in women's sports. https://t.co/n1MPhiM4D5 pic.twitter.com/WgD57sAYxR

— Independent Women's Forum (@IWF) August 29, 2023
The post said: "Congratulations to Emma Weyant, the real woman who won the NCAA 500-yard freestyle event."
Russell responded by saying: "What do you believe? I can't be quiet on this...
"I've spent my life playing sports, starting and coaching sports programs for girls and women."
And Russell, in a short documentary released by the Independent Women's forum, has claimed she was 'stoned and hanged' for her views.
"People [were] saying, "'A transwoman is a woman. How can you not think that?'
"I had prepared myself emotionally because I knew what was coming.
"I felt like I was burned at the stake. I felt like I was stoned and hanged all at the same time."
She added: "I really believe that women should be competing against other biological females."
In a separate interview with Fox News, Russell said she'd been removed from her position as women's lacrosse coach.
"I have been taken out of the role of coach, which is what I have done for 27 years," she said.
"I have been asked to take a role as Employee Wellness Program manager, which would have no contact with students and be creating things, which is paperwork."
Russell also claims individuals at the school have told her she is 'filled with hate'.
Creg Jantz, senior associate director of athletics, apparently told her: "It's acceptable to have your own opinions, but when they go against Oberlin College's beliefs, it's a problem for your employment."
Natalie Winkelfoos, associate vice president of athletics, allegedly said: "Unfortunately, you fall into the category of people that are kind of filled with hate in the world."
Russell added: "I did speak to the athletic director as she presented me with the new role they have offered me.
"Originally I was told all of these things, that I fall into a group of hate, that people are calling me transphobic, transgressive and unsafe.
"My office was a place of solace, a place where people could come and cry, and be loved and get support.
"I have just been blown away by the continued increase in biological males playing in women's and girls sports.
"I am so passionate about this because the reason we have these opportunities to play and coach is because of the women who came before me, who fought for us to have these opportunities.
"I don't think the younger generation understand that these opportunities weren't here years ago."
LATEST DEVELOPMENTS: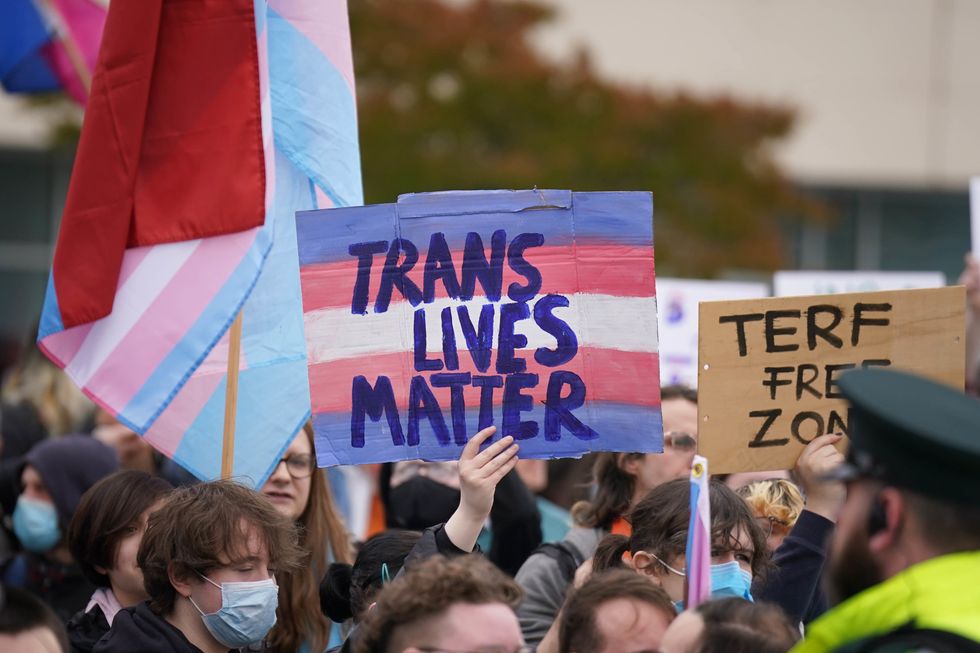 The Trans community support Lia Thomas and her participation in sport
PA
Meanwhile, Riley Gaines recently said that Thomas was given preferential treatment for being trans.
She alleges her 24-year-old rival was allowed to pose with a trophy for a photoshoot, much to her own displeasure.
"When they reduce everything we had worked our entire lives for down to a photo op. I knew I was done waiting for someone else to stick up for us," she said.