By Felix Reeves
Published: 19/09/2023
-
12:21
Updated: 19/09/2023
-
14:44
Drivers are being warned that they could receive huge fines if they drive at 26mph in the controversial new 20mph speed limits.
GoSafe, the Welsh road casualty reduction partnership, announced it would be applying the National Police Chief's Council (NPCC) guidelines.
---
The standard designation for this enforcement threshold is for drivers to stick to 10 per cent plus 2mph.
However, while the public gets used to the change in the new default limit, Chief Police Officers have upped the limit to 10 per cent plus 4mph on 20mph speed roads.
This means police officers can begin to prosecute drivers if they drive 26mph in a 20mph limit, after the new laws were introduced on restricted roads on September 17.
Responding to the new threshold, Welsh Conservative Shadow Transport Minister, Natasha Asghar MS, called
She said: "For Labour's Deputy Minister to continuously highlight safety as the primary reason for the blanket change, yet set the threshold for prosecution at 26mph sends a mixed message.
"This whole policy has been a disaster from start to finish, the lack of consultation, the poor advertising campaign and the public outcry leading to a petition amassing 150,000 signatures, all highlighting that the Labour Government simply don't know what they're doing.
Natasha Asghar MS also commented on the petition, saying: "For more than 150,000 people to sign a petition within such a short space of time highlights the extent of public outrage towards Labour's disastrous policy.
"Labour and Plaid Cymru have refused to listen to public opinion and are continuing to wage their anti-worker, anti-road and anti-motorist agenda."
The Member of the Senedd for South East Wales said that Labour could still U-turn on their "disastrous rollout".
She said this would deliver what Wales wants by scrapping the new 20mph speed limits across the country.
LATEST DEVELOPMENTS: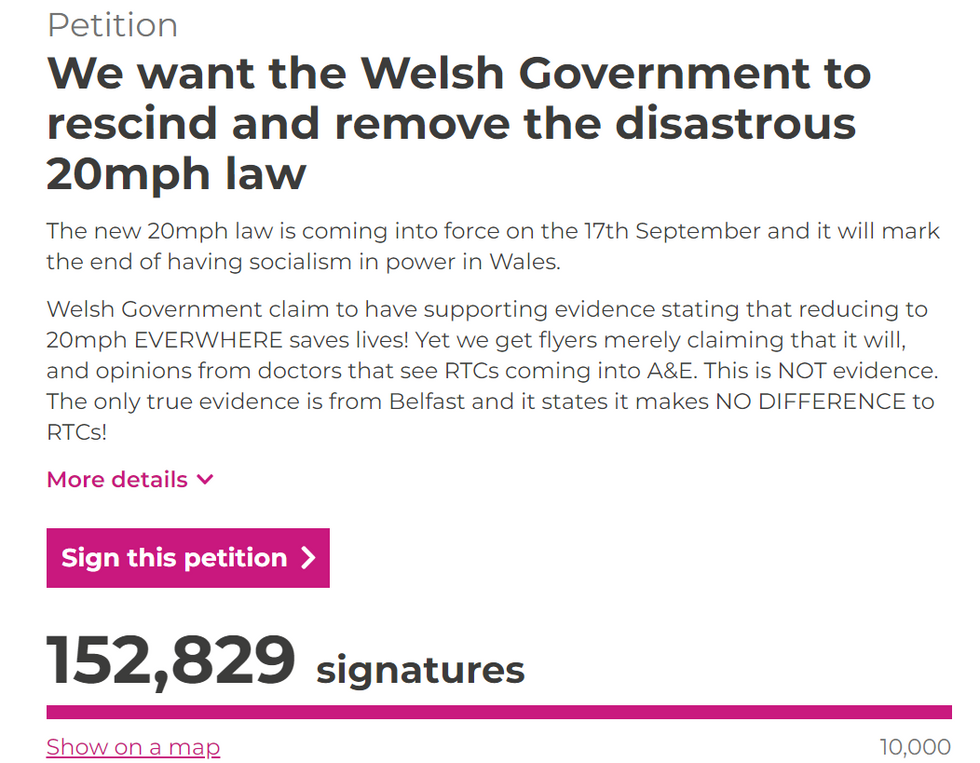 The petition has collected more than 150,000 signatures
Senedd Petitions
She concluded, saying: "With little to no consultation from the public, the people of Wales are using this petition to send a clear message to Labour in Cardiff Bay – they have had enough of this socialist agenda and are tired of being dictated to."