Eamonn's stance on the ongoing situation in schools comes after Children's Commissioner Dame Rachel de Souza publicly criticised the government over its decision to delay issuing guidance about trans pupils.
Headteachers and schools have been left in limbo and to use their own devices when it comes to the issue, which prompted de Souza to tell the Telegraph: "I think this has got to be one of the most challenging issues for heads...

---
"It's a fast-emerging issue and I think nobody feels that they don't want to support any individual or any child, but they also feel strongly about needing clarity over safeguarding issues."
De Souza's comments made the front page of the aforementioned publication and became the centre of discussion between Eamonn and Isabel Webster alongside their Breakfast guests Emma Burnell and Freddy Gray.
Burnell kicked of the discussion as she read aloud: "The children's commissioner Rachel de Souza has blasted the government because whatever position you take over the various complexities around trans children, what schools are crying out for is clear guidance so they know what to do.
"At the moment, it'll be down to individual headteachers, that then allows for schools to behave in really different ways which gives parents no understanding of what they can and can't expect in a school.
"And this (guidance) has been delayed again! It was supposed to come out before the summer term, it didn't. It was then supposed to come out last week, it didn't.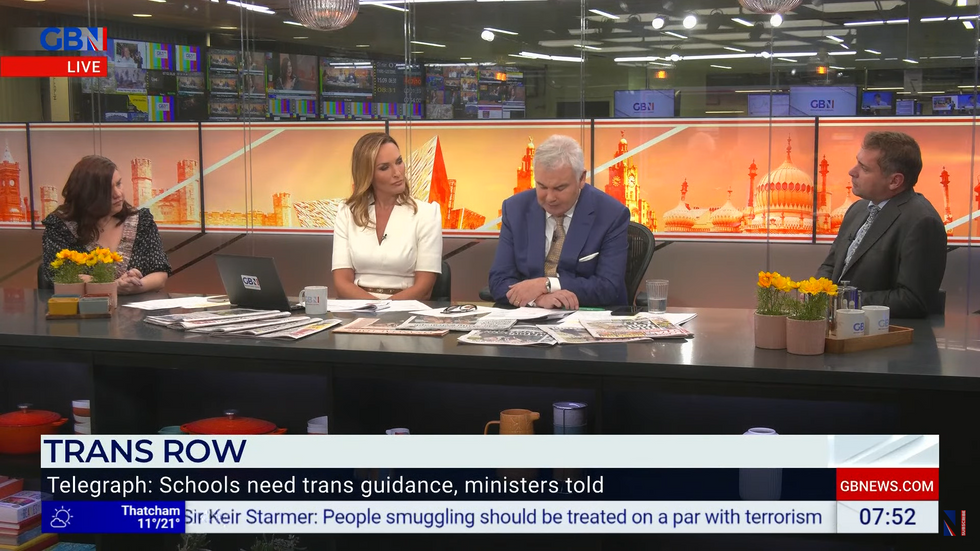 The GB News Breakfast panel discussed the delay of government's guidance
GB NEWS
"And I think the problem teachers have is they just need to know what they can and can't do, what they should and shouldn't do, and how to behave according to guidance.
"Then, if parents come to them and say they'd rather you didn't behave like this, they can then go back and say, 'This is what the guidance is!'"
Eamonn weighed in to share his thoughts as he mused: "Is a lot of this not just overindulgence of little people who shouldn't really be listened to? "I'm just trying to say, all our time in school, we spend 14 years in school.
"I never once came across anybody who had a transgender issue and now everybody has a transgender issue."
"What's the difference? What's changed?" Eamonn asked.
Burnell then explained there were "different and opposing" theories as to why the number of trans students is on the rise.
She cited that the fact people are more "accepting" nowadays has paved the way for people to be more open about their self-identity.
But she also tabled the argument that it's a result of a "social contagion" and that "it's the current thing to be and it's cool".
She continued: "There is also a significant concern, particularly from the feminist side of the argument, that young girls are under so much more pressure now than they ever have been.
"And it's actually just not much fun being a pubertal young girl so why on earth wouldn't you identify out of it if you could?"
Eamonn waded back in as he explained: "You see, I think there's certain things... I totally understand the turmoil and torment that a lot of people will go through with this.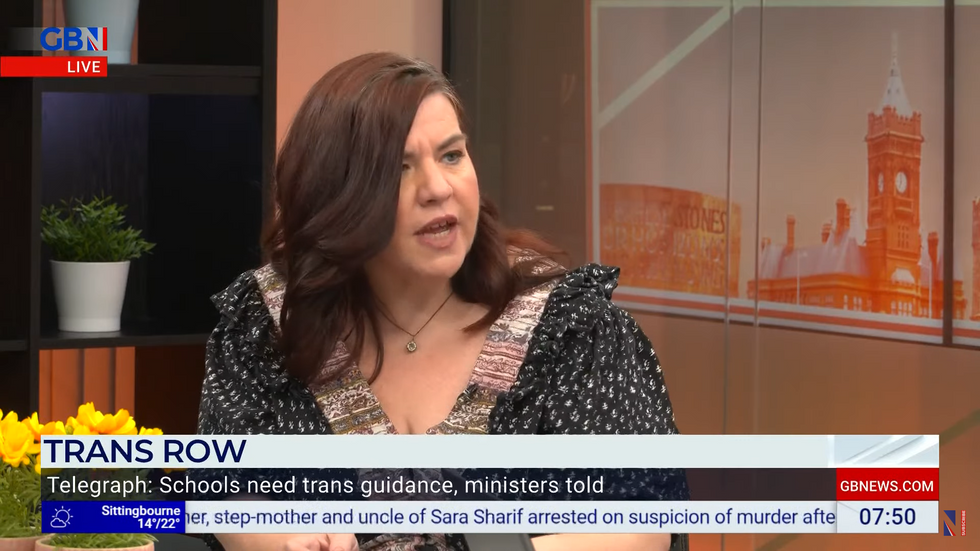 Emma Burnell joined Eamonn and Isabel on the show
GB NEWS
"But genuinely, if I was a teacher and some kid came to me and said, 'I'm identifying as a bunny rabbit or a cat or whatever'...
"I think I would just say the following word, 'Detention!' That would be it."
Burnell brought the discussion to a close as she clarified: "I mean, I think we need to separate the weird stories about cats which, frankly, is probably a 14-year-old being a 14-year-old, they're pushing it, that's what 14-year-olds do, they push boundaries.
"We need to separate out the, 'I'm a bunny rabbit. I'm a cat', from people - it does exist, it's a very small percentage of people who are identifying as actually trans but they do exist."