By Alex Davies
Published: 13/09/2023
-
08:59
Updated: 13/09/2023
-
09:43
Gareth Southgate's England team secured a 3-1 victory over fierce rivals Scotland in a friendly match thanks to goals from Phil Foden, Jude Bellingham and Harry Kane.
The Scots did manage to bag a consolation goal but rather than one of their own players scoring, it was England centre-back Harry Maguire who ended up inadvertently putting the ball in his own net.

---
The incident only adds to the dismay Maguire has been experiencing of late, having been stripped of the Manchester United captaincy and finding his starting spot in the United team all but non-existent.
However, the 30-year-old has been supported publicly by GB News' Eamonn Holmes who slammed the current vitriol and hostility being levelled at the footballer.
The Breakfast with Eamonn and Isabel host welcomed sports reporter Paul Coyte onto Wednesday's show where they discussed Maguire's performance and the criticism thrown his way.
"I'll tell you what's bad, the match last night - I really felt for him," Eamonn began. "As if things weren't bad enough for Harry Maguire.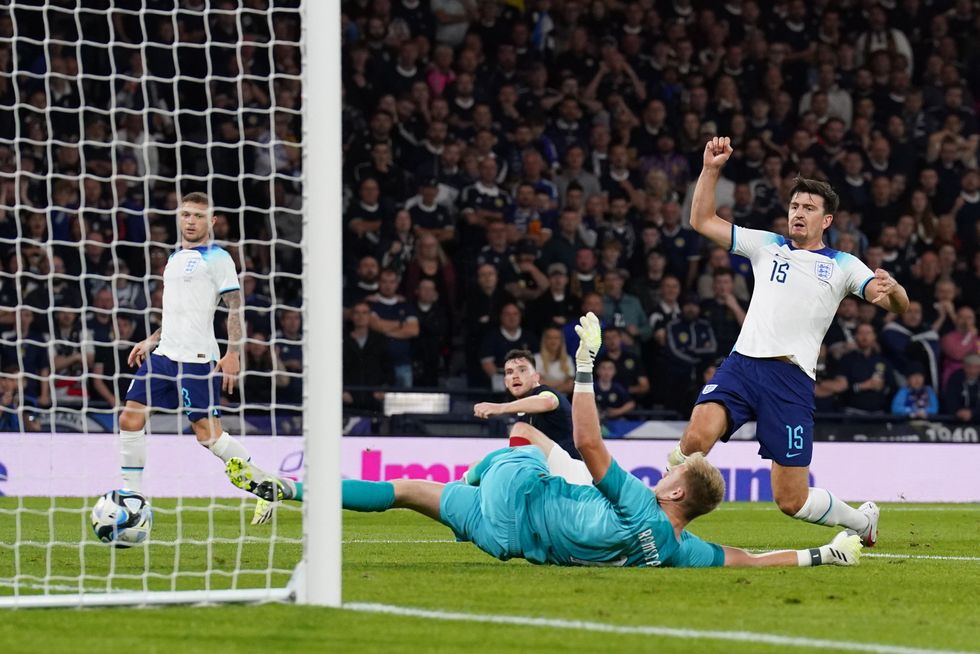 Harry Maguire scores an own goal against Scotland during England's 3-1 win
PA
"He can't hold down a place at club level for Man United, Southgate stands by him for England, and then the own goal!"
Coyte weighed in to agree it was "unfortunate" as he explained: "I mean, England played really well, 2-0 at half time and then Marc Guehi goes off and on comes Harry Maguire.
"Now, Scottish fans, surprise, surprise, they're giving him a tough time - which as an away (player), is understandable."
"But it's just not what he needs," Coyte continued. "And then to make it 2-1, own goal, sticks his foot out and balls goes in the back of the net... it's the last thing Harry Maguire needs.
"You know, he's the most expensive defender ever, he's taunted.
"Gareth Southgate was saying that the treatment that he's had has been a joke, it's been bad," Coyte added to which Eamonn interjected: "I agree."
When Coyte then pointed out that the negativity aimed at Maguire comes from both the fans and the press, Eamonn let loose.
Exposing the hypocrisy of many, Eamonn hit out: "Do you know, they all talk - everybody goes on about how they care about mental health, #BeKind...
"I mean seriously, there's some footballers who just get abuse above beyond - just my view," he clarified.
Looking ahead, Eamonn added: "I think it's a difficult situation for him going ahead."
Coyte agreed: "I think it's one thing when away fans do it but when it's your own fans which he's had, you think, 'What on earth?'"
"He should've taken the move to West Ham," Eamonn suggested to which Coyte mused: "There's talk about this, whether it was down to money..."
"It was," Eamonn claimed as Coyte continued: "He should've gone! He should've gone for a fresh start because let's face it, he's not starting for Man United...
"It is a bizarre situation (when) you're not playing for your club team but playing for England still - but he's done okay for England.
"It's an unfortunate thing when you've got 60,000 fans booing you - it's not great."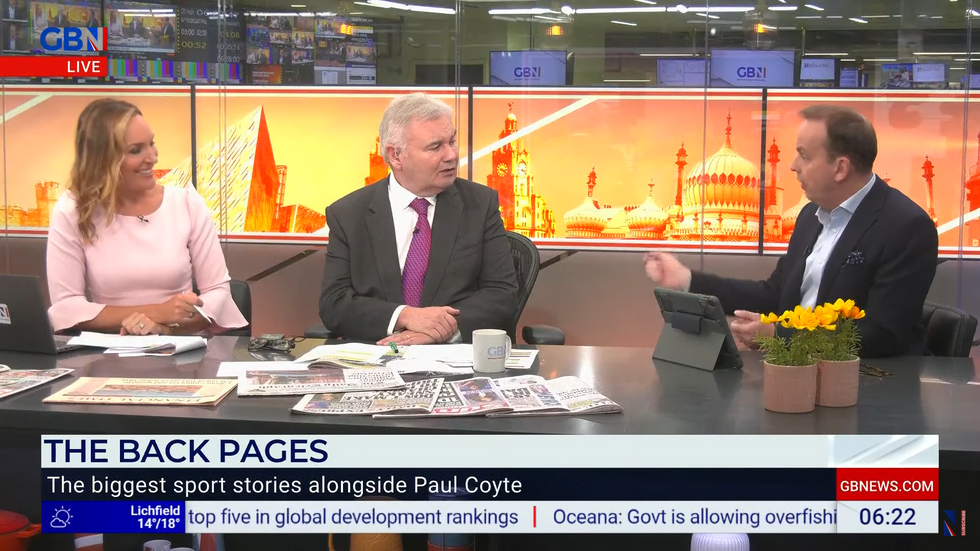 Eamonn and Isabel spoke to Paul Coyte about the match
GB NEWS
Bringing the discussion to a close, Eamonn quipped: "Well, we know what that's like."
Eamonn isn't alone in his support for the defender as Southgate unleashed a passionate defence of the player after the Scotland match.
Southgate branded Maguire an "incredible" player before he commented on the abuse aimed his way: "We allow him to be open to that? It's a joke; an absolute joke. It makes me livid.
"Thankfully he's got the support of the dressing room and the people behind him. I thought the England fans in the stadium tonight were absolutely brilliant.
"I've no problem with the Scotland fans - they're having fun. But what stirs that up is people in our own country. Other players will think, 'Is that what awaits us?'
"Great credit to him that he managed to show the composure with the ball, keep the ball and put that moment behind him," he added to Sky Sports News.