Published: 01/09/2023
-
12:50
Updated: 01/09/2023
-
13:02
The Met Office have issued a lightning warning as they predict the UK will be hammered with rain.
Thunderstorms will rock the East of England over a six-hour window affecting large areas of Kent and Suffolk.
---
The Met Office warns heavy showers and thunderstorms are likely to impact travel this afternoon.
According to the weather agency, "there is a good chance driving conditions will be affected by spray, standing water and/or hail, leading to longer journey times by car and bus."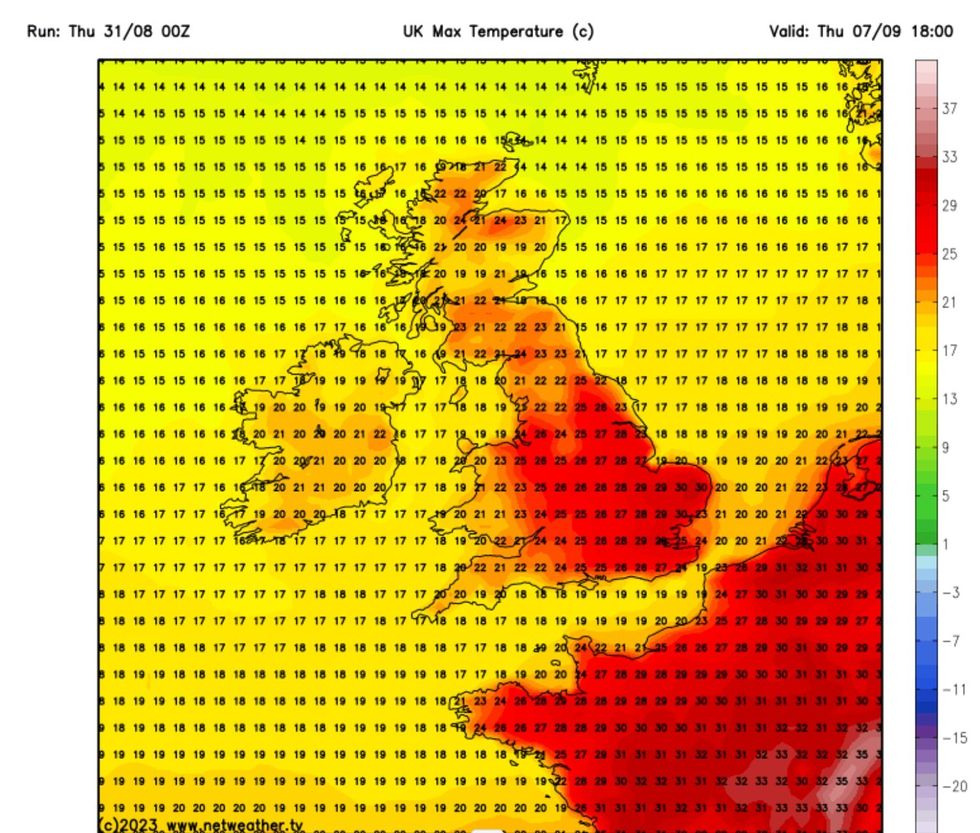 Netweather map showing max temperatures for 07 SeptemberNetweather
They continued to add that there could be delays to train services and possible damage to buildings due to lightning strikes.
Flooding can also not be ruled out in areas where rain falls the hardest.
The latest Met Office warning comes as temperatures across Britain are expected to soar back into the mid-twenties.
An Iberian plume will bring highs of up to 28C by the middle of next week according to some weather reports.
Temperatures could start to see a turn in as little as 48 hours and are expected to last through the end of the week.
According to the Met Office a couple of factors are responsible for the upcoming heatwave - the week many of the schools go back.
"Firstly, the jet stream – which has been delivering largely unsettled spells of weather to the UK – is continuing to shift north, allowing higher pressure to build widely across the UK during the weekend and into next week," the Met Office wrote.
"Secondly, the influence of former tropical cyclone Franklin is continuing to move into the north Atlantic, amplifying the build-up of high pressure."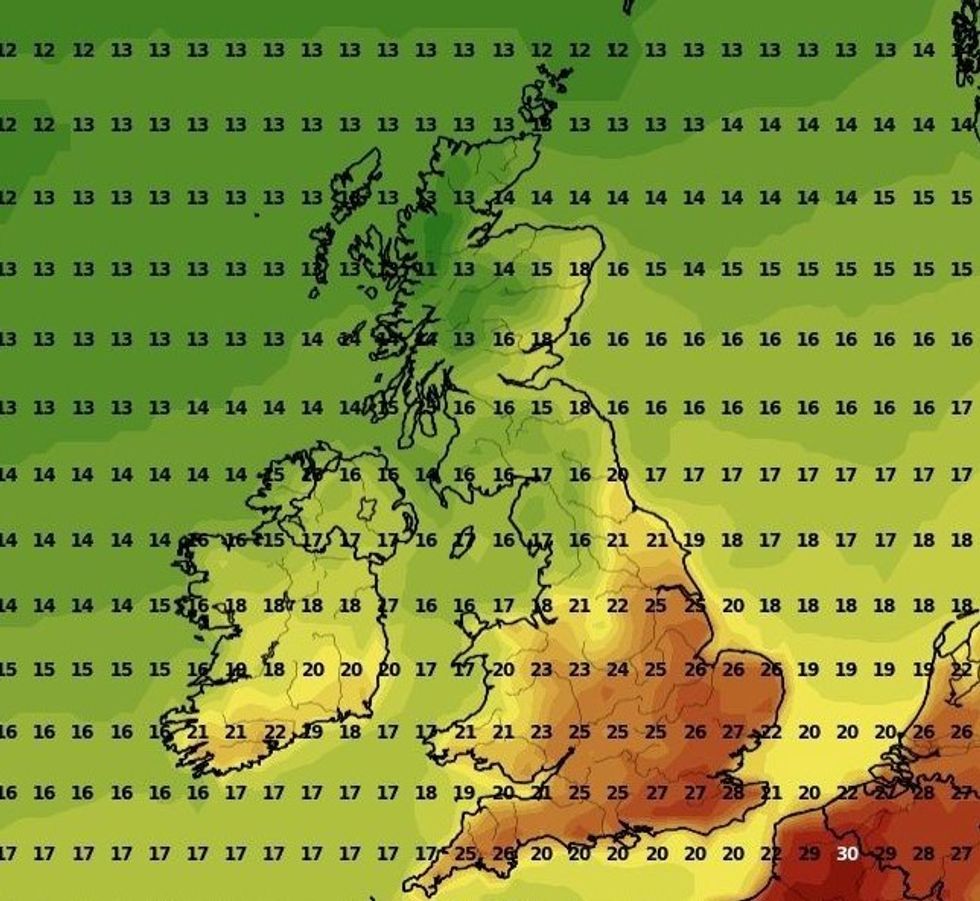 Parts of the UK will be hotter than BarcelonaNetweather
Met Office Deputy Chief Meteorologist, Chris Bulmer, said: "As high pressure becomes established from this weekend, fine and settled conditions will develop and along with this we will see a rise in temperature across most parts of the UK next week.
"Many places can expect to see maximum temperatures rise to 25C or above for several days, which would bring some locations into the realm of heatwave conditions.
"Although the highest temperatures are likely to be in the south and east of England, these areas also have higher temperature thresholds for heatwave conditions to be declared.
"So, while some areas may just miss out on the actual definition, regardless of thresholds, many areas will enjoy a fine period of weather with plenty of sunshine and temperatures are likely to be the highest for many since June or early July."