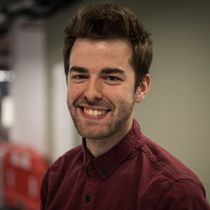 By Carl Bennett
Published: 11/03/2023
-
00:00
Updated: 11/03/2023
-
23:02
Jeremy Hunt has vowed to put growing the economy at the heart of his economic plans.

Speaking exclusively to GB News ahead of the Budget, the Chancellor also suggested he remained committed to previous promises of bringing corporation tax down to 15 per cent.
---
Hunt spoke with GB News' Esther McVey and Philip Davies, where he opened up on his tax cut proposals.
Explaining how he plans to put growth at the centre of his strategy, Hunt told this broadcaster: "We need to be growing as an economy. When your growth slows down, your tax receipts come down and that creates enormous pressure.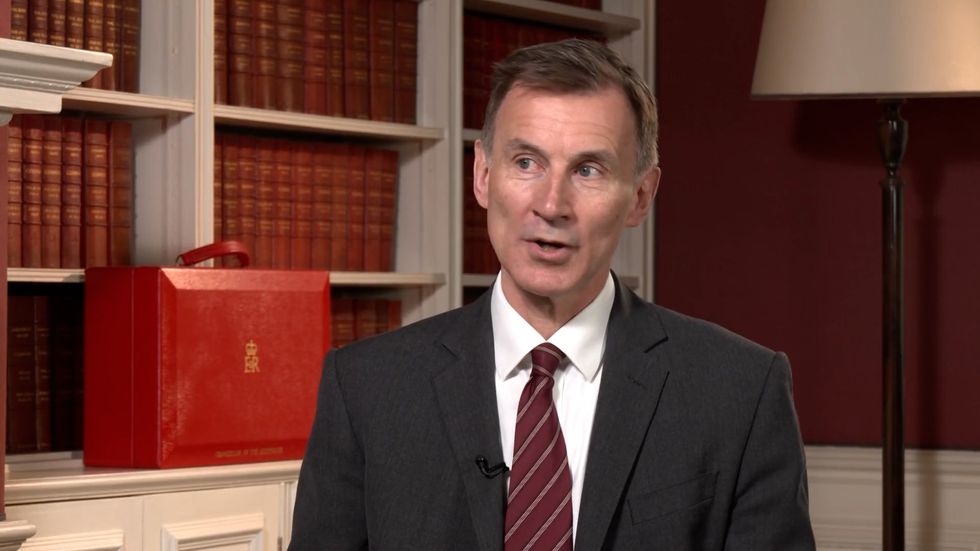 Jeremy Hunt speaking with GB News
GB News
"If you want to carry on spending the same amounts that you've been spending previously on things like the NHS.
"What I had to do when I arrived in November was to stabilise the ship. We had a very worrying situation, as far as the markets are concerned.
"Businesses were worried about whether they could invest for the future and we had a very big inflation problem.
"People needed to see that we had a path to sound money and lower inflation. So that was the job in November."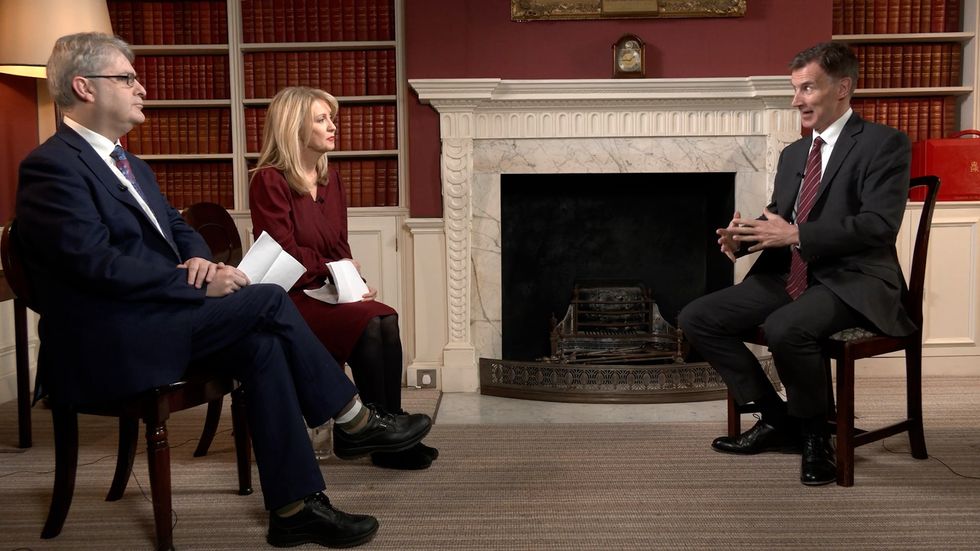 Jeremy Hunt speaking with Esther & Phil on GB News
GB News
Hunt added: "If we want to keep taxes down, as I do very strongly, then we now need to have a path to growth, not just growth that's bouncing back but proper, sustainable long term healthy growth."
Pressed on whether he was ashamed at the current levels of taxation he said: "It's not what I want at all.
"But, by the way, Liz Truss was right to say that the central question is how we deliver growth. Where I think the mini budget was wrong was to say you can borrow to cut taxes, because that's not sustainable.
"That's not money that you've actually got, that's money you're borrowing and so if we're going to cut taxes permanently, then it needs to be a tax cut that we earn, through higher growth and the first step is stability. And for stability, you need responsible public finances. And that's why we made some very difficult decisions.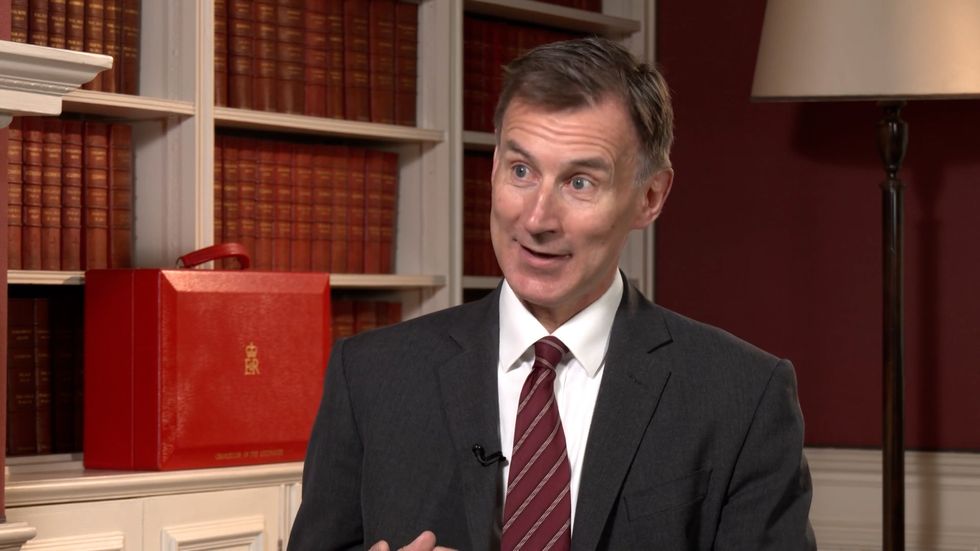 Jeremy Hunt speaking with GB News
GB News
The measures in the Chancellor's autumn statement in November saw the tax burden rise to its highest sustained level since the Second World War.
Better-than-expected growth data released yesterday also showed the economy's fundamentals are strong, raising the hopes Britain could avoid recession in 2023.

But Hunt said that it was important to now be "responsible" on what happens next.
He said: "We did increase taxes, we actually cut spending by more than we increased taxes in the Autumn Statement. So it was a very, very difficult statement. What we now have is a responsible outlook for public finances. The markets have recognised that by bringing down mortgage rates, interest rates, and we're on track to bring inflation down.
"But if you're saying to me, as a Conservative Chancellor, do I want to bring down taxes? Well, I want to bring down personal taxes, because that is at the heart of what being a conservative is but I want to bring down business taxes even more."
xBritain's inflation rate is widely expected to fall as the impact of last year's surge in energy prices fades.
The Bank of England forecast last month that inflation would fall to 3.0 per cent in 12 months' time, down from 10.1 per cent in January.
Pressed on his previous pledge over the summer to get corporation tax down to 15 per cent he said: "I think I was right, in what I wanted to do then, which is for Britain to have the most competitive business tax levels of anywhere.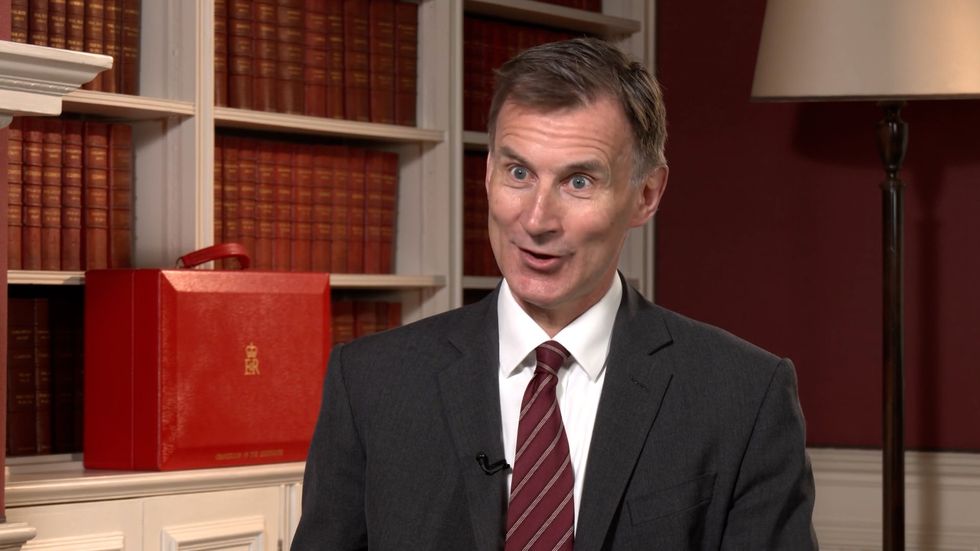 Jeremy Hunt speaking with GB News
GB News
"So that is fundamentally extremely important, because the Conservative insight is that you need to grow the economy, if you're going to have money to spend on all the things we care about and keep taxes low. And we are fundamentally the party of the economy.
"I think that if I was going, and I'm not going to have another leadership campaign, the argument I would have made is that we need to have the lowest effective corporation taxes.
"The headline rate, which by the way, even at 25 per cent, is lower than nearly all our major rivals, you know, France, Germany, and so on.
"Now one of the ways that George Osborne reduced corporation tax headline rates was that he got rid of those capital allowances but for manufacturing industry, such as AstraZeneca, those capital allowances work.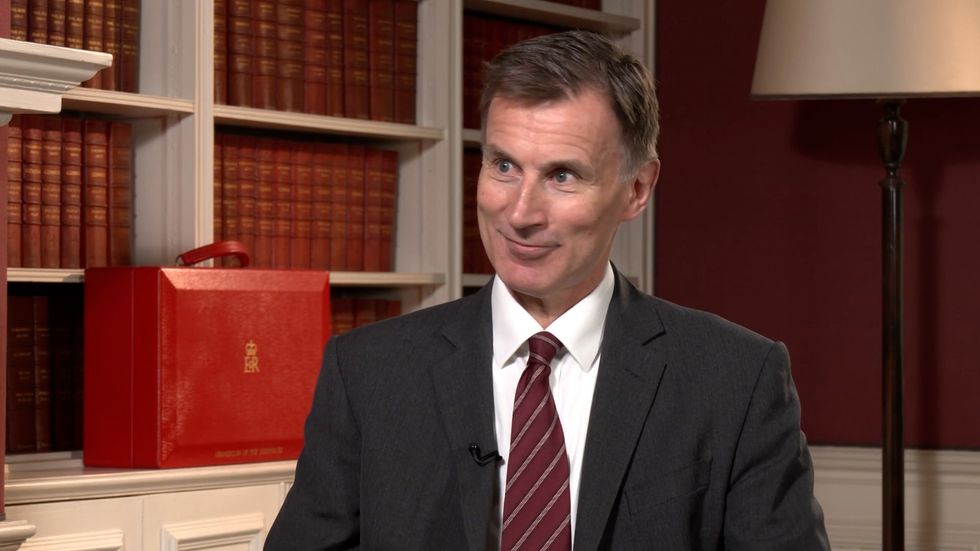 Jeremy Hunt speaking with GB News
GB News
"So I would say we do want to bring down our effective corporation tax, the total amount people pay this corporation tax as a proportion of their profits. We do want to bring those down. But as I said before, it's not something we're going to be able to do all in one go.
"I want our tax rates to be the most competitive, I stick to that. It's what I said in the summer. It's what I believe now. As I say, we can't get there all in one go. And stability also matters. A responsible approach to public finances also matters for businesses up and down the country. Because without that, you can't have a path to lower inflation. They worry about whether it's possible to invest in the UK so I need to have a balanced approach to doing this. But if you're saying to me, is it my ambition for us to have the most competitive business tax rates? Do I want to make progress? Yes, I do.
"We believe in bringing tax rates down. But all I would say is you have to do so in a framework that is responsible for public finances. It has to be done in a responsible way."
Hunt also revealed the importance of the relationship with the Office of Budget Responsibility.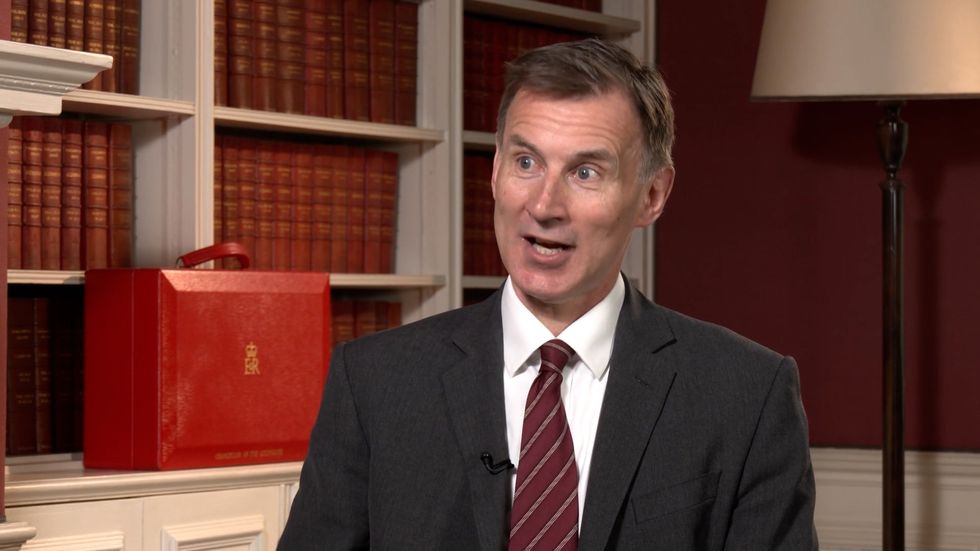 Jeremy Hunt speaking with GB News
GB News
He said: "When you do things like cut taxes, we have to make sure that those commitments are credible and that means making sure that independent bodies, like the Office for Budget Responsibility, also accept there's a dynamic effect.
And they too, have been having lots of discussions with me over the last couple of months as I've been preparing this Budget as to what those dynamic effects are."
Pressed on how he will deal with the energy crisis he said: "We need a pathway to permanently low energy prices, which businesses can depend on whatever someone like Putin does in another part of the world. They need to be able to depend on stable, clean, green energy. And the key to that is nuclear, because we've now got up to 40 per cent of our energy coming from renewables, doing things like wind, which is great.
"But you can't get to 100 per cent because there are times when the wind isn't blowing, the sun isn't shining, even in Britain and even in Yorkshire. And so because of that, you need to have nuclear power. That is a two-decade long process."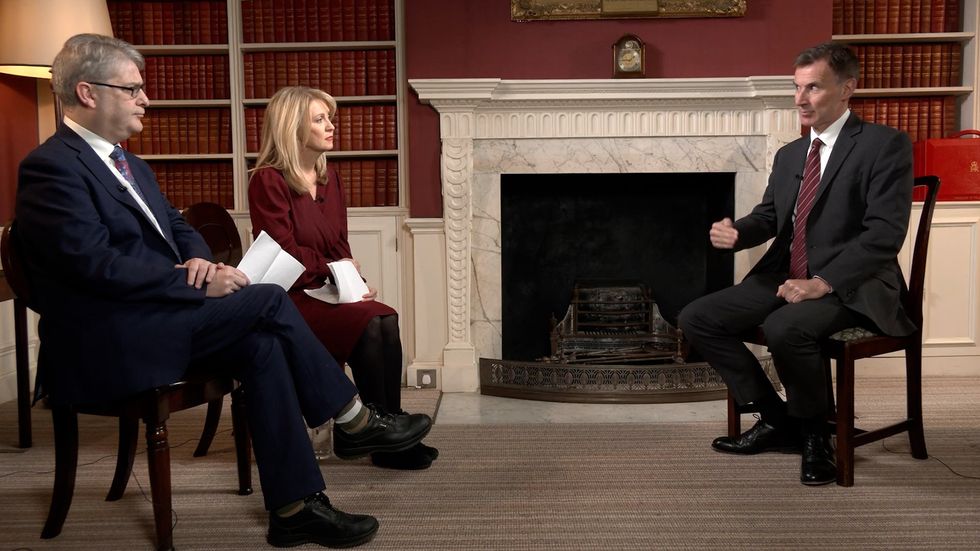 Jeremy Hunt speaking with Esther & Phil
GB News
Asked whether he expected to have remained in post once Rishi Sunak became PM he admitted: "Not in my wildest dreams. When I got the text message from Liz Truss, asking me to call her I thought it was a hoax. And so it's been a complete surprise to me. It's a total privilege, because I set up my business for 14 years, and now I've got a chance to help other people who want to follow the same path that I did. But I'm also very aware of the challenges. I think, I should also say, I think it's an incredible privilege to be Rishi Sunak's Chancellor."
Pressed on the reasons why he felt Mr Sunak had kept him on he said: "I think you'll have to ask him those questions. But what I'd say is that I think it's been a fantastic partnership."
And asked if he encouraged Liz Truss to step aside he added: "No, I wasn't. I wanted to be loyal to her. She appointed me to the job. And to her credit, she agreed to do all the things that I recommended we needed to do to restore stability. At that point. She didn't try and stop them even though for her politically they were very embarrassing to do.
Watch Esther and Philip's exclusive interview with Chancellor Jeremy Hunt on GB News live from 10am on Saturday.