Published: 07/02/2023
-
18:25
Updated: 07/02/2023
-
20:18
The start of spring is under threat from a crippling Beast from the East snow blast as the Met Office announces a 'major' disruption of the Polar Vortex.
Government forecasters have in the past few hours sounded alarm bells for a significant Sudden Stratospheric Warming (SSW) event, which is likely to set in within days.
---
The phenomenon, which causes spinning air currents over the North Pole–the Polar Vortex–to fall, warm, and flood Europe with freezing winds was the driver for the 2018 Beast from the East.
The brutal late winter freeze that year forced temperatures widely into minus double figures while scouring blizzards ground swathes of the UK to a standstill.
Although the Met Office has played down fears of another Beast from the East, independent forecasters warn to prepare for a significant winter blast as the Polar Vortex teeters on collapse.
Exacta Weather's James Madden said: "The upcoming Sudden Stratospheric Warming should now be a major one.
"It means we are now facing extensive cold and snow later in February and into the start of March.
"This could delay any spring warmth by several weeks, meaning temperatures might not recover until the back end of April, or even later."
The warnings follow a minor SSW last month which recovered quickly and passed relatively unnoticed leaving the Polar Vortex intact.
A second warming event is expected to kick in by the middle of February, but this time it threatens far more vigour.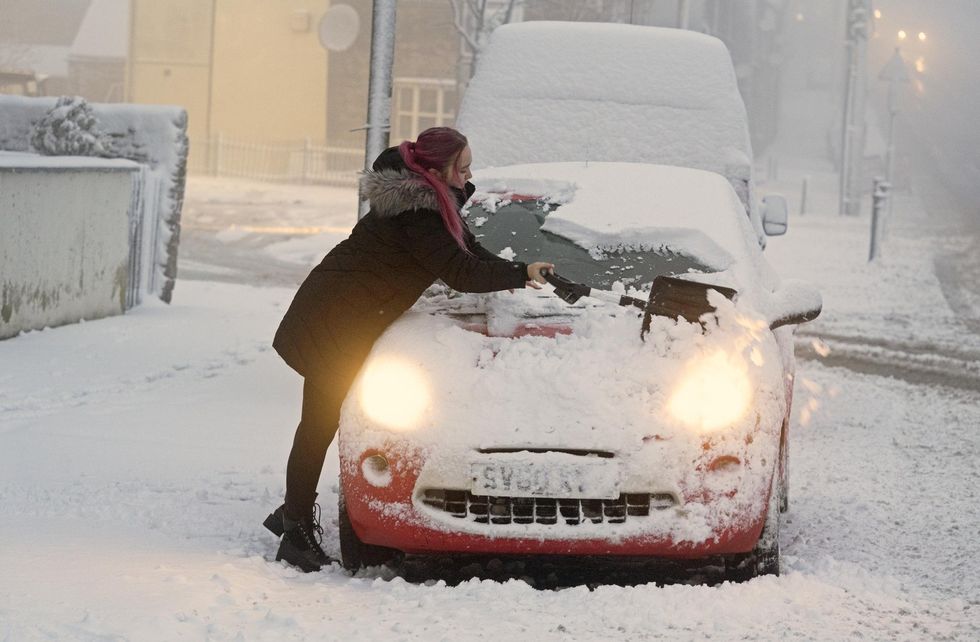 UK weather forecast: Drivers face weeks of chaos with heavy snow, ice and frost
PA
SSW events drive cold blasts in Britain and Europe bing the Polar front, the division between the Arctic and milder mid-latitudes, southwards.
They disrupt the path of the jet stream causing it to meander and become snake-like, in turn building high pressure and sweeping frigid winds in from the East.
Worrying meteorological models suggest the Polar Vortex may not only collapse but split, dragging the bitter winter chill weeks into the start of spring.
Mr Madden said: "This particular event could significantly stretch or even split the Polar Vortex, and this significantly increases the risk of a major cold spell of Beast from the East later in February into March.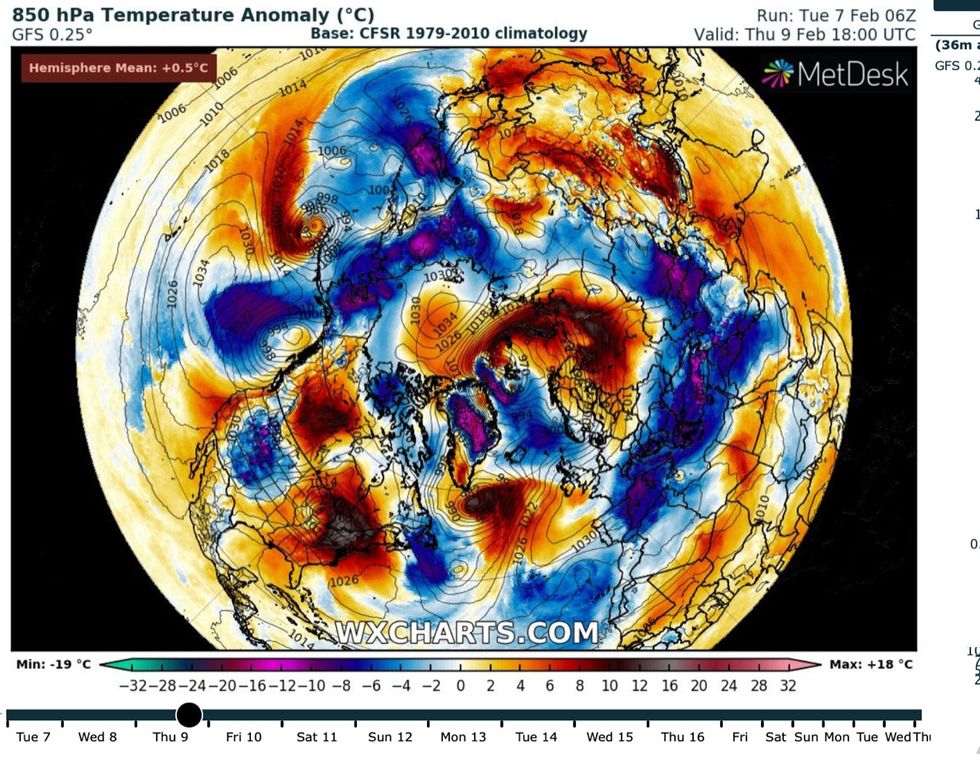 The Polar Vortex descends into chaos, as sections warm and cold air floods south
WX CHARTS
"The exact timing of this needs to be defined, but we could be looking at a prolonged cold period of around two weeks during March with some potentially copious amounts of snow."
The Met Office today issued a statement confirming a significant SSW event is expected within the next seven days. While this does not 'equate to a Beast from the East', it said, potential impacts on Britain's weather will now be urgently monitored and updated.
Current forecasts suggest changeable conditions with wind and rain until mid-February, although this could change.
Professor Adam Scaife, head of long-range forecasting at the Met Office, said: "There is now over 80-per cent chance of a major SSW occurring.
"Although the impact will become clearer nearer the time, any effect on UK weather is most likely to occur in late February and March."
A Met Office spokesman added: "A major SSW often makes the jet stream meander more, which can lead to a large area of blocking high pressure over northern Europe, including the UK.
"This blocking high pressure can lead to cold, dry weather in the north of Europe, including the UK, with mild, wet and windy conditions more likely for southern areas of the continent.
"However, this is not always the case and impacts on UK weather can also be benign when an SSW occurs."
In addition to a stratospheric warming, thunderstorm development and convection currents in the tropical Pacific–the Madden Julian Oscillation–could add another ingredient to drive a late winter cold spell.
The Met Office spokesman said: "The Madden Julian Oscillation … is now also tracking towards a state that favours a cooler spell in late February."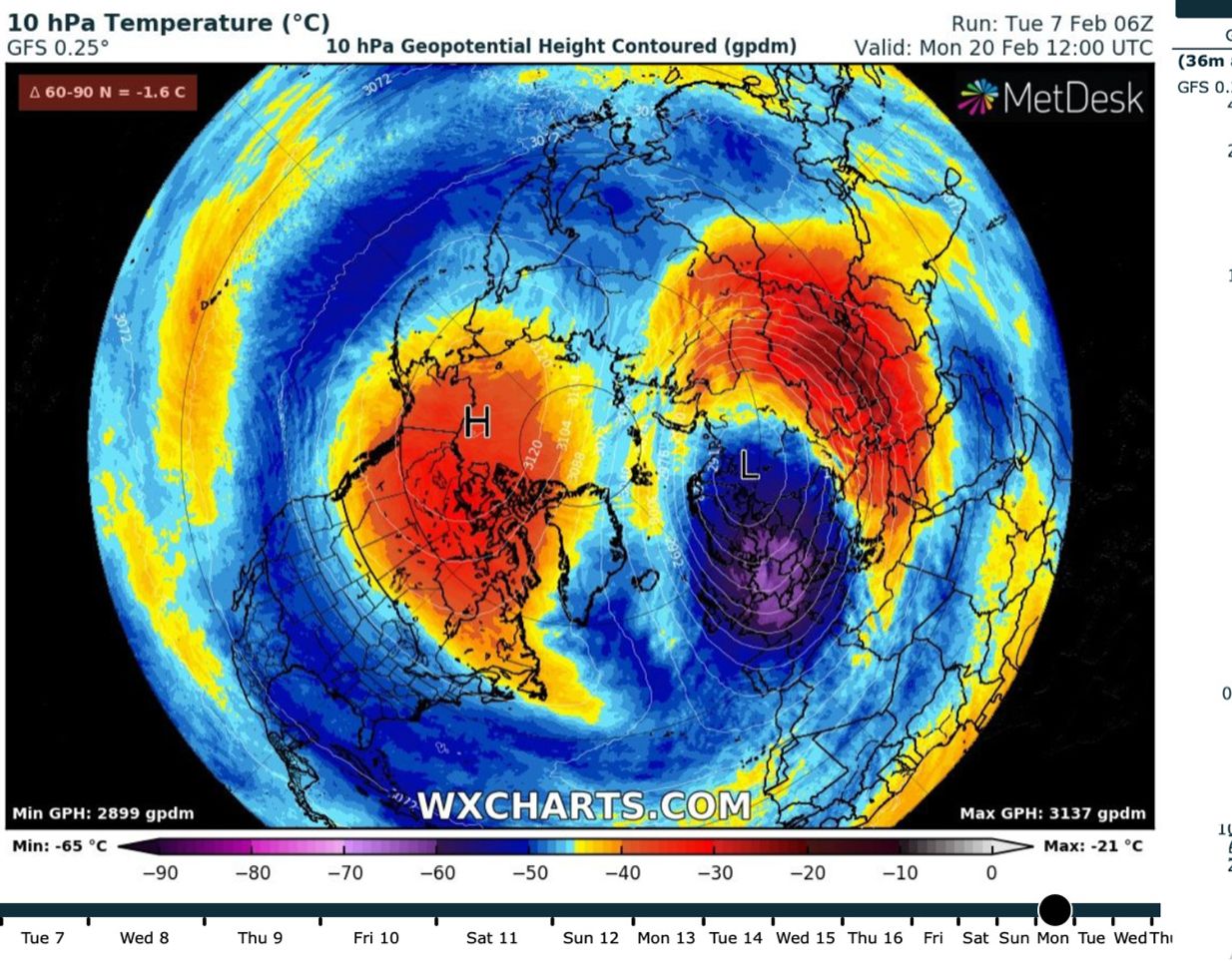 Widespread snow alert: Freezing polar air will descend over UK in late February
WX CHARTS
Events in the Arctic stratosphere have divided meteorological opinion, although most forecasters agree the risk of a severe late winter cold snap has rocketed.
Jim Dale, meteorologist for British Weather Services and author of 'Weather Or Not?' said Britain is now playing a 'waiting game'.
He said: "This does increase the risk of a cold start to spring, without question. "However, we are now in a waiting game to see where, if there is a cold blast, it ends up.
"SSW events don't always mean we are going to get very cold weather.
"It is now a case of watching the models to see how they evolve over the coming days and weeks as this develops."