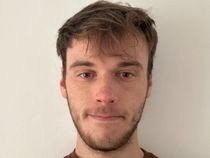 By Ben Chapman
Published: 16/11/2022
-
20:09
Updated: 16/11/2022
-
20:10
Britain believes Iran's decision to issue a death sentence over protests is "another act of desperation" by a regime prioritising its survival over human rights.
---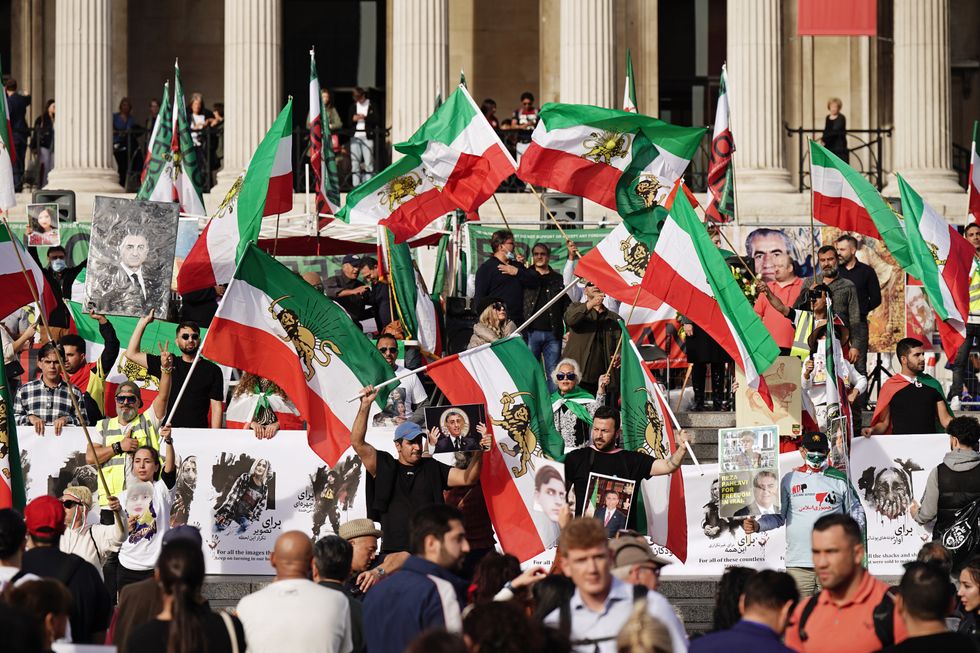 Protesters take to Trafalgar Square following the death of Mahsa Amini.
Aaron Chown
Foreign Office minister David Rutley said the UK Government "utterly condemns" the Iranian government's decision to resort to "barbaric methods" to clamp down on protesters – but fears the number of death sentences will rise.
The minister also faced calls to ensure Britain declares its support for regime change in Iran and add the Islamic Revolutionary Guard Corps (IRGC) to a list of banned terrorist organisations in the UK.
Thousands of Iranians have in recent weeks taken to the streets in protests sparked by the death of 22-year-old Mahsa Amini, who had been detained by police in the capital, Tehran, for allegedly not adhering to Iran's strict Islamic dress code.
Mr Rutley, answering an urgent question in the House of Commons, said: "The news on Sunday that the Iranian regime had sentenced a protestor to death was tragic.
"It's an act the UK Government utterly condemns in the strongest possible terms.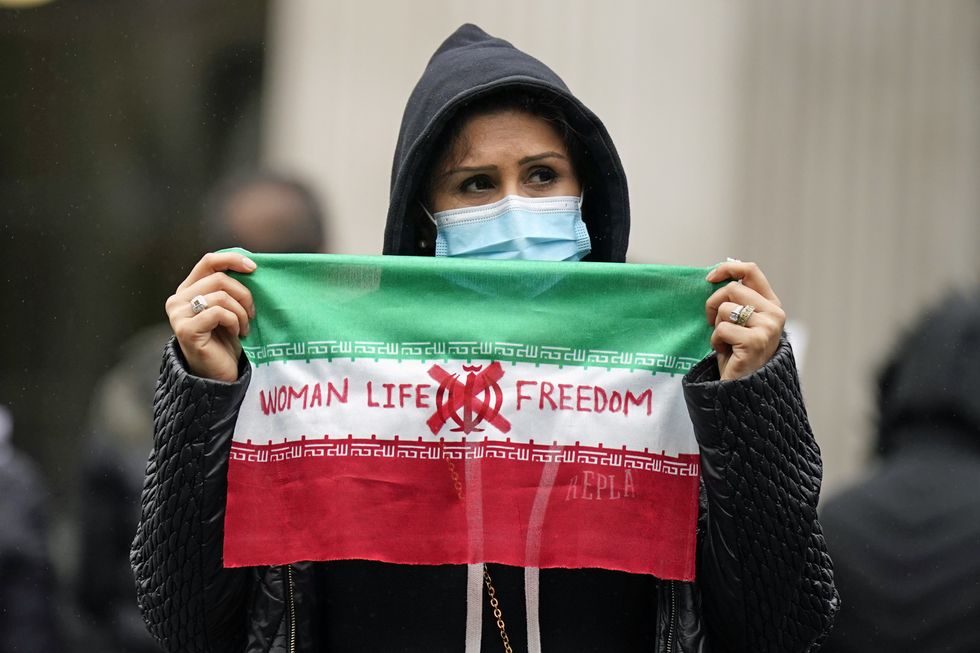 David Rutley has slammed the Iranian regime's decision to sentence a protester to death.
Aaron Chown
"Sadly, this is yet another act of desperation by a regime that clearly cares more about its own survival than the human rights of its own citizens.
"This is not the first time that we've seen the Iranian regime use barbaric methods to clamp down on those standing up for basic freedoms.
"As we saw in the 2019 fuel protests, over 300 people were tragically killed. The latest violence levelled at protestors has been utterly appalling.
"We've seen over 14,000 people detained so far; over 300 deaths, of which 43 were children.
"The UK opposes the death penalty in all circumstances. It's all the more abhorrent when those sentenced have been arrested whilst standing up for their rights."
Mr Rutley added: "My fear… is that the frequency of these death sentences is only likely to increase as the regime processes the thousands of arrests that have been made during the protests.
He added: "This barbarism is just one of many threatening and intimidating techniques that the regime has rolled out in response to the protests.
"We're working closely with the US and other international partners to remove Iran from the United Nations Commission on the Status of Women.
"What we are seeing in Iran is a grassroots movement from the people of Iran, who are showing outstanding bravery in the face of a brutal crackdown.
"Iran needs to stop trying to blame this on everyone but themselves and take responsibility for their actions and instigate real change."
Conservative MP Bob Blackman (Harrow East) earlier said: "The reports I have are that more than 60,000 people have been arrested. These are men, women and children just protesting about the murder of one young lady.
"Those individuals who've been arrested have been tortured, they've been denied legal representation, they've been denied medication and, in most cases, denied bail as well."
Conservative former minister David Jones added: "It's been clear for many years that Iran is a rogue state presided over by gangsters posing as clerics, who seek to maintain control through the actions of thugs posing as police officers and militia.
"It's clear the regime is terrified of losing that control, which is why they're now resorting to executing their own citizens for confected crimes.
"So does (Mr Rutley) not agree that now is the time for the United Kingdom to position itself on the right side of history by declaring unequivocally that it supports the demands of the brave people of Iran for regime change in that country?
"And whilst I understand the minister will not comment on what proscription the Government may be considering in the future, could he take it from me there are very many MPs who would be delighted if they woke up tomorrow morning to discover that the IRGC had been proscribed today."
Mr Rutley replied: "I understand the points he makes. The destabilising activity of the IRGC – whether it's in Yemen, Iraq, Lebanon or Syria – are very, very concerning in the region and beyond.
"We're constantly keeping that proscription under review but I can't comment at this stage."
For Labour, shadow Foreign Office minister Bambos Charalambous said the UK "must stand unequivocally against the death penalty" and questioned what further sanctions can be placed on the Iranian regime.