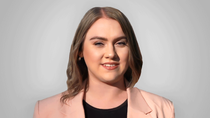 Published: 20/10/2022
-
18:32
"A completely stable, well baby" – the jury in the Lucy Letby trial has heard from the registrar who was on the duty the night she allegedly murdered her first victim.
At Manchester Crown Court today, jurors have heard evidence from Dr David Harkness, who was on shift alongside Letby when Child A died.
---
The prosecution alleges that Lucy Letby murdered Child A by injecting air into his bloodstream, and that she also attempted to murder Child B (Child A's twin sister) via the same method.
The former nurse has been charged with the murder of seven babies, as well as the attempted murder of a further 10 babies whilst working on the neo-natal unit at the Countess of Chester Hospital. She denies all the charges against her.
This morning, the jury were shown notes written retrospectively by Dr Harkness after the death of Child A.
The prosecution also asked him to explain the events of that night. Dr Harkness told the court that prior to his decline, Child A was "a completely stable, well baby" and that what unfolded was "incredibly unexpected."
He also described "extraordinary" discoloured patches on the skin of Child A, which he said he had "never seen before", except for in the case of one other baby. When prompted, he told the court this was one of the other babies involved in this case – one of the two twin boys, Child E or Child F.
The court also heard from Melanie Taylor this morning – a nurse who was working at the Countess of Chester Hospital back in 2015.
On the night of Child A's death, Ms Taylor had handed over care to Lucy Letby. She was typing up notes on a nearby computer when Child A's condition "started deteriorating."
She described the resuscitation efforts as "a blur."
During cross-examination by the defence, she also told the court that a lot of people became involved one Child A's health began to decline, and that it's hard to remember details in that type of situation.
Court will resume tomorrow.