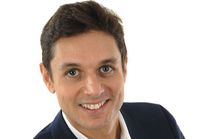 By Nathan Rao
Published: 14/04/2023
-
10:55
Updated: 14/04/2023
-
11:21
Britain's first "burning hot" heatwave may be just around the corner with blistering sunshine about to send temperatures rocketing.
A "well-overdue" summer blast driven by plumes of searing African heat could be lined up to hit the UK within weeks.
---
Strengthening high pressure and tropical 20C winds tumbling over the Scottish mountains this weekend will kick start a gradual roast to summer, experts say.
Meteorological events in the tropical Pacific are then lined up to drive what is now tipped to be a three-month mega-blaze.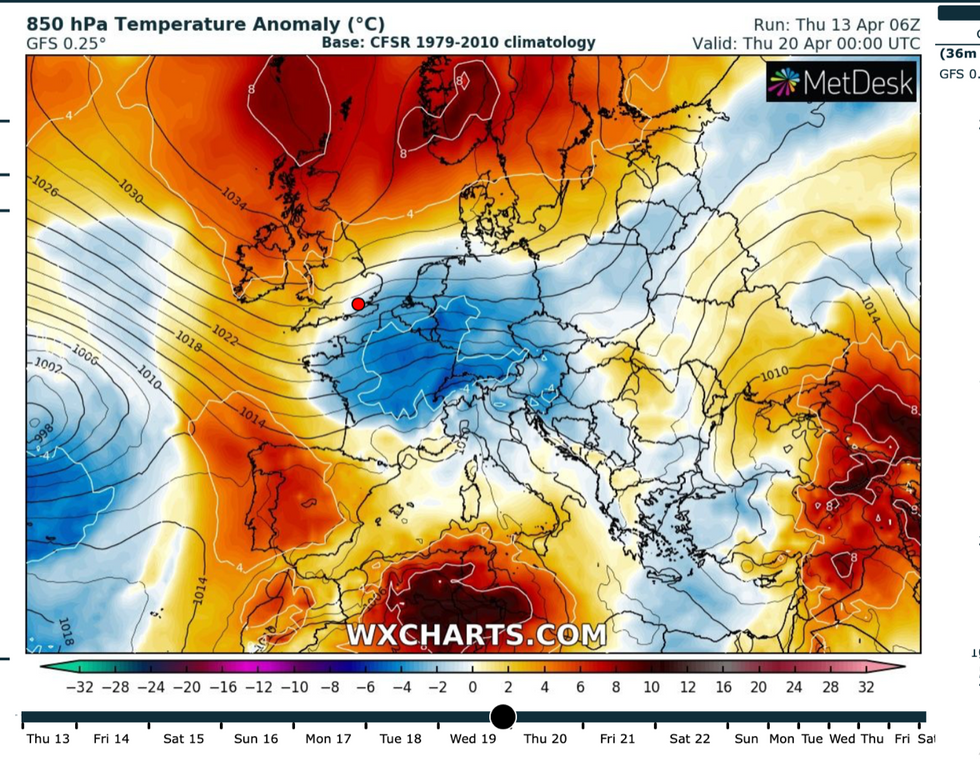 Warm air gushes up western Britain as temperatures rocket
WX Charts
The first blast of proper heat could be just days away as the wettest March for 40 years followed by dull April gloom finally give way to the sun.
Jim Dale, meteorologist for British Weather Services said: "I would expect a mini heatwave in May – it is well overdue.
"This is considering the weather we have had so far this spring, which has lacked the heat seen by now in previous years, often with April temperatures well into the 20Cs.
"We are now walking into summer with temperatures to rise into the high teens next week, possibly touching 20C.
"It is not going to be a sprint, but we are heading in the right direction, and with warmer air coming up from the south, parts of the country will definitely start to feel spring-like."
Western England and Scotland will catch the first licks of the flame, while chilly winds keep eastern fringes cooler.

A southern Atlantic airflow will sweep up the Scottish mountains before tumbling over the tops to drive up temperatures–the so-called foehn effect.
Dale, author of 'Weather Or Not?', said: "Air from the south will reach Scotland after the weekend, and temperatures are likely to reach around 17C or 18C, perhaps 20C with the foehn effect or 21C if we get a bonus.

"This will be driven by high pressure bringing easterly winds round from a southerly direction.
"That easterly component will, however, keep things on the cool side across the east of the country."
While the jury is still out on summer, early signals are odds on for hot weather arriving within weeks.
As a three-year La Nina cooling of the Pacific Ocean ends, the arrival of its El Nino counterpart looks increasingly likely.
Its effect on global weather patterns would primarily hit Asia and Australia, but it could nudge the odds in favour of warmer weather at home.

Dale added: "Meteorologists are now watching for El Nino which is looking likely.
"After the very strong La Nina, it's very likely that the climatic balance will swing back towards an El Nino event this year.
"While this will have more of an effect in Australia and the tropics, it could catch up with us later in the summer.
"If we get a drag out of Africa, we could get some burning hot periods over summer."
As thermometers rise, bookies have started hedging their bets on a summer heatwave with Coral now 1-2 for the hottest year on record.
Spokesman John Hill said: "Temperatures are set to soar next week, and with glorious sunshine forecast for the whole week, we have slashed the odds in half on April ending as a record-hot month."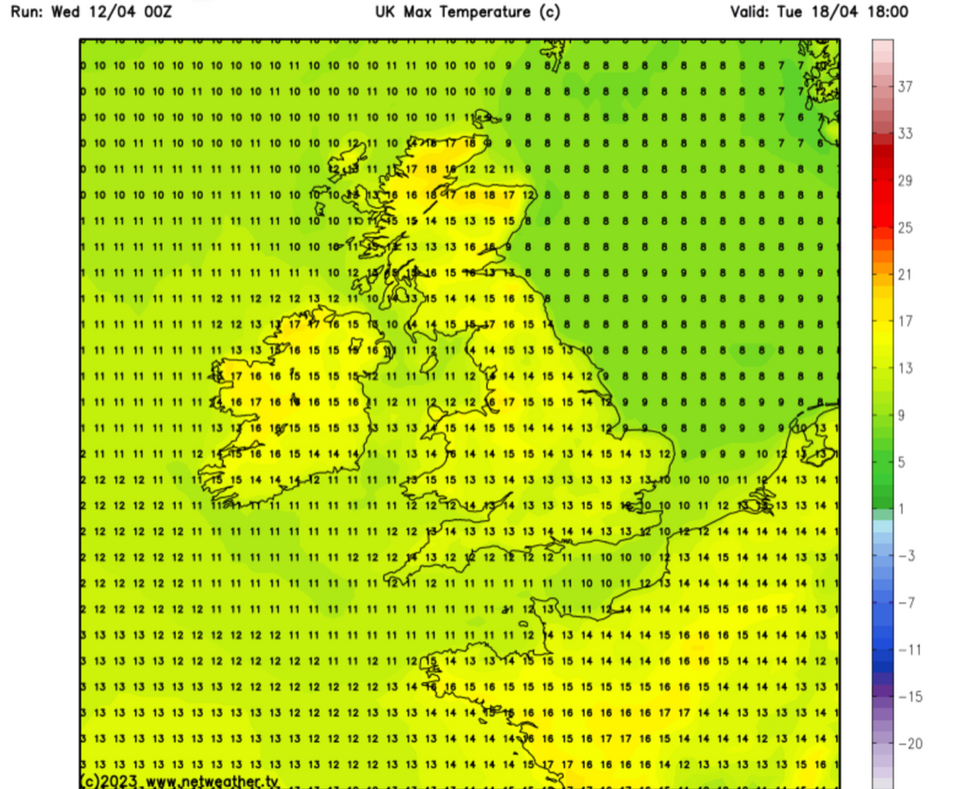 Temperatures over Scotland nudge 18C next week
Netweather
Some experts say a 30C heat spike is just around the corner with the last part of April kick-starting weeks of hot weather.

Exacta Weather's James Madden said: "Next week will be dominated by high pressure, and this will bring a blast of late spring sunshine widely across Britain.
"The best of the temperatures will start off in the West, with 20C or more widely in the best of the sunshine.
"This could set in for weeks, and there is no ruling out 30C in May."
Britons will have to wait a bit longer for the hot weather with this weekend shaping up to be mild, cloudy and with outbreaks of rain.
Met Office meteorologist Clare Nasir said: "As the wind hops over the Highlands on Saturday we will see temperatures up to around 17C.
"On Monday we are on the warmer side of the Jet stream, and there will be some warmth by day with temperatures higher than last week coming around 16C, 17C, 18C or 19C, and we could for the first time this year hit 20C."