Published: 23/05/2022
-
09:16
Updated: 14/02/2023
-
11:19
Horrifying footage has been released of a lion tearing off a zookeeper's finger, while visitors film the incident.
The man is shown at the start of the video teasing the beast, prodding it and poking his fingers through the cage.
---
Despite the lion growling at him and showing his teeth, the man continues to prod inside the cage.
The lion then clamps its jaws on the man's finger, tearing it off before he can free himself from its grip.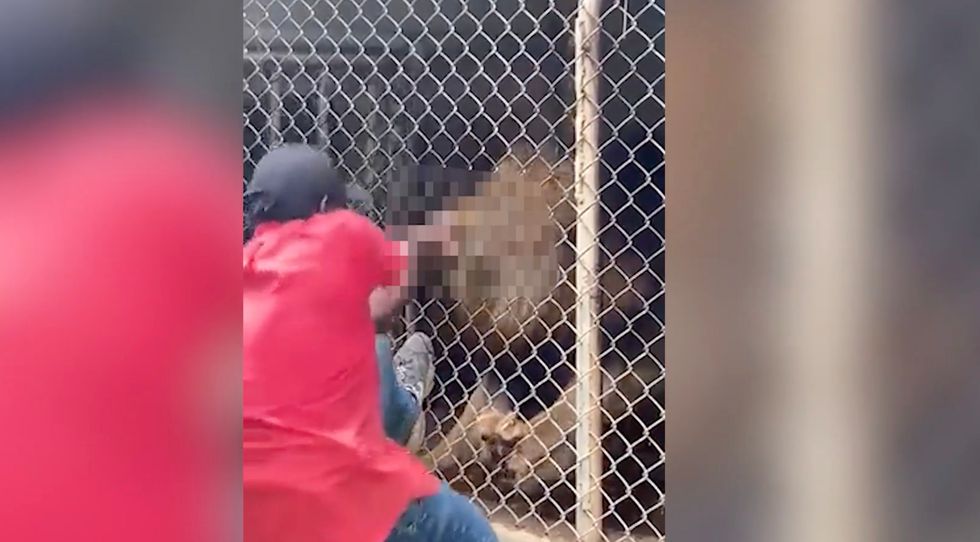 The man trying to free himself from the lion's jaws
Twitter/OneciaG
The man's actions were condemned by people on Twitter who firmly sided with the lion.

One wrote: "Show off bring disgrace The lion at Jamaica Zoo ripped his finger off."
Another added: "I'm on the lion's side."
While one said: "Why would you, as a big man, continuously stick your finger in the cage where there is a lion?"
The zoo in question condemned the actions of the man and described him as a contractor rather than a permanent member of staff.
Jamaica Zoo described the incident as tragic in a statement.
It added: "It is an unfortunate event that should never have happened, and we - the family of Jamaica Zoo - are doing everything to assist the gentleman moving forward."