Published: 07/06/2022
-
20:48
Updated: 14/02/2023
-
10:58
Mothers breastfeeding their children staged a protest outside the Ministry of Justice's headquarters calling on the government to stop holding pregnant inmates behind bars.
Around 50 women sat outside the offices in Petty France, in Westminster, London, to take part in the demonstration and chanted "no more pregnancies in prison" before handing in a petition with more than 10,000 signatures addressed to Justice Secretary Dominic Raab.
---
Campaign groups Level Up and No Births Behind Bars, which organised the protest, are demanding an end to the imprisonment of pregnant women and new mothers after two babies died within three years when their mothers gave birth in jail.
One supporter of the campaign, who was pregnant behind bars but who the groups said cannot be identified for "safeguarding reasons", said: "Prison will never be a safe place to be pregnant because urgent needs can't be seen to.
"I needed to go to the hospital for reduced movements when heavily pregnant and it took five hours to go through the procedure of getting me there and finding staff to escort me. Anything could have happened in that time and I was just left locked in a cell worried out of my mind. There is no way a prison can ever be a safe place because no pregnant woman should ever be locked behind doors."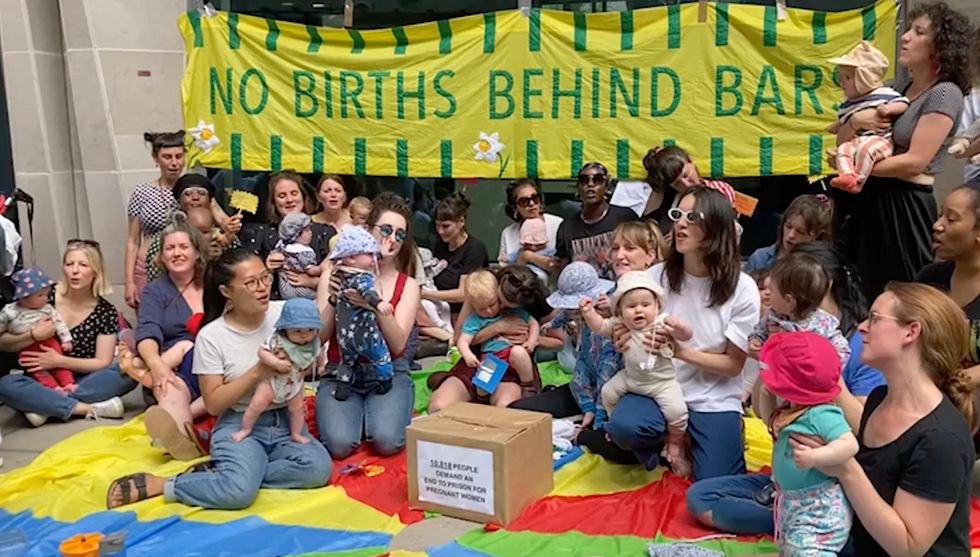 Breastfeeding protest
PA
Recalling the birth of her first child, she said all her rights as a mother were "taken away from me when I entered the prison system". She claimed she was handcuffed when she in labour and prison guards refused to contact her mother or the child's father so they could get to the hospital in time, adding: "There's just no dignity or care."
A newborn baby died at Europe's largest women's prison, HMP Bronzefield, Middlesex, in 2019 after a teenage girl gave birth alone in a cell in despite calling staff for help, according to a damning report from prisons and probation ombudsman (PPO) Sue McAllister who found a string of failings in her care.
The mother should never have been allowed to give birth without medical assistance at the privately run jail, Ms McAllister concluded.
At the time Mr Raab described the events as "harrowing, unacceptable and should never happen to any woman or child" but said "important improvements" have been made to the care received by women in custody.
Another watchdog investigation found a woman gave birth to a stillborn baby in "shocking circumstances" in a prison toilet after a nurse mistook her labour for period pain.
The mother, 30-year-old Louise Powell, did not know she was pregnant and did not believe she could be. Fellow inmates and staff at HMP Styal had "no suspicion" this was the case until the baby girl was born prematurely – possibly at between 27 and 31 weeks – in June 2020 in the toilet of her mother's cell block of the Cheshire prison.
Janey Starling, co-director of Level Up, said: "It's time for the government to end the imprisonment of pregnant women and new mothers, making sure they are supported in the community instead."
Mel Evans, from No Births Behind Bars, said: "Other countries have legislation to prevent pregnant women and new mothers from being sent to prison, and that's what we want to see in the UK."
Dr Laura Abbott, senior lecturer in midwifery at The University of Hertfordshire, said prisons were an "unsafe environment for pregnant women and their unborn babies" and "must be addressed as a matter of urgency, so women and babies can be protected."
A Ministry of Justice spokesperson said: "Custody is already a last resort for most women and we have made significant improvements for those who end in prison while pregnant. We now have specialist mother and baby liaison officers in every women's prison, have put in place additional welfare observations and carry out better screening and social services support so that pregnant prisoners get the care they require.
"The number of women entering prison has fallen by 24 per cent since 2010 and we are investing millions into community services like women's centres and drug rehabilitation so even fewer women end up there."