Published: 17/11/2022
-
11:33
Updated: 17/11/2022
-
18:57
KEY POINTS FROM JEREMY HUNT'S AUTUMN STATEMENT
Increase in windfall tax on oil and gas giants from 25 percent to 35 percent
Defence budget to be maintained at at least two percent of GDP
Extra £2.3 billion per year to be invested in schools over next two years
NHS budget increased by an extra £3.3 billion in each of next two years
National living wage increased by 9.7 percent from April 2023
Jeremy Hunt has unveiled a £54 billion package of tax hikes and spending cuts during his Autumn statement in the House of Commons.
---
The Chancellor said there would be a "shallower downturn" as a result of his measures but the Office for Budget Responsibility (OBR) believed the economy was "now in recession".
During the statement, Mr Hunt reduced the threshold at which the top rate of income tax is paid from £150,000 to £125,140.
He said: "Those earning £150,000 or more will pay just over £1,200 more a year."
"We are also taking difficult decisions on tax-free allowances. I am maintaining at current levels the income tax personal allowance, higher rate threshold, main national insurance thresholds and the inheritance tax thresholds for a further two years taking us to April 2028. Even after that, we will still have the most generous set of tax-free allowances of any G7 country."
He said he would also reform allowances on unearned income, noting: "The dividend allowance will be cut from £2,000 to £1,000 next year and then to £500 from April 2024.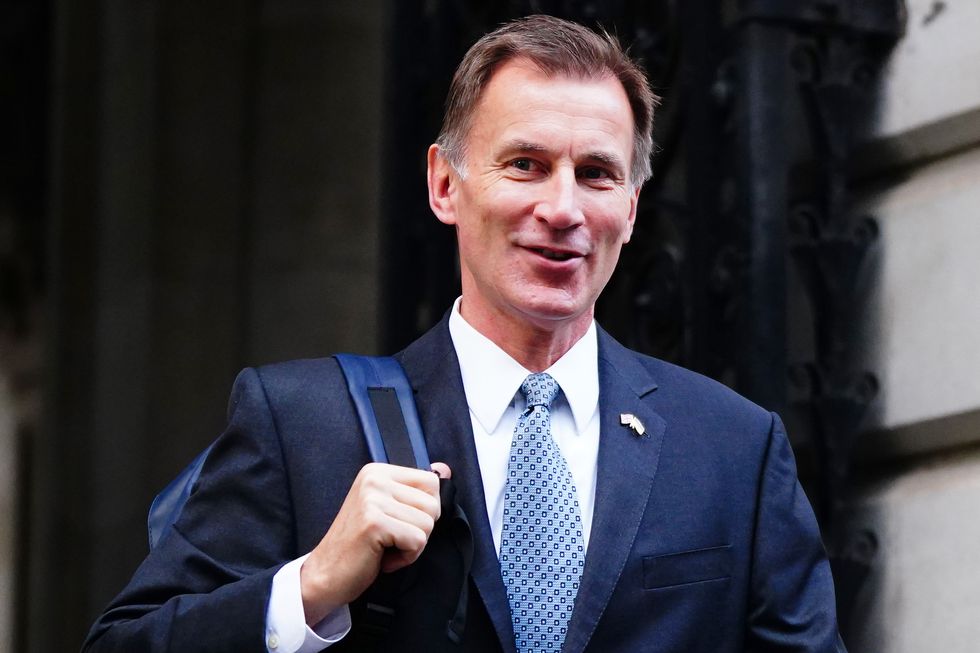 Jeremy Hunt had vowed to take 'some difficult decisions to restore stability'
Victoria Jones
"The annual exempt amount for capital gains tax will be cut from £12,300 to £6,000 next year and then to £3,000 from April 2024. These changes still leave us with more generous allowances overall than countries like Germany, Ireland, France, and Canada."
While in a blow to electric vehicle owners, such vehicles will no longer be exempt from Vehicle Excise Duty from April 2025 to make the motoring tax system "fairer", Mr Hunt has said.
Furthermore, the Chancellor has increased the windfall tax on oil and gas giants from 25 percent to 35 percent and imposed a 45 percent levy on electricity generators to raise an estimated £14 billion next year.
While he pledged that public spending would grow "slower than the economy" as he said the Government would protect the increases in departmental budgets already set out in cash terms, before growing resource spending at one percent a year in real terms over the next three years.
The stamp duty cuts announced in the mini-budget will remain in place but only until March 31 2025.
Mr Hunt said: "The OBR expects housing activity to slow over the next two years, so the stamp duty cuts announced in the mini-budget will remain in place but only until March 31 2025.
"After that, I will sunset the measure, creating an incentive to support the housing market and all the jobs associated with it by boosting transactions during the period the economy most needs it."
The Chancellor also vowed to maintain the defence budget at at least two percent of GDP.
Before adding that it will "not be possible" to return to the 0.7% overseas aid target "until the fiscal situation allows".
While the NHS budget will be increased by an extra £3.3 billion in each of the next two years.
The energy price guarantee scheme will increase from £2,500 for the average household to £3,000 for 12 months from April, while Mr Hunt said he will cap the increase in social rents at a maximum of seven percent in 2023/24, saving the average tenant £200 next year.
Mr Hunt has accepted a recommendation to increase the national living wage by 9.7 percent, making the hourly rate £10.42 from April 2023.
The Chancellor also said he will increase working age and disability benefits in line with inflation, with a rise of 10.1 percent, costing £11 billion, adding that he will increase state pensions in line with inflation in April, announcing the "biggest ever cash increase in the state pension".
Mr Hunt had earlier told the Commons: "In the face of unprecedented global headwinds, families, pensioners, businesses, teachers, nurses and many others are worried about the future.
"So today we deliver a plan to tackle the cost-of-living crisis and rebuild our economy.
"Our priorities are stability, growth, and public services.
"We also protect the vulnerable because to be British is to be compassionate and this is a compassionate Conservative government."
He continued: "We are not alone facing these problems, but today our plan reflects British values as we respond to an international crisis.
"We are honest about the challenges and fair in our solutions. Yes, we take difficult decisions to tackle inflation and keep mortgage rises down but our plan also leads to a shallower downturn; lower energy bills; higher long-term growth; and a stronger NHS and education system."
"Three priorities then today: stability, growth and public services. I start with stability. High inflation is the enemy of stability. It means higher mortgage rates, more expensive food and fuel bills, businesses failing and unemployment rising.
"It erodes savings, causes industrial unrest, and cuts funding for public services. It hurts the poorest the most and eats away at the trust upon which a strong society is built."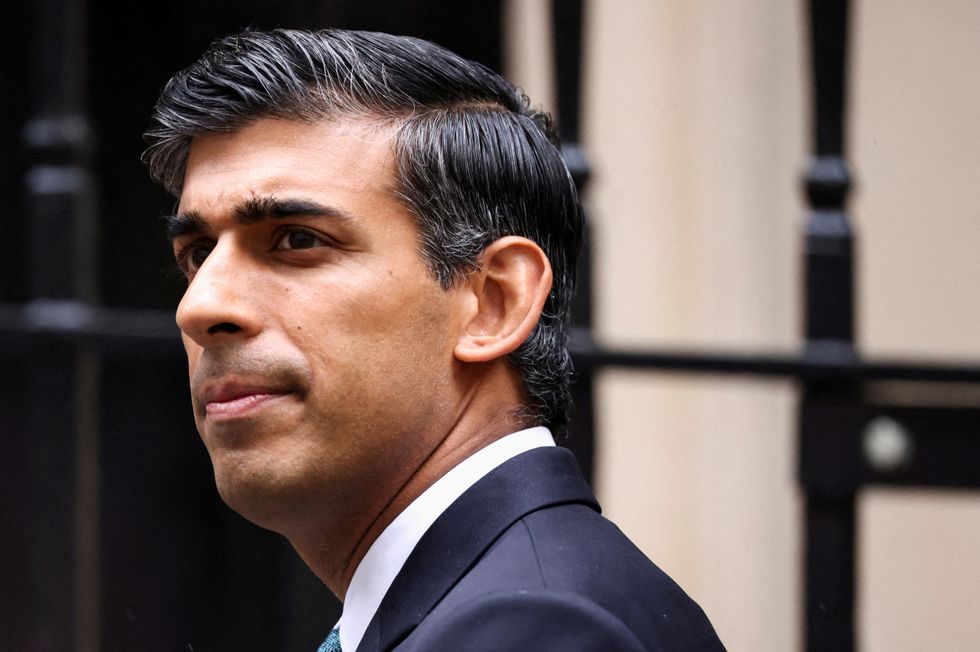 Rishi Sunak
HENRY NICHOLLS
While the Chancellor said the OBR confirmed "global factors" are the "primary cause" of inflation.
Mr Hunt continued: "The Office for Budget Responsibility confirms global factors are the primary cause of current inflation. Most countries are still dealing with the fallout from a once-in-a-century pandemic.
"The furlough scheme, the vaccine rollout, and the response of the NHS did our country proud – but they all have to be paid for.
"The lasting impact on supply chains has made goods more expensive and fuelled inflation, this has been worsened by a Made in Russia energy crisis."
Mr Hunt added that the OBR forecasts the UK's inflation rate to be 9.1 percent this year and 7.4 percent next year and that his autumn statement will cause inflation to "fall sharply from the middle of next year".