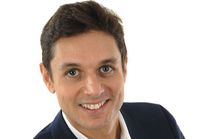 EASTERN coasts are on alert for a 'life threatening' sea surge as newly Hurricane Lee threatens to explode into a maximum-strength category-5 tropical tempest.

The storm – which has in the pas few hours strengthened into a potentially 'major' hurricane – is rapidly deepening, raising fears of a mammoth sea swell hitting the US west coast this weekend and into next week.
---
Experts have warned the region to be on alert for deadly rip currents and treacherous surf conditions.
Lee is one of a barrage of major storms to form within weeks in the Atlantic conveyor belt, driven by unusually high sea temperatures acting like 'gasoline to the fire'.
Jim Dale, of British Weather Services' US weather correspondent, said: "Hurricanes are fed by the warmth of tropical waters, and currently we are seeing record sea temperatures in this part of the world.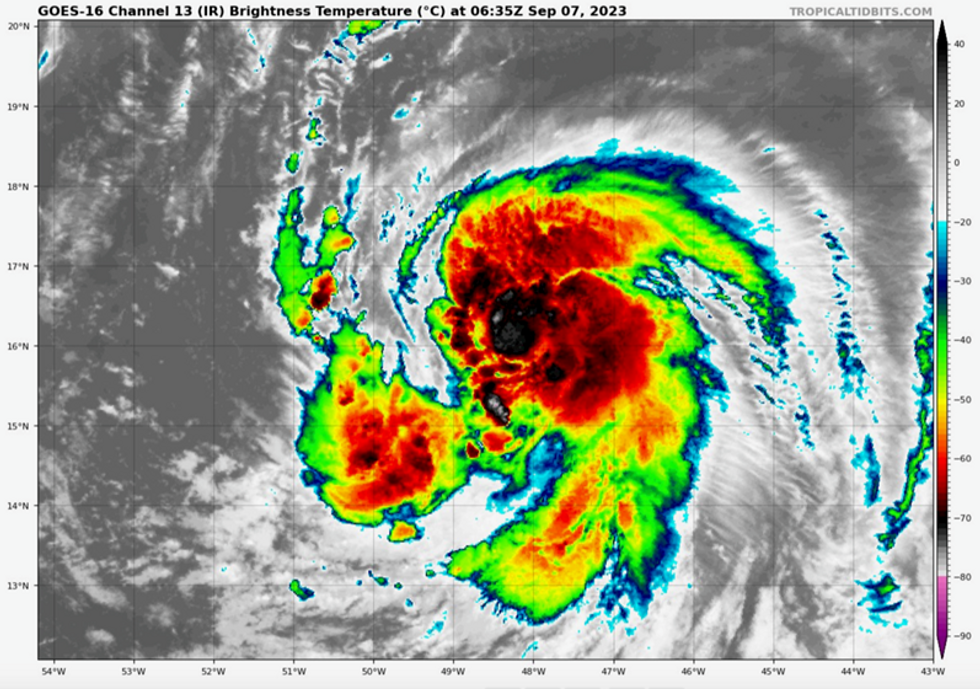 Hurricane Lee has grown into a hurricane
Tropical Tidbits
"This hurricane, after forming off the coast of Africa is being carried by the easterly trade winds towards the US, and it is a case of watching its progression as it approaches the country.
"There is high pressure over the US at the moment and that will affect whether or not, and how far inland it makes landfall.
"However, there is the risk that eastern states, Newfoundland and the Leeward Islands will be affected by the storm."
Fox Weather meteorologist Kiyana Lewis added: "This is like gasoline to the fire.
"We have temperatures that are record warm, so this is only going to continue to fuel Tropical Storm Lee, eventually we will likely see this become a category-4 storm into the weekend.
"We have record warm sea temperatures into the Lesser Antilles and the western Caribbean and this is going to fuel the storm.
"This is going to make for what could be a very destructive storm."
The US National Hurricane Centre (NOAA) said Lee could become a 'major hurricane' by the start of the weekend.
In the firing line are the northward Caribbean Leeward Islands and possibly parts of eastern US, including Boston, New York, and Massachusetts.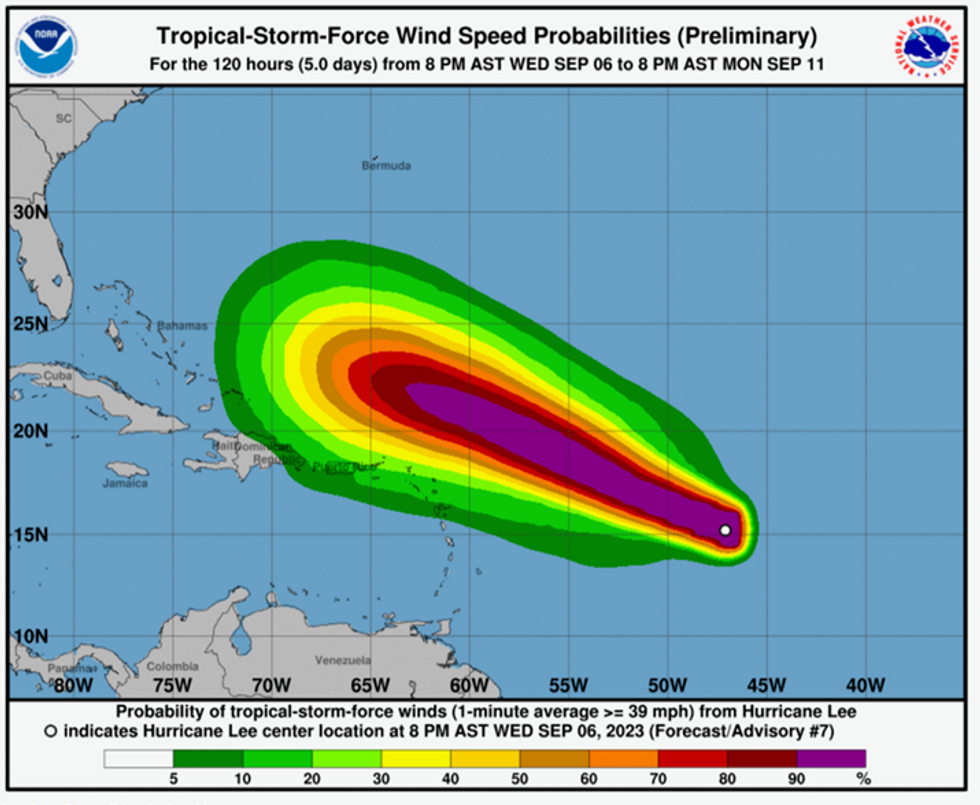 Hurricane Lee: Latest path of the storm
NOAA
A NOAA spokesman said: "Swells generated by Lee are expected to reach portions of the Lesser Antilles on Friday.
"These swells are likely to cause life-threatening surf and rip currents.
"Lee is forecast to become a major hurricane by early Saturday and could bring impacts to the northern Leeward Islands this weekend.
"While it is too soon to determine the location and magnitude of these possible impacts, interests in this area should monitor the progression of Lee and further updates to the forecast."
Meteorologists say Lee could strengthen beyond a Category-4 hurricane building winds speeds of 150mph as it tears north of the Leeward Islands.
It is being driven westwards by the prevailing Atlantic trade winds, although its track may change making its exact path difficult to predict.
If it steers further northwards, it could affect Canada and parts of New England, experts warn.
Weather Company senior meteorologist Jonathan Erdman said: "Lee will become an intense hurricane - at least Category 4 - by late this week or weekend, north of the Leeward Islands.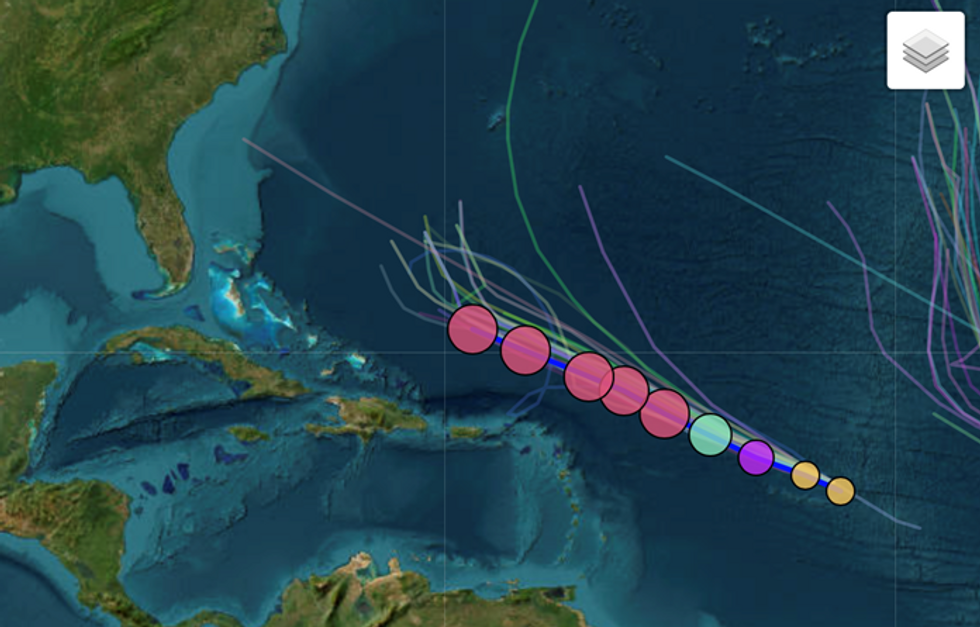 Hurricane Lee: Spaghetti models show the path of Lee
Esri/ Cyclocane
"Its future later next week depends on the exact configuration of steering winds and is still uncertain this far out in time.
"Its chances of affecting at least parts of Atlantic Canada are increasing, and Lee could also be drawn close enough for at least some impacts in parts of coastal New England in the U.S. late next week.
"What's highly certain is Lee will churn up large swells and send them to the US East Coast next week, producing dangerous surf, rip currents, some coastal flooding and beach erosion, especially from North Carolina to New England."