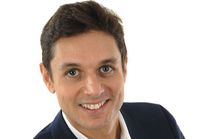 AMERICA is back on deadly weather alert as Tropical Storm Lee spawns in the Atlantic sparking warnings of an 'extremely dangerous' hurricane assault.

Meteorologists have sounded alarm bells for eastern states and the Caribbean Leeward Islands as the churning super-vortex flexes its muscles off the US coast.
---
Lee could pack a 'formidable' punch similar to the devastating Hurricane Idalia which mauled south-eastern States at the end of last month.
Currently a tropical storm, it is expected to rapidly intensify over the coming hours building by the weekend into a devastating, full-scale 150-mph hurricane.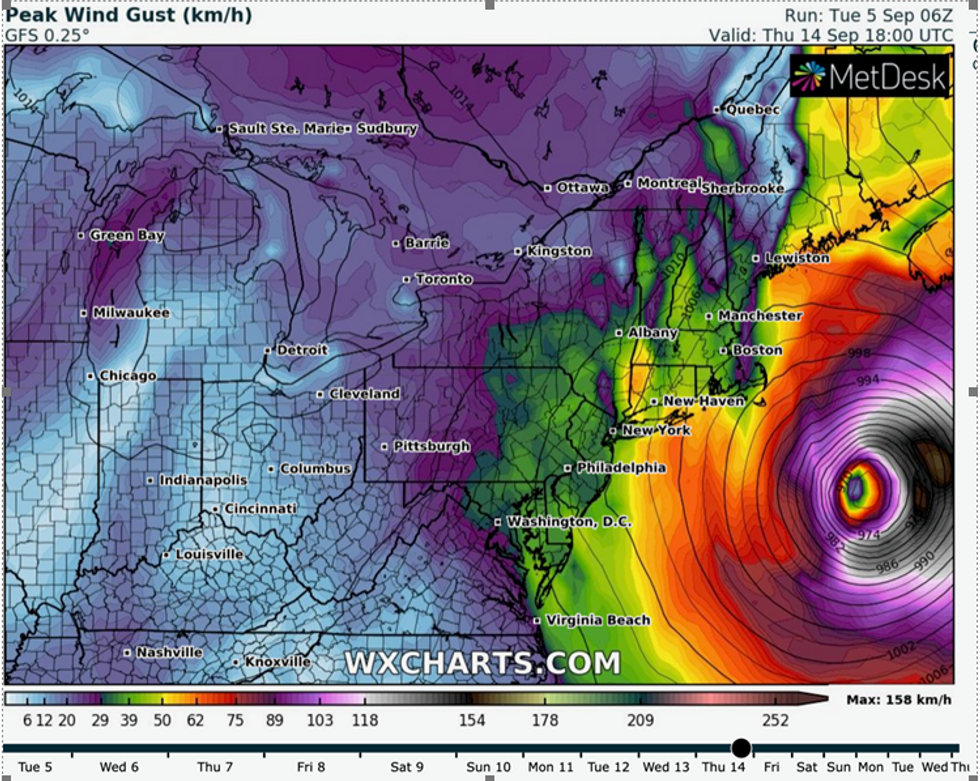 Weather models show winds swiping the east coast
WX Charts
US Weather Channel meteorologist Domenica Davis said: "Get ready to hear the name Lee because you are going to hear a lot of it.
"It is forecast to become a major powerful hurricane this weekend as it moves north of the leeward islands.
"It skirts the leeward islands and is expected to be a hurricane at this time.
"Models are pushing to the north, so all interests from Bermuda, east coast of the United States, everyone needs to pay attention to this storm because it could be a formidable, very powerful storm that we are going to be tracking very closely."
While forecast models are yet undecided on its exact track through the Caribbean towards the US eastern coast, experts warn it could smash into inhabited regions.
Some 'spaghetti models' show the storm veering north-eastwards away from the US, while others reveal a direct beeline for mainland America.
Jim Dale, US weather correspondent and senior meteorologist at British Weather Services, said: "Lee is now showing signs of going full force, and it could crash into the east coast of America affecting New York, Boston, Massachusetts and that region.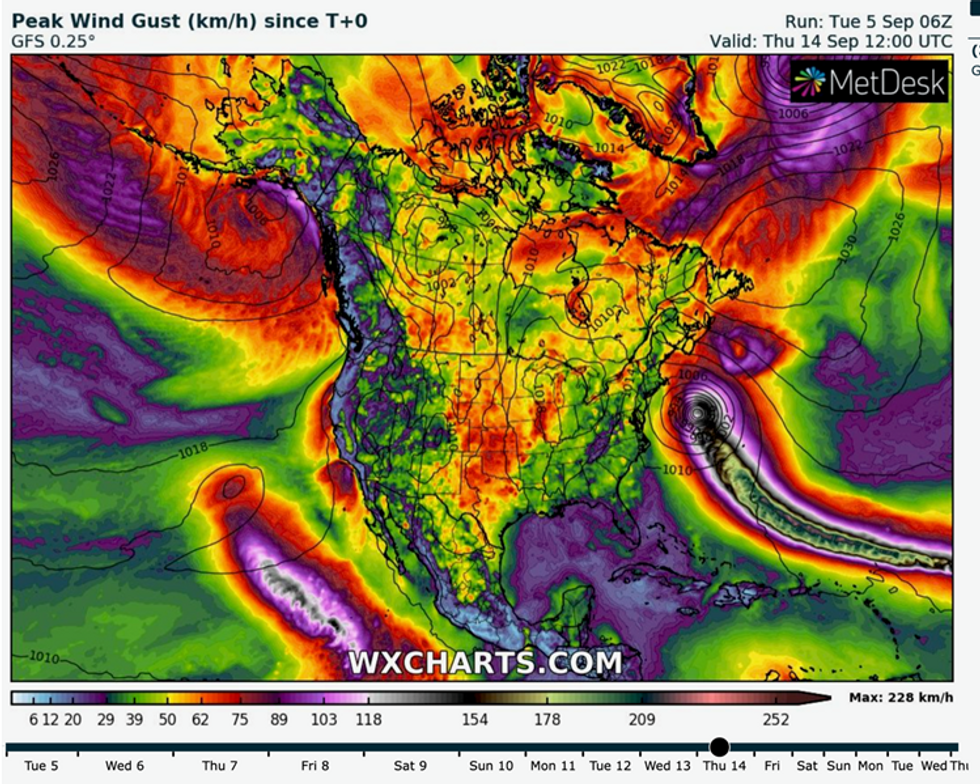 Hurricane swipes up the east coast of US
GB News
"If it gets to a category four or five hurricane, we could be looking at the same intensity as Idalia.
"At the moment, if it does make landfall, it looks like the leeward islands, the Caribbean and some eastern states could be affected.
"It is one to watch."
It will be the third to blast the US this hurricane season, following Tropical Storms Harold and Franklin and Hurricane Idalia.
The US National Hurricane Centre (NOAA) confirmed Lee is moving north-westwards, strengthening at pace in the subtropical Atlantic.
A spokesman said: "Lee is forecast to become a major hurricane by late this week and could bring impacts to the Leeward Islands this weekend.
"The atmospheric and oceanic conditions appear extremely favourable for rapid intensification (RI) during the next several days.
"This forecast calls for Lee to become a hurricane in 24 hours and a major hurricane by 60 hours.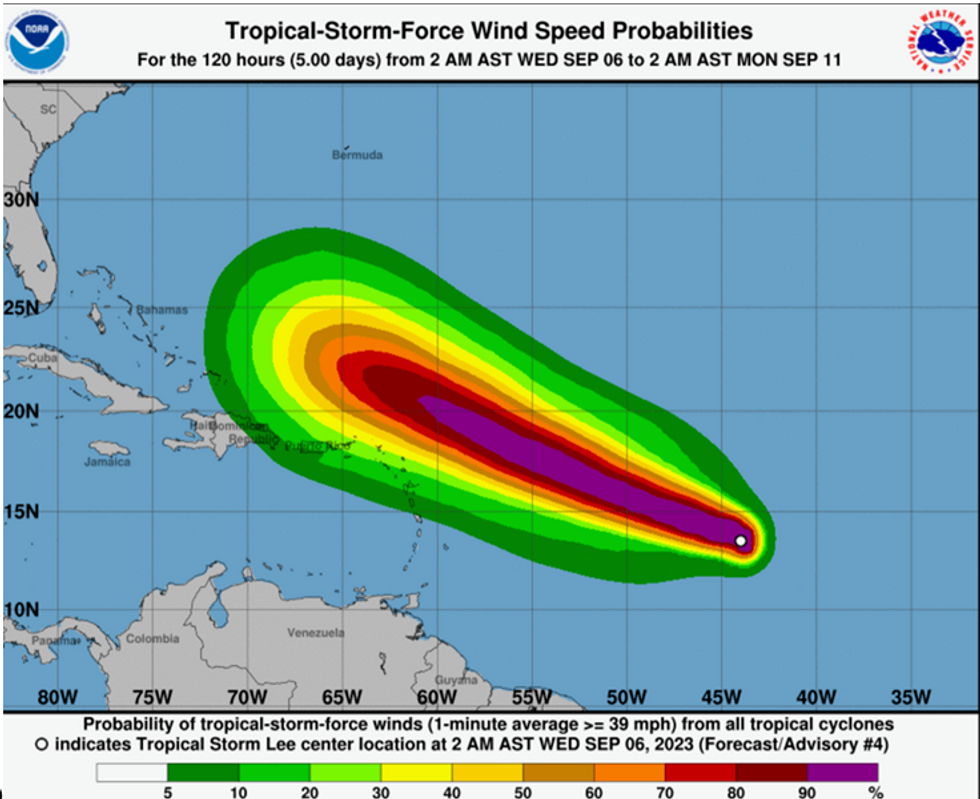 Tropical Storm Lee path
NOAA
"While it is too soon to determine the location and magnitude of these possible
impacts, interests in this area should monitor the progress of Lee
and further updates to the forecast."
The NOAA forecasts Lee to hit speeds of 75mph in the next 24 hours before reaching 150mph – a category 4 hurricane – within five days.
Weather Channel meteorologist Danielle Banks said: "Tropical storm Lee has been named.
"Within a couple of days, it is expected to be Hurricane Lee, and by the end of the week a major hurricane with additional strengthening beyond that.
"So, there is interest for the Leeward Islands and Puerto Rico, everyone needs to keep a very close eye on this storm."