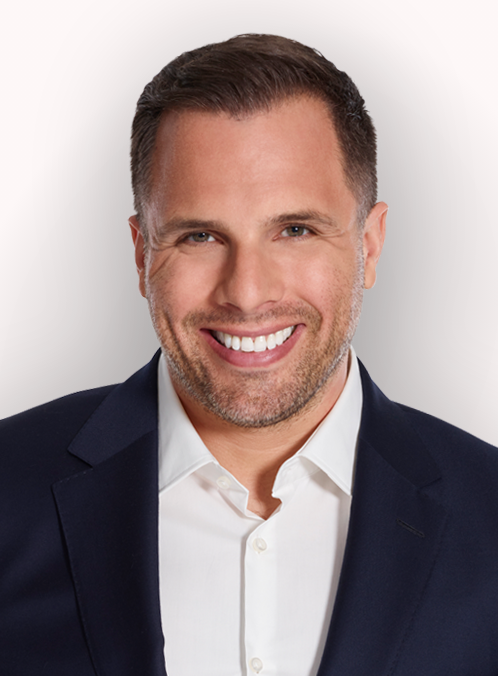 By Dan Wootton
Published: 05/04/2022
-
21:50
Updated: 05/04/2022
-
23:06
How the left-wing in this country have been seriously triggered over the past 24-hours.
Not about the likely war crimes committed in Ukraine, the spiralling cost of living crisis or the growing attempts to erase biological women from society.
---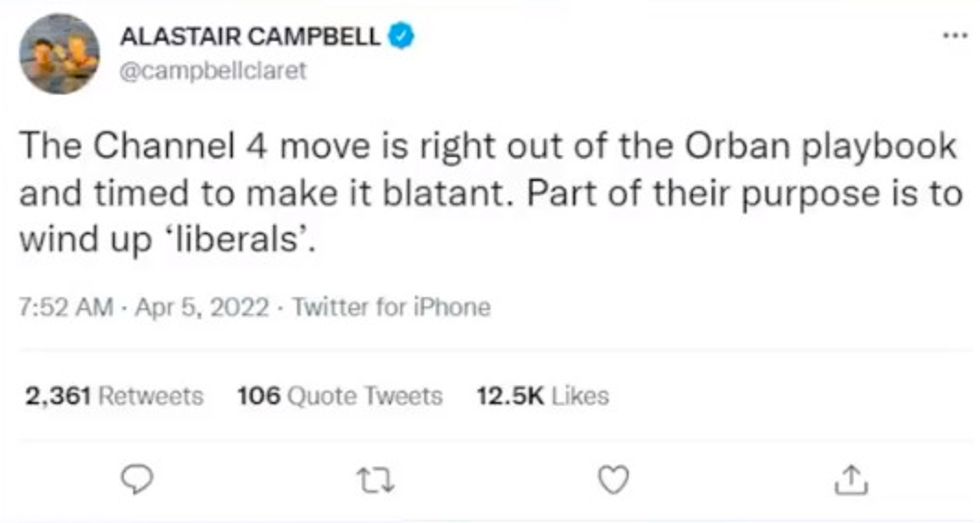 Alastair Campbell's reaction to the news.
Twitter
Nope, they've reacted hysterically to the government pushing ahead with a long-held promise to sell Channel 4.
I know, you and me own Channel 4, can you believe it? How random and unnecessary!
Channel 4, home to culturally enriching shows like Open House: The Great Sex Experiment and Naked Attraction is owned by taxpayers.
Such an arrangement might have made sense in the world of terrestrial television when Margaret Thatcher was Prime Minister looking to provide an edgy, daring and – yes – politically neutral alternative to the BBC and ITV.
But in the world of streaming, YouTube, podcasts and multichannel telly, it's an insane and outdated anathema.
So why are the left so triggered?
I'll tell you in a second, but let's just enjoy some of the crocodile tears for a moment.
Bitter Remoaner Alastair Campbell was true to form as he tweeted…
"The Channel 4 move is right out of the Orban playbook and timed to make it blatant. Part of their purpose is to wind up 'liberals'."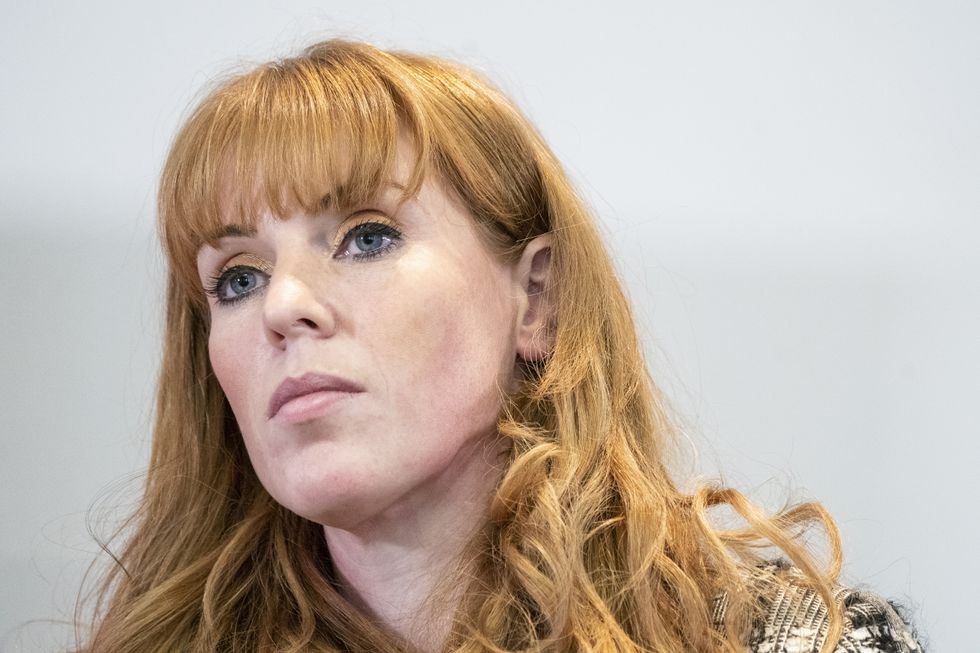 Angela Rayner has waded into the debate.
Dominic Lipinski
And the disgraced former Labour MP Claudia Webbe tweeted...
"The government has just confirmed its intention to 'privatise' Channel 4. This is not freedom or independence - it's the seedbed of fascism."
And Labour's deputy Angela Rayner raged...
"This is cultural vandalism from a government that's run out of ideas, run out of road and has no interest in levelling up."
Well, if Rayner thinks you're doing something wrong, then Boris Johnson and Nadine Dorries are almost certainly on the right track here.
But the left are so triggered because over the past couple of decades Channel 4 has morphed from what it was meant to have been under Thatcher and become a blatantly left-wing broadcaster.
Its news service – until just a few weeks ago fronted by "Eff the Tories" Jon Snow – is the most biased broadcaster in the country, but what's so dangerous is it operates under the ridiculous pretence of impartiality.
Look, I'm not an impartial broadcaster. I don't pretend to be. You KNOW what I think about everything I talk about and you can judge what I have to say knowing where I come from. I'm proud that I'm honest about what I think, but have guests from across the spectrum to provide impartiality.
But as a public service broadcaster owned by the government, Channel 4 has a responsibility to be impartial and it's failed on every count.
There are too many examples to mention because the left-wing bias is fused into every nook and cranny of Channel 4.
But, of course, some of the most high profile include the station's most senior news executive for years and years Dorothy Byrne slamming Boris Johnson as a "known liar" and a "coward" – and scandalously comparing him to Putin.
And during the 2019 election campaign they replaced Boris with a melting block of ice during a debate about climate change.
Channel 4 were told to move out of the London champagne socialist bubble, but they never properly relocated to Leeds, with most staff refusing to leave the capital.
I've been accused of celebrating journalists losing their jobs the past 24-hours, since the announcement of this sale.
What absolute baloney.
If Channel 4 is as good as it says it is, then it will survive and thrive in the private sector.
Although it's slightly ironic given how leftie journalists at Channel 4 openly celebrated when I lost my job, alongside hundreds of brilliant journalists, back in 2011 when the News of the World shut.
And it's these same hypocrites who have openly willed GB News to fail from the off, expressing glee and delight with our little troubles at launch and actively encouraging an ad boycott.
But I repeat, Channel 4 should thrive as a commercial broadcaster competing in the market, just as GB News is doing.
What has made absolutely zero sense was a government continuing to own a far-left telly channel masquerading as a public service broadcaster in 2022.