Published: 18/11/2022
-
15:09
Updated: 14/02/2023
-
10:30
RICHARDTicehas slammed the Autumn Statement saying it "is an utter outrage."
Speaking to Esther McVey and Philip Davis on GB News today, the leader of Reform UK said: "Yesterday's budget was a deeply damaging budget of austerity that was completely and utterly unnecessary.
---
"He (Jeremy Hunt) has decided to tax the people, the workers, but he's done nothing to cut unnecessary wasteful spending.
"There was no talk about saving waste in the Government. The Government talks about taxing the renewable businesses that are getting subsidies of 11 billion pounds - but they don't need them.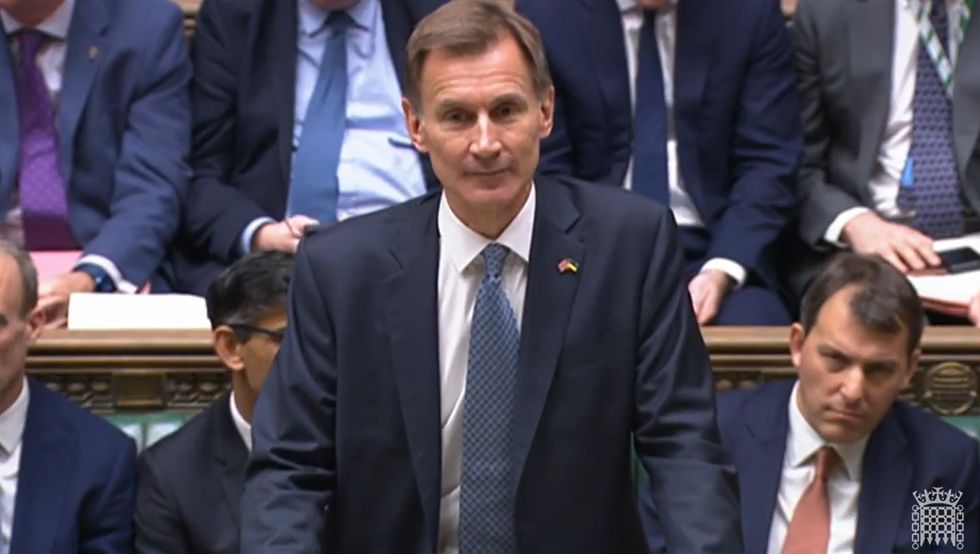 Jeremy Hunt
House of Commons
"They say renewables are very cheap. So that's 11 billion pounds we could save. There was no talk about getting one and a half million people on benefits post COVID back into work.
"That's 25 billion pounds. If you reorganise the government's QE debt, that will save over 10 billion pounds of interest. And then if you cut HS two and you still spent 50 billion pounds on an east to west to north upgrade you still save 50 billion quid.
"In a minute I've saved 196 billion pounds. It's an utter outrage, what the Chancellor has done to this country and it's going to consign the nation to low growth. And, you know, tragically, lots of people will just stop working and they'll just give up."
MrTice's comments come after Mr Hunt defended his economic package as "balanced", after a think tank said it piled more pressure on "squeezed" middle earners.
The Resolution Foundation said freezing tax thresholds hit those on middle incomes as well as the richest.
And the Institute for Fiscal Studies said this group would see the biggest hit to living standards.
But Mr Hunt said it was not possible to raise £25bn of taxes by focusing on a very small group of rich people.
The government's independent forecaster, the Office for Budget Responsibility (OBR), said the tax burden would rise to its highest level since the end of World War Two as a result of the plans set out in the chancellor's Autumn Statement on Thursday.
It also said, once rising prices are taken into account, household income would fall by 7% over the next 18 months.
Mr Hunt said tough decisions were needed to bring down rising prices.
Appearing on BBC Radio 4's Today programme, he denied his plans amounted to a raid on millions of working people, saying they asked, "people who have more to contribute more".
"We want to take these difficult decisions in a fair way," he said, adding that the most vulnerable people and public services would be protected.
The Resolution Foundation said increasing benefits in line with inflation would make a "huge difference" to those on low-to-middle incomes.
However, it said making energy support less generous from April would mean households were "far more exposed" to rising bills.
For a typical household, annual energy bills will rise to around £3,000, up from the current level of £2,500.
The Resolution Foundation said the focus on "stealth taxes" - freezing tax thresholds to raise revenue - meant those on middle incomes were being squeezed as well as higher earners.
Threshold freezes mean that a pay rise is more likely to drag someone into a higher tax threshold.
The independent Institute for Fiscal Studies said, "Middle England" was "set for a shock".
Director Paul Johnson said this group would not benefit from targeted energy support, but their wages were falling and taxes rising, with higher taxes looking "to be here to stay".
"The truth is we just got a lot poorer. We are in for a long, hard, unpleasant journey; a journey that has been made more arduous than it might have been by a series of economic own goals," he said.
Mr Hunt denied he had been forced to raise taxes and reduce spending because of the turmoil caused by his predecessor Kwasi Kwarteng's tax-cutting mini-budget.
He said there had been mistakes, but insisted the government had "corrected those within weeks" and other countries were also facing similar problems due to the war in Ukraine and the rise in energy prices.