Published: 29/01/2023
-
09:23
Updated: 29/01/2023
-
13:34
Nadhim Zahawi has been sacked by Rishi Sunak, with the Prime Minister telling the Tory chairman in a letter that it is "clear that there has been a serious breach of the Ministerial Code".
In a letter to Zahawi, the Prime Minister said the findings of his independent adviser on ministers' interests Sir Laurie Magnus made it impossible for him to continue following his public spat with HMRC.
---
** WATCH LIVE REACTION TO THE SACKING NOW ON GB NEWS **
The letter said: "When I became Prime Minister last year, I pledged that the Government I lead would have integrity, professionalism and accountability at every level.
"That is why, following new information which came to light in recent days regarding your personal financial arrangements and declarations, I asked Sir Laurie Magnus, the independent adviser on ministers' interests, to fully investigate this matter. You agreed and undertook to co-operate fully with the inquiry.
"Following the completion of the independent adviser's investigation – the findings of which he has shared with us both – it is clear that there has been a serious breach of the ministerial code.
"As a result, I have informed you of my decision to remove you from your position in His Majesty's Government."
He added: "As you leave, you should be extremely proud of your wide-ranging achievements in Government over the last five years.
"In particular, your successful oversight of the Covid-19 vaccine procurement and deployment programme which ensured the United Kingdom was at the forefront of the global response to the coronavirus pandemic."
Speaking on the Camilla Tominey Show, GB News presenter Michael Portillo said: "This is a terrific blow against the Government and the Prime Minister.
"People hate the idea that a senior minister is filthy rich and not paying the taxes up front and quickly and in the way the rest of us have to do.
"This is extremely toxic with the public."
Sir Laurie's four-page report, dated January 29 and setting out in detail the circumstances of Mr Zahawi's tax affairs and communications with HMRC, found that the Tory chairman had shown "insufficient regard for the General Principles of the Ministerial Code and the requirements in particular, under the seven Principles of Public Life, to be honest, open and an exemplary leader through his own behaviour".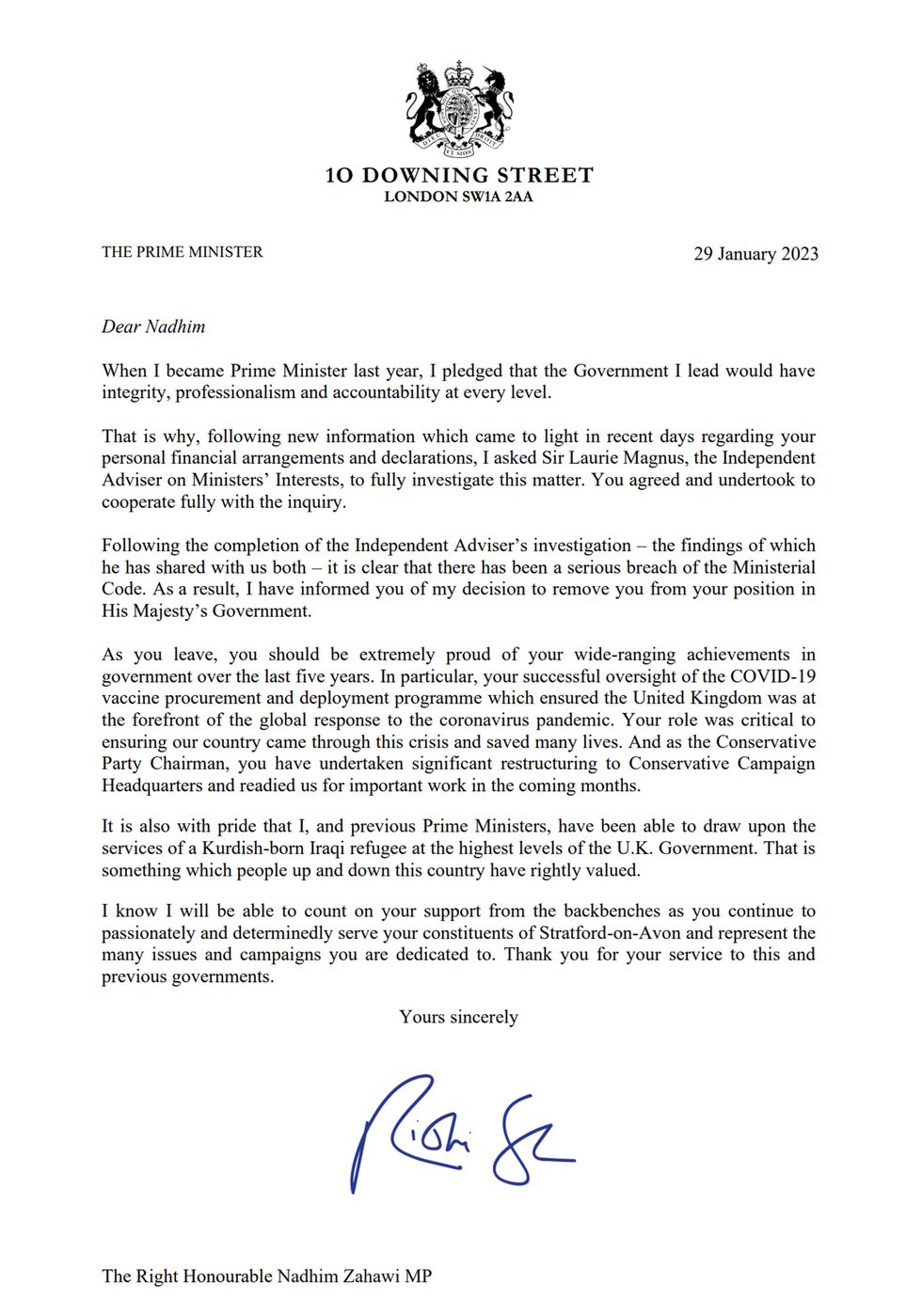 The letter from Prime Minister Rishi Sunak firing Nadhim Zahawi
10 Downing Street
The row surrounding Mr Zahawi had centred on a tax bill over the sale of shares in YouGov – the polling firm he founded – worth an estimated £27 million and which were held by Balshore Investments, a company registered offshore in Gibraltar and linked to Mr Zahawi's family.
Mr Zahawi, who has been Stratford-on-Avon MP since 2010, had said that HMRC concluded there had been a "careless and not deliberate" error in the way the founders' shares, which he had allocated to his father, had been treated.
He also insisted he was "confident" he had "acted properly throughout".
Labour's Andy Burnham said the Government had been distracted by the Zahawi affair and now had to get on with fixing public services.
The Mayor of Greater Manchester said: "This has been allowed to dominate pretty much most of January when there is probably the worst crisis in the National Health Service that I can remember, and also we've got collapsing public transport around the country.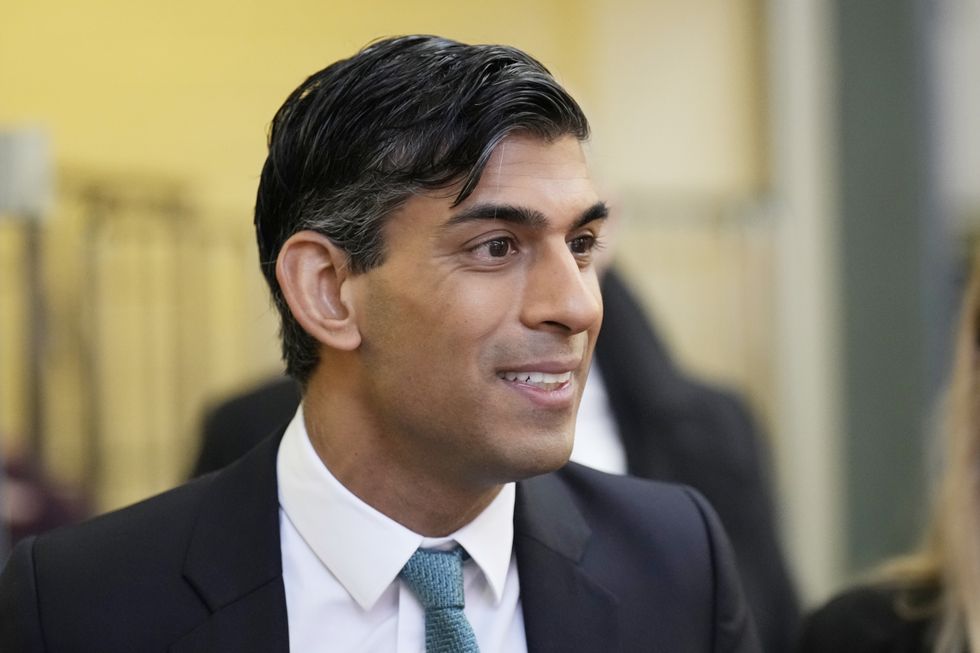 Prime Minister Rishi Sunak has fired Tory Party Chairman Nadhim Zahawi
Christopher Furlong
"People can't get to work and attention should've been on those issues, absolutely those issues because they're critical for millions of people."
He added: "They must learn lessons from this and get Government focus where it needs to be – on the very serious situation that there is out there for millions of people struggling with the cost-of-living crisis, ambulances queuing outside of hospitals, train timetables that are just non-existent in large parts of the country.
"Those are the things that the British public urgently need their Government to focus on."
The Liberal Democrats called on Nadhim Zahawi to resign as an MP as they seek an independent inquiry into the affair.
Deputy leader Daisy Cooper said: "Rishi Sunak has finally acted after spending days defending the indefensible on Nadhim Zahawi.
"It should never have taken him this long to act. Sunak's first 100 days in office have been tarnished by endless Conservative sleaze and scandals.
"Serious questions remain about what Sunak knew about Zahawi's tax affairs when he appointed him. We need a proper independent inquiry to establish the facts and hold the Prime Minister to account.
"Given this was a serious breach of the ministerial code, Nadhim Zahawi must also do the right thing and resign as an MP. He has shown he is unfit to serve in Cabinet and unfit to serve the people of Stratford-on-Avon."
Unite general secretary Sharon Graham said of Nadhim Zahawi's sacking: "This latest episode again underlines the lack of experience and direction of Rishi Sunak as our Prime Minister.

"Instead of acting decisively, he has been guilty of poor judgment, dither and delay.

"The Prime Minister's tactics of covering his eyes and ears, hoping it will all go away, along with his total lack of judgment, are fundamental factors in the escalating NHS dispute.

"Rather than acting decisively and swiftly he is instead missing in action."