Published: 19/09/2023
-
15:32
GB News' Political Editor Chris Hope has revealed the details of Sir Keir Starmer's 45-minute meeting with French President Emmanuel Macron as he visits France.
The Labour leader met with Macron to discuss relations between the EU and the UK, as well as a better Brexit deal for Britain.
---
Hope outlined the key focusses of the meeting as he reported live from Paris, revealing he had bumped into Starmer just moments before going on-air.
Hope said: "He's met with Macron for 45 minutes. He gave the French President an Arsenal shirt with 25 on the back and Macron ablaze across the top of it, and he received some cufflinks in return from the French President.
WATCH CHRISTOPHER'S ANALYSIS IN FULL BELOW:
"It seemed like quite a positive meeting from what he was saying, constructive was a word used when asked how it went, but Sir Keir did not speak French as far as I understand it, certainly not in a meaningful way, so it was conducted in English."
Hope continued: "And the two men met alone, advisers were meeting alongside in a separate room, so the two guys met together.
"So it's definitely all about constructing a personal relationship for Sir Keir Starmer, if as the polls suggest he's going to become our Prime Minister next year."
Starmer had told the press after his meeting that the conversation was "positive" and "covered a wide range of issues".
Sharing the details of the meeting on GB News show The Live Desk, Hope was then asked by host Martin Daubney if the meeting meant a possibility of 'renegotiating Brexit and re-joining the European Union'.
Hope replied: "Well that was the concern on the Tory right Martin, definitely, but I mean what Starmer's always said is Brexit's done, he's not going to reopen that deal.
"And what he wants to do is get the deal better. Now what that means is he's going to renegotiate the terms of the trade deal, the TCA agreement, in mid 2025. What's on the table then is fisheries, that the UK should get back control of its fisheries that were temporarily left with the EU at the stage of when we left the European Union.
"What deal will Starmer do, if he dare do a deal frankly about UK fishing waters, it could be a deal on batteries for electric vehicles and insure they're not hit by tariffs when they're traded back into the EU trading bloc."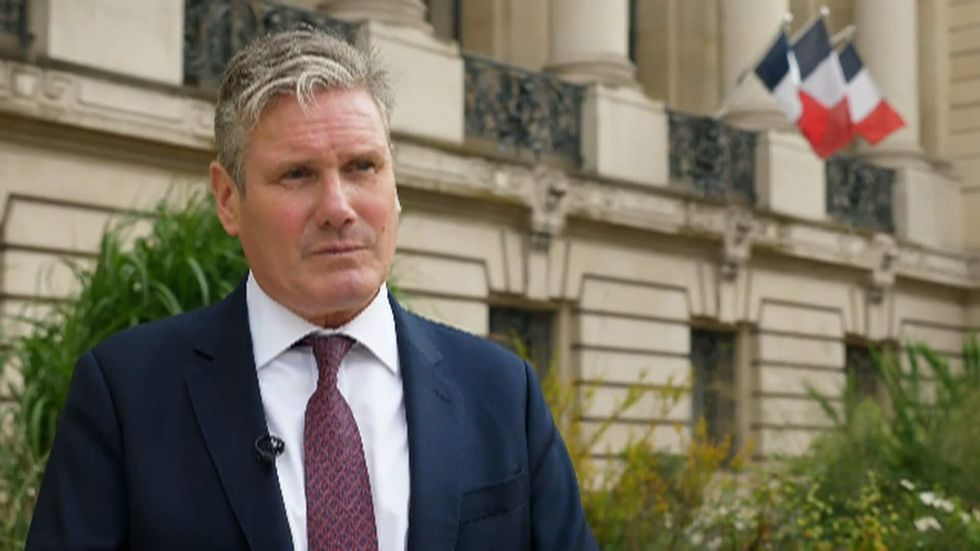 Keir Starmer revealed the details of his meeting with French President Emmanuel Macron
GB News
Hope then concluded: "So what is clear is the B word, that's Brexit and Britain, But Brexit came up Martin, so Brexit was definitely a key talking point.
"I did say was there any chat about small boats, to which there was no answer, so they stopped doing a shopping list of subject areas they spoke about, but it's quite clear that this is an attempt by Sir Keir to form a personal relationship.
"It's quite interesting because Emmanuel Macron is not necessarily from the same part of politics as Keir Starmer.
"Perhaps they both have a shared interest in football and trying to get the UK and EU closer together on some areas."