Published: 08/09/2023
-
21:09
Updated: 08/09/2023
-
21:43
Emmanuel Macron has been 'booed by the entire stadium' as he opened the Rugby World Cup.
This year marks France's turn to host the prestigious sports event with festivities launching in spectacular fashion.
---
French actor Jean Dujardin was first to make an appearance, walking out in a white T-shirt before being joined by a number of performers.
Acrobats and a giant scrum took to the field to open the ceremony and even a giant inflatable Eiffel Tower popped up in the centre of the field.
WATCH THE MOMENT MACRON BOOED
Fans clapped and cheered for the performance but the mood quickly changed when Macron appeared.
As the French president went to take the podium at the Stade de France, rugby fans launched into a sea of jeers.
Macron's unpopular pension plan led to riots across France earlier this year after he raised the retirement age from 62 to 64 years old.
Following his speech to open the ceremony, Macron stood with his arms crossed before applauding World Rugby chairman Bill Beaumont after he finished his speech.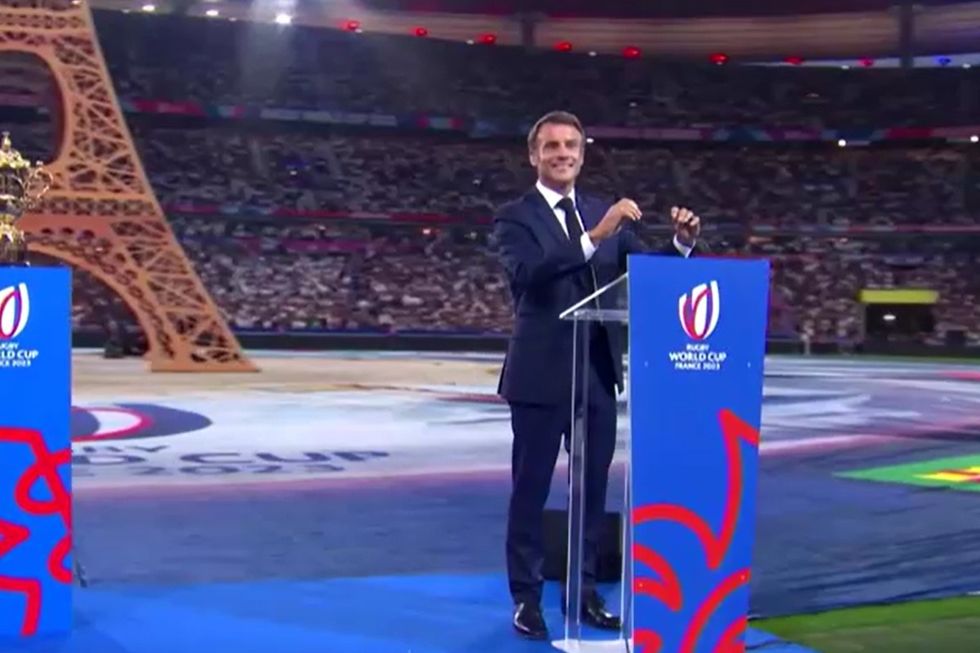 Emmanuel Macron took to the podium after a short performance
Reuters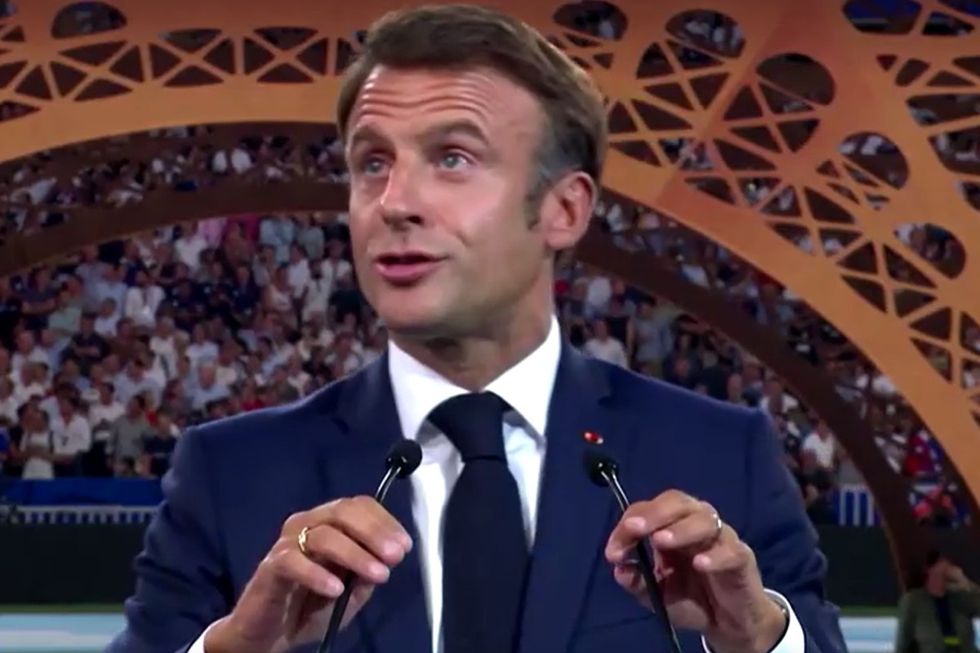 Emmanuel Macron sparked nationwide riots after raising the retirement age earlier this year
Reuters
Fans chanted "Allez Les Bleus" (Go the Blues) in support of the French team before joining in for the national anthem "La Marseillaise".
After the president left the field, France and New Zealand met for the opening match of the series.
France's World Cup team has been mired in controversy even before kick-off after France lock Bastien Chalureau was forced to deny accusations he is racist following his controversial call-up for the Rugby World Cup.
The 31-year-old Montpellier player is appealing against a suspended six-month prison sentence for a racially-motivated attack in 2020.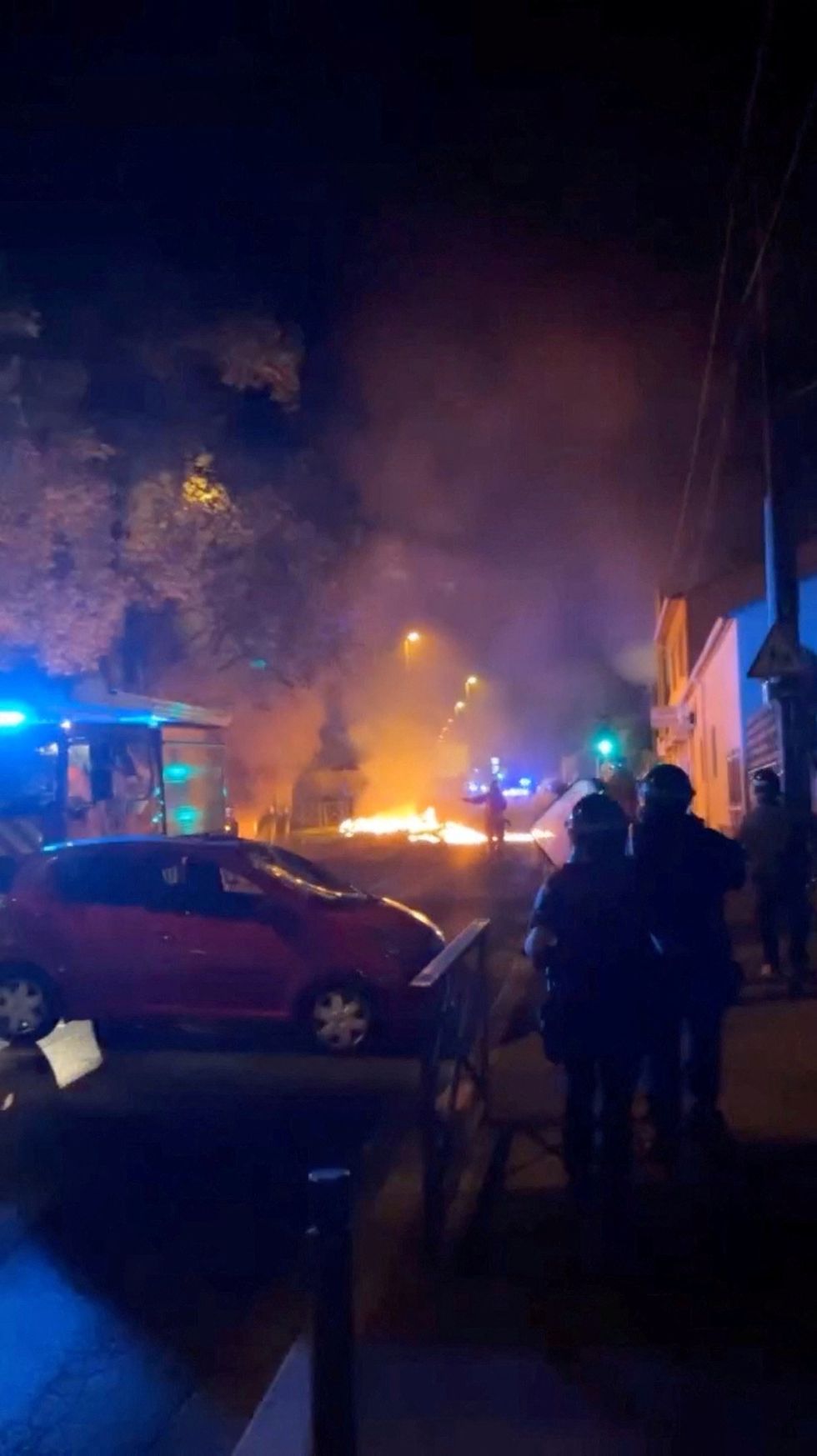 Riots in France
Reuters
"I am not a racist, I do not have those values," he told a press conference on Monday.
"What I want to say to you is that I confessed to my mistakes, that I paid my debts and I deny all claims about racist remarks."
Following the call-up Macron was heard telling head coach Galthie: "We don't want the controversy getting out of hand."
Chalureau, who at times was tearful during his press conference, said France's coaching staff and management were fully aware of the assault, which led to him leaving former club Toulouse.
"We discussed the matter with the French team staff," he said.
"They knew from the start, it is an old case and known by a lot of people.
"I wanted to come out in public and address all my team-mates, my family as it does not just affect me.
"I am not a racist, I bring people together. The beauty of rugby is it brings together people from all communities."