By Tom Evans
Published: 26/09/2022
-
12:11
Updated: 14/02/2023
-
10:38
Disorder has spread across the East Midlands city, with 47 people having been arrested since clashes began.
Unrest has spread across the country, with Leicestershire Police saying that some of those detained in the trouble were from Birmingham.
---
The force also said 25 of its officers and a police dog were injured, in scenes that have shocked the famously diverse city's residents.
Over the weekend, a group of south Asian women of Muslim and Hindu faith issued a joint statement in a bid to bring the violence to an end.
Local councillor Rita Patel said: "We, as Asian women from Leicester, call upon the people of this city to rally together and oppose the senseless violence that has torn apart our community over the last week.
"We condemn those perpetrating hate and violence in our city – you will not succeed in dividing us.
"As your grandmothers, mothers, sisters, aunts, daughters and friends we have come together in collective solidarity to say no to the senseless violence that has plagued our great city in recent weeks and left many people injured.
"As a result, whole neighbourhoods and entire families, particularly women, children and elders are now living in fear.
"Our thoughts go out to all those injured as a result of this violence, including community workers and police officers.
"Leicester is a great place to live and work – and such hate-filled violence threatens to tarnish our city that has been and remains a model of peace and tolerance.
"This has been built on the extraordinary hard work of many including countless community organisations, faith groups and other agencies on the ground.
"We now call upon the people of Leicester to reject and challenge all that is intent on dividing and polarising our communities.
"It is now time for solutions. We, therefore, ask the women of Leicester to join us in taking action and bringing out communities together once again.
"As strong proud Asian women, we know that when Leicester is united, it can never be defeated. Leicester, united as one."
The widespread disorder – involving mainly young men – has spread west across the Midlands region, from Leicester to Smethwick in the West Midlands.
Faith and community leaders have since issued a warning that "this will spread all over Britain".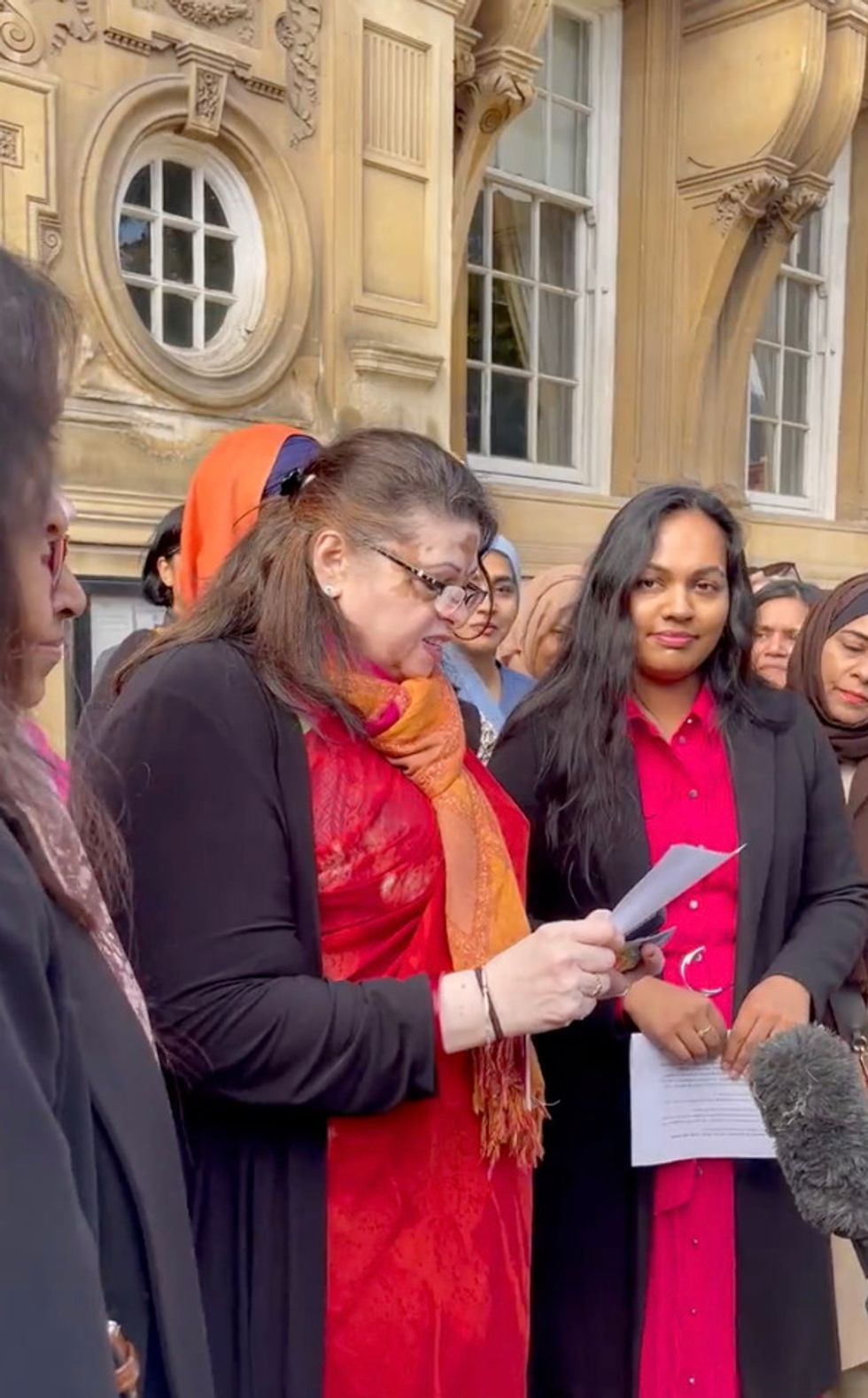 Local councillor Rita Patel making her statement over the weekend
Twitter/Rita Patel
Investigating the events on GB News last week, Nigel Farage was joined by Dr Rakib Ehsan – a writer specialising in race relations.
Nigel asked: "Would it be right to describe these scenes, night after night in Leicester, as race riots?"
To this, Dr Ehsan replied: "Well one thing I will say, Nigel, is that this is sectarian violence.
"The reality is that foreign-inspired sectarianism and ultra-religious identity politics is now on Britain's streets, in a regional city.
"What's even worse is that we have out-of-town troublemakers travelling from cities such as London and Birmingham, adding further heat to those community tensions in Leicester."
On the issue of immigration, he added: "The reality of the matter is we do have newly-arrived migrants with radical, ideological beliefs."