By Anna Fox
Published: 27/06/2022
-
20:26
Updated: 14/02/2023
-
10:55
Imam and Provost of the Oxford Institute for British Islam, Dr Taj Hargey told GB News presenter Nigel Farage that there's "nothing in the Quran that talks about killing homosexuals" after an attack on an LGBT venue in Oslo.
When probed by Nigel to clarify whether the Quran states that homosexuality is a sin, Dr Hargey replied: "It doesn't condone homosexuality, just like Judaism and Christianity, so it's taking the same stance as Abrahamic religions."
---
Dr Hargey added: "However, while it might not approve of homosexuality, there's nothing in the Quran that says anything about anyone taking the life of any homosexual.
"That is totally forbidden, it is not possible.
"In chapter five, verse 32, it says if you take one life, it is like you've killed the whole of humanity, and if you saved one life, it's like you've saved the whole of humanity.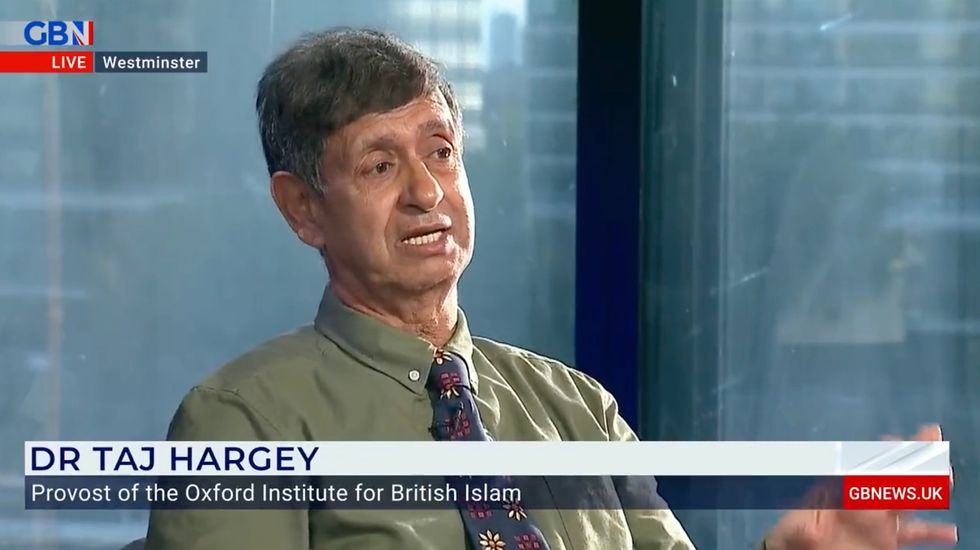 Dr Taj Hargey condemned the attack as 'un-Islamic and un-Quranic'
GB NEWS
The professor condemned the attacker as "un-Islamic and un-Quranic".
The conversation between Nigel and Dr Hargey fell in the wake of a shooting at an LGBT bar in Oslo, Norway.
Authorities said the suspect, a 42-year-old Norwegian citizen of Iranian origin, was believed to be a radicalised Islamist with a history of mental illness who had been known to intelligence services since 2015.
The gunman stormed the bar in the early hours of Saturday morning, with victims shot inside and outside the London Pub, a favourite hub of Oslo's LGBTQ scene.
Dr Hargey rose to the public eye last year, after he condemned the BBC for "giving a platform to an apologist for the Taliban".
The Imam spoke out against the broadcaster's decision to feature Khola Hasan on the show, who implied every Muslim in Britain was celebrating the return to power of the Taliban.
Describing the speech from Ms Hasan as "inarticulate tripe", the Imam has openly announced he is strongly opposing Islamism.
Dr Hargey has founded a new Muslim-led think tank, the Oxford Institute for British Islam, hoping to "theologically empower" the Muslim youth of today to resist divisive, hostile and fundamentalist interpretations of Islam.
At the launch of the think tank last month, Dr Hargey said it "will demonstrate that violence against non-Muslims, blasphemers and apostates, FGM, women's suppression, stoning to death – all these barbaric practices – have no Quranic validation".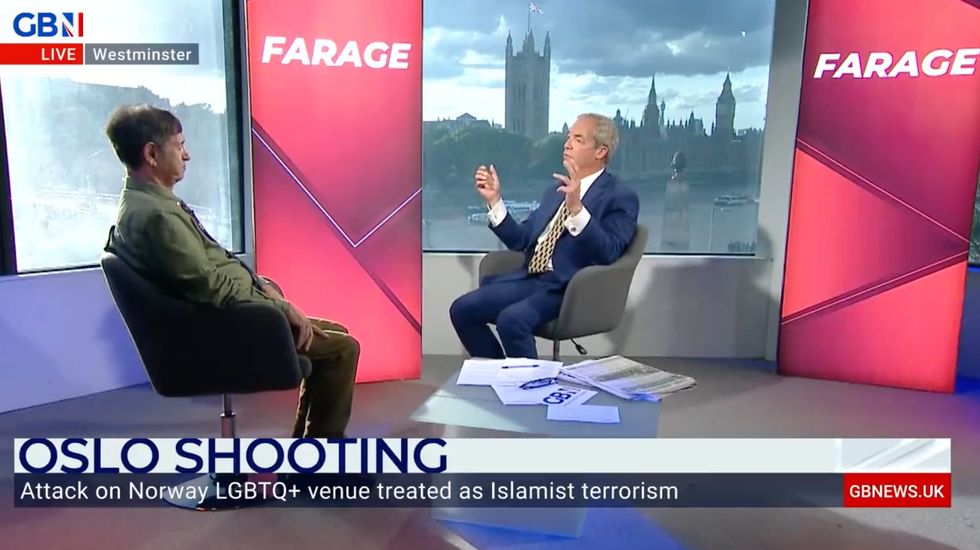 GB News presenter Nigel Farage and Imam Dr Taj Hargey discussed the recent attack at a gay nightclub in Oslo
GB NEWS