Patrick Christys joined Bev Turner and Andrew Pierce on Britain's Newsroom today as he joked about their attention-grabbing debate on Russell Brand.
Comedian Brand is facing allegations of sexual assault from four separate women, including one who was 16 at the time the alleged incident took place.
---
Brand has denied the "very serious allegations" and has since had his comedy gigs cancelled, as well as being dropped by his talent agency and publisher.
He's also been banned from making money from his YouTube channel after the company said he "violated our Creator Responsibility policy".
The allegations were passionately debated by GB News presenters Turner and Pierce on Monday's Britain's Newsroom after the former had described Brand as a "hero" in a tweet amid the allegations.
Turner had lauded the comedian and claimed he was being "attacked" by the "establishment media" for his outspoken political views, something Pierce described as "shameful".
The debate - which has been viewed more than 2.4 million times on Twitter - drew to a close as Turner pointed out: "Of course, everybody has the right to not be sexually assaulted. Anybody who has been sexually assaulted, my heart goes out to them."
And Turner and Pierce returned to their spots on the GB News desk on Tuesday morning where they discussed the latest developments in the story as well as the other headlines making the news.
However, before the show drew to a close, they welcomed fellow GB News star Patrick Christys onto the programme - and he cheekily poked fun at the differing views between the pair.
"Obviously all chaos has broken out because Patrick Christys has joined us in the studio talking about what's coming up on his show," Turner said as Christys took his seat.
"It sounds very interesting - so interesting we didn't know we were on the telly," she commented as Christys cheekily replied: "Can I just say, it was a bit windy outside but I came in here and I thought, 'Gosh, it's frosty!'
"It's a bit frosty in here, isn't it?" Christys added as Pierce and Turner grinned.
The GB News presenter then pulled out a piece of paper as he informed his co-stars: "I've got a few emails here, I just thought I'd read a few of them out because I want you to know that you're loved both of you."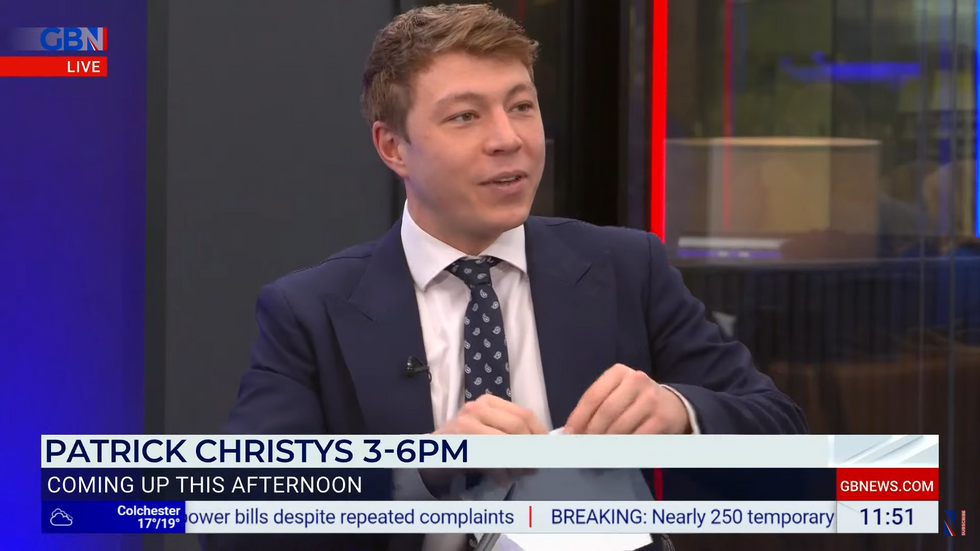 Patrick Christys read out viewer emails about Bev and Andrew
GB NEWS
Reading aloud viewers' comments, Christys said: "'Are Bev and Andrew okay? Don't let Brand break up the best partnership on any TV channel.' And I echo that because I think you're wonderful!
"'Bev and Andrew need to lighten up, we loved you both,' that's from Angela!" Christys enthusiastically added. "So there you go."
Turner and Pierce appeared unmoved by Christys' "intervention", prompting the presenter to quip: "Okay, this is going down like a cup of cold sick."
"Let's talk about your show!" Pierce weighed in before Turner echoed: "We didn't know you were coming on to give relationship counselling."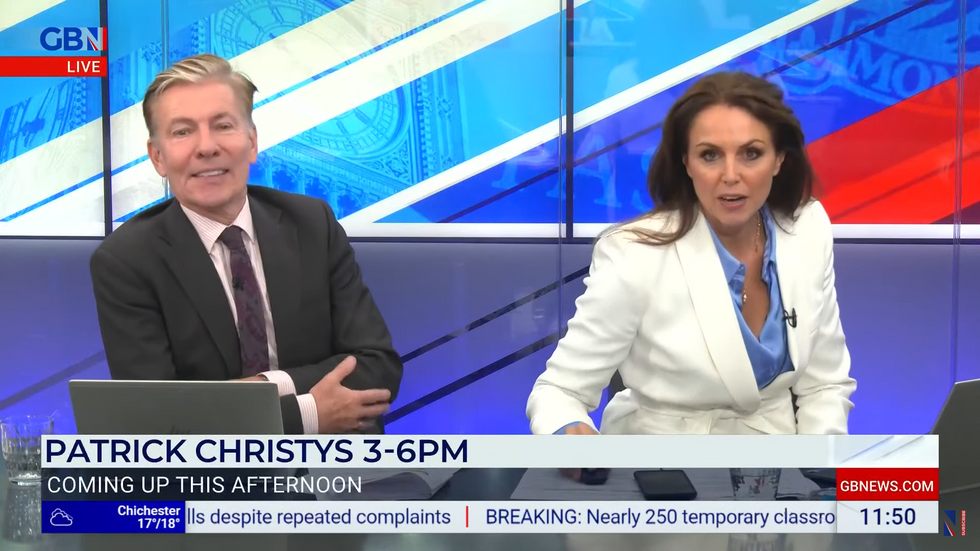 Andrew Pierce and Bev Turner returned to Britain's Newsroom on Tuesday morning
GB NEWS
Christys soon moved on to tease what was in store for his show which airs at 3pm on GB News.
A rather tongue-in-cheek Christys told the gallery before his on-screen mischief: "Many people don't know this about me but I'm actually a trained counsellor, mediator, and crisis manager.
"I'm going to use tried and tested surefire techniques to lighten the mood and, before you know it, Bev and Andrew will be best friends again."
Referencing his speech soon after, he continued: "Well, that went down like a cup of cold sick.
"Maybe I need to refresh my mediation skills. Normally my cheeky charm is enough to diffuse any situation but that was frostier than a polar bear's toenails in there."