Published: 03/02/2023
-
18:56
AN 'explosive' battle between cyclonic storm systems spanning the Atlantic astride a furious jet stream threatens to plunge Britain into a -15C easterly freeze.
A massive low-pressure 'beast' churning off the east coast of America is about to supercharge the jet helping it strengthen another storm thousands of miles away over Greece.
---
All three elements could join forces later next week to steer a plume of sub-zero air across Eastern Europe towards Britain, experts say.
If it does, the UK will be facing freezing temperatures, howling Russian winds and heavy snow possibly until the end of February.
** STAY UP-TO-DATE WITH THE FORECAST - SUBSCRIBE TO GB NEWS ON YOUTUBE **
Weather models are yet to agree on a definitive outlook, although forecasters have sounded early alarm bells to get winter coats at the ready, claiming the snow could arrive as soon as next Saturday (February 11).
Exacta Weather's James Madden said: "Some computer models are now favouring a bitter easterly blast later next week, and this could bring the risk of widespread snow.
"This is expected ahead of next weekend and if it happens, temperatures will plunge across the country.
"Snowfall in parts could bring the risk of disruption, and depending on the severity of this blast, this could be on a scale or greater than anything we have seen so far this winter.
"We could see temperatures dipping to -10C or even -15C in some urban regions in a cold spell that could hold out for seven to 10 days."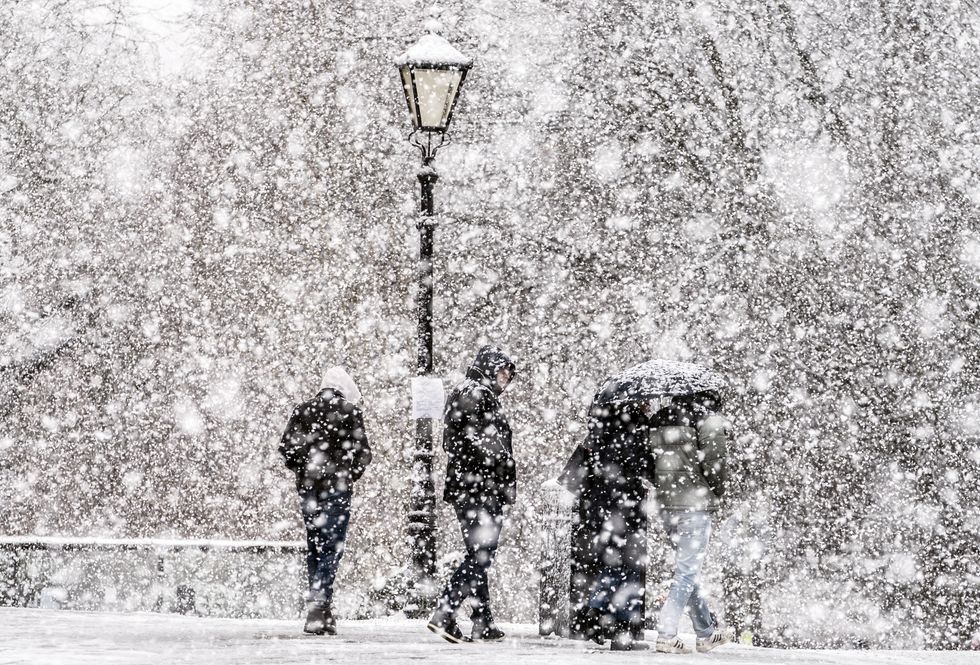 Heavy snow on a 'different scale' could hit the UK from the end of next week, forecasters warn
Danny Lawson
A freezing blast hitting the US will clash with tropical air wafting up from the Gulf of Mexico to supercharge the jet stream, experts say. Synoptic forecasting models show the core of the jet - the jet streak - whipping up speeds of 200mph as swoops across the tip of Britain.
This will have a knock-on effect on weather patterns and air flow across the Atlantic and further east which could send temperatures plummeting.
Met Office meteorologist Aidan McGivern said: "A huge area of cold air across North America is coming up against milder air to the south, and we are getting a powerful jet stream which is helping to deepen areas of low pressure.
"An area of low pressure deepens explosively and becomes a real beast coming out of North America, and although that's deepened by the jet stream, the size of that low affects the shape of the jet stream and helps to push its energy southwards and northwards amplifying the jet stream.
"This will have a knock-on impact on the shape of the jet steam coming over the UK and helping to develop an area of low pressure coming across Greece."
Computer models areas yet undecided on a definitive forecast for next week, flipping between a bitter cold easterly blast and a stormier but milder assault from the west.
American synoptic systems favour colder weather setting in, while UK Met Office charts suggest wetter milder conditions. Meteorologists are watching this interaction to work out how cold it gets next week, and which parts of the UK could be most at risk.
McGivern said: "That will ultimately decide how much of the cold air stays to the east of the UK and how much it influences the UK itself.
"What we think is that there is an 85-per cent chance that next week will start off colder and drier in the south but milder with some rain in the north.
"Then gradually through next week westerlies will sink south brining changeable but milder air across the UK. But there is a 15-per cent chance that it will turn very cold especially across the south and east with snow."
If this happened, it would mean a 'slow return' to milder conditions through the start of spring, he added.
While Britons are warned to have winter coats and scarves on standby, experts have played down fears of a 'proper beast from the east'.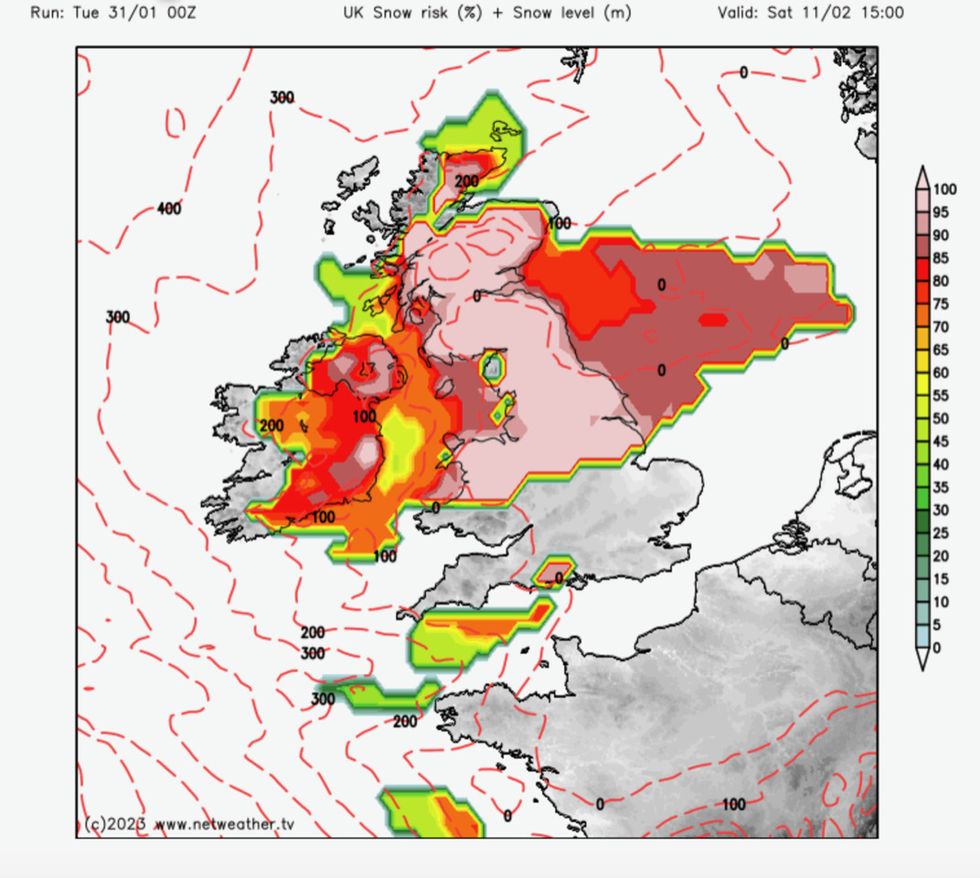 Widespread snowfall could hit northern Britain, spreading to the south and east
Netweather
The last one struck in February 2018 when sub-zero temperatures engulfed Britain while swathes of the country were buried under inches of snow.
It was triggered by a Sudden Stratospheric Warming (SSW) above the North Pole, causing Polar air to spill over Europe as bitter winds swept in from the East.
While meteorologists have in the past week confirmed the onset of an SSW event this year, they say it is unlikely to drive a similar cold snap.
The jet stream will instead meander over the Atlantic into Scandinavia and Europe, although this could bring freezing conditions to the UK.
Jim Dale, meteorologist for British Weather Services, said: "The jet stream is coming over Iceland, Norway and Europe and this will help low pressure to form over Greece.
"This is the power battle, and there is about a 20-per cent chance that we could get something colder at the end of next week as a result.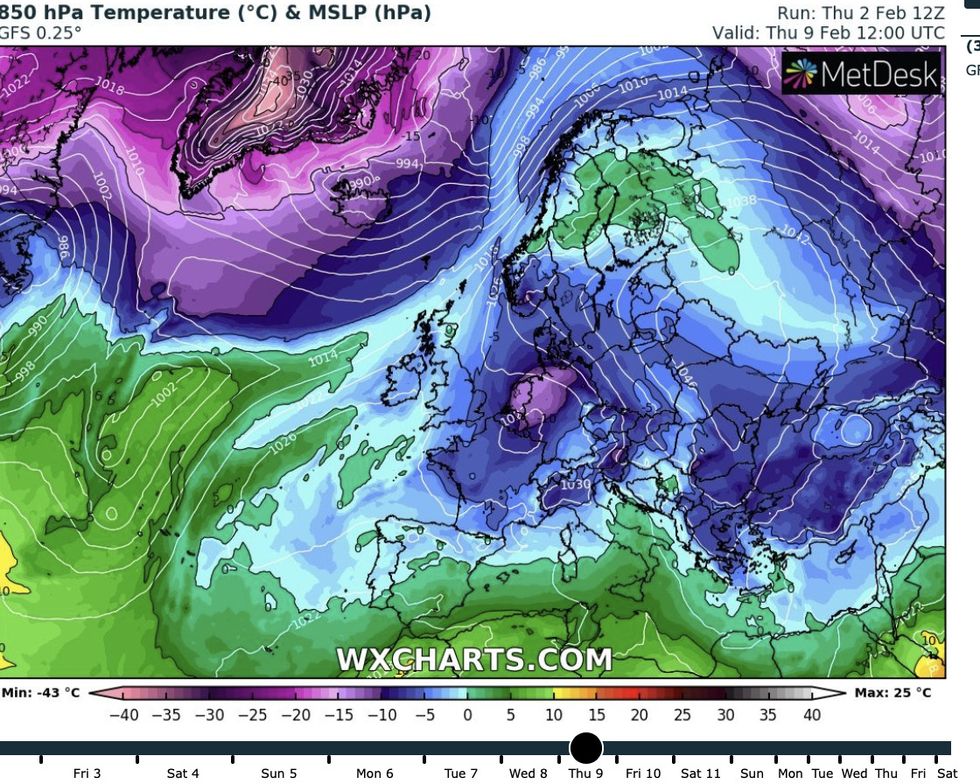 Snow warning: Temperatures are set to plunge across the UK ahead of next weekend
WX Charts
"This is what is being referred to as the Beast from the East, although I think a full beast is unlikely, certainly before the last 10 days of the month.
"However, there is a chance that we will see something colder by the end of the week, and this is something that we are going to be keeping our eyes on."
Weather models show a wall of snow ploughing across Britain ahead of next weekend with up to eight inches possible over Scotland.
South-eastern Britain will be in the firing line for the first taste of the cold if it arrives, according to the Met Office.
A spokesman said: "It looks like we will start to see a change from the current mild conditions to a colder spell from the middle of next week, especially for parts of the south and east of England.
"High pressure is expected to build and settle over or near to the south of the UK allowing colder air from continental Europe to cross the country."