Published: 05/08/2022
-
17:41
Updated: 14/02/2023
-
10:46
Scotland's George Miller has become the oldest gold medallist in Commonwealth Games history after winning the para-bowls mixed pairs final in Leamington Spa at the age of 75.
Miller, who is lead director for partially-sighted team-mate Melanie Inness, succeeds his para-bowls team-mate, 72-year-old Rosemary Lenton, who briefly held the record after winning the women's pairs title on Wednesday.
---
Scotland dominated their B2/B3 final against Wales, who also included a 75-year-old player in Gordon Llewellyn, pulling away in the final four ends to claim a comfortable 16-9 win.
"I'm reasonably pleased, but I think Rosemary is more pleased than I am," joked Miller. "I was told I could be the oldest winner and I wondered what it meant, and now I'm starting to find out.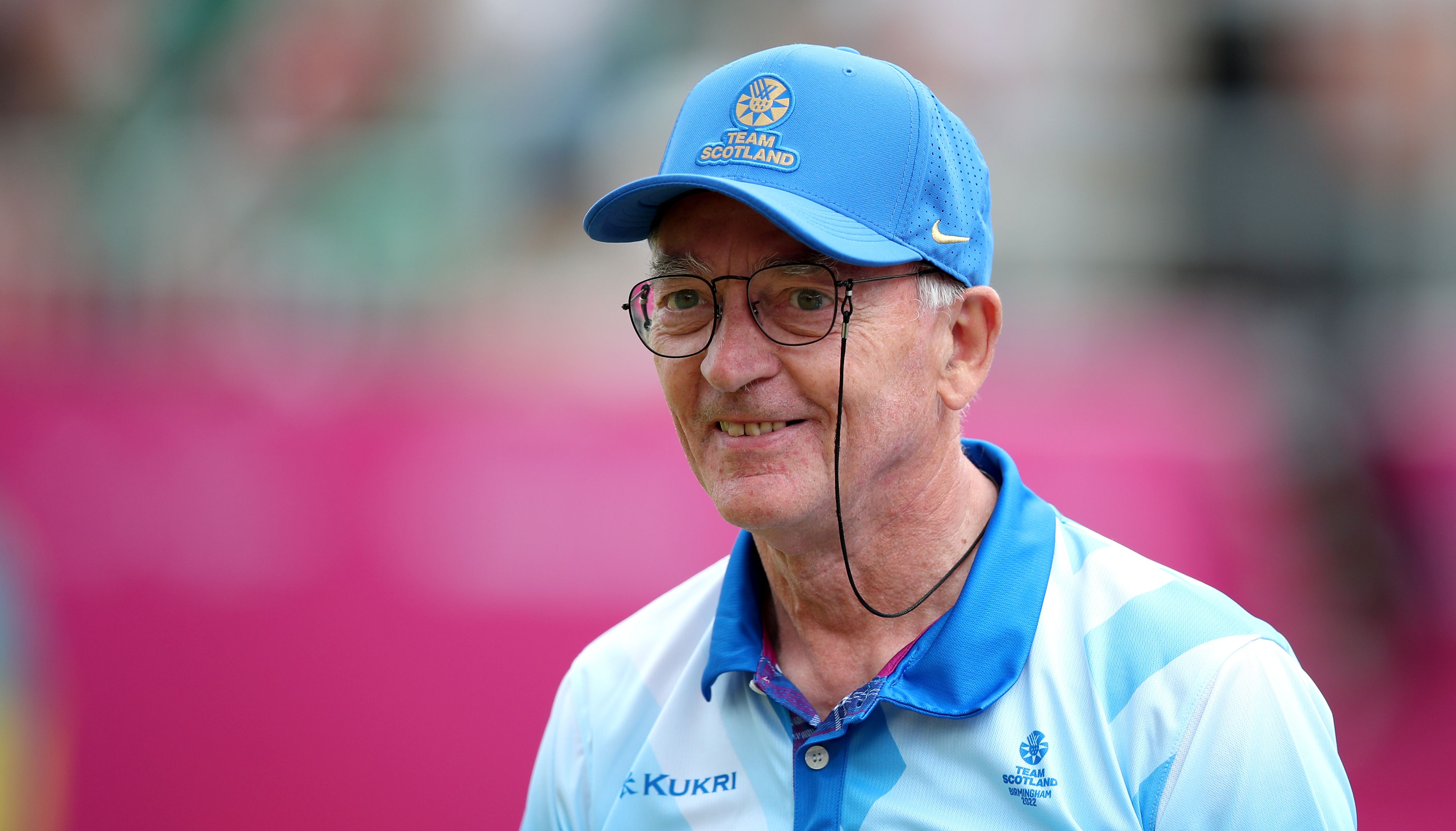 George Miller
Isaac Parkin
"It means a lot to me. I started bowling when I was 42 or 43 and progressed into coach. To be picked to play for Scotland is a dream."
Miller's role is effectively to act as an assistant for Innes, helping her to establish her line and describing plays and ends in progress.
Team-mate Sarah Jane Ewing fulfils a similar role in the four-strong unit for Innes' para-bowls team-mate, Robert Barr.
Innes said: "I couldn't do it without George. You can't see what's happening or how the balls are running, so George has to give me the information so I can visualise it."
Neither Miller nor his fellow 75-year-old Llewellyn, who had to settle for a silver medal, showed any inclination to take a backward step, with the Victoria Games in four years' time already on the agenda.
"I don't really think of my age," said Llewellyn. "The alternative is just to sit down and I'm going to do that. In another four years I could break the record again but by then there'll be more grandchildren, and babysitting is tough."
Elsewhere, Jack Laugher was full of praise after he sealed his second gold medal of the Commonwealth Games, winning the men's synchronised 3m springboard event alongside partner Anthony Harding.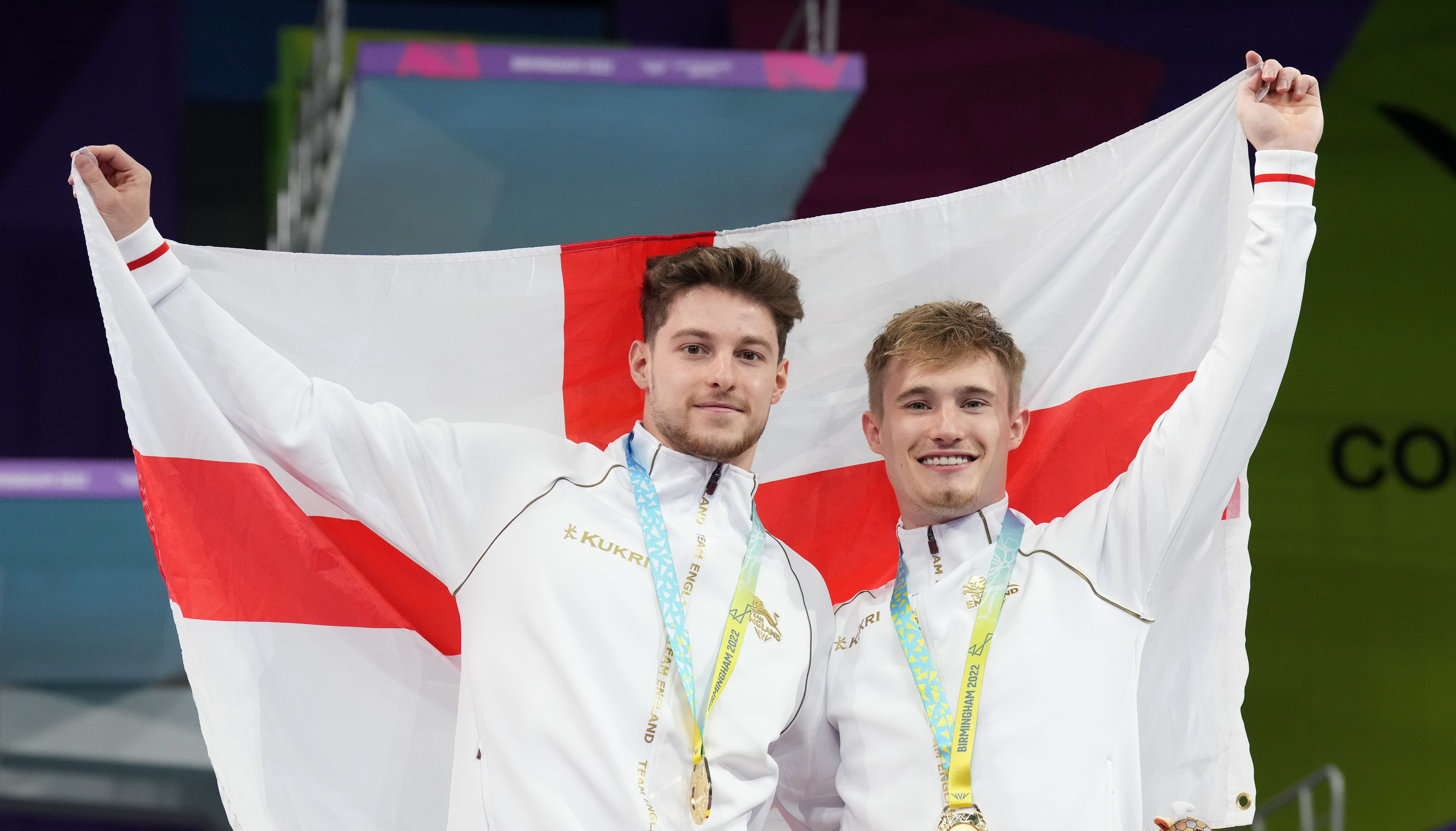 England's Anthony Harding and Jack Laugher
Tim Goode
In what is a relatively new partnership between the pair, they topped the leaderboard in Friday's event with 438.33, winning by a massive 61.56 points.
For Harding, this is his first medal on his Commonwealth debut and the 22-year-old was delighted to finally have the chance to show what he can do.
He said: "I'm over the moon with it, I mean I did a pretty okay performance, I could have done a little better, I know Jack's maybe a little disappointed, but I have just worked so hard for this.
"I have waited plenty of years, I've watched him [Laugher] at three other Commonwealths, three Olympics, so it's been a while for me to get onto this kind of stage and he's a massive help."
Laugher came into the competition with plenty of experience in the discipline having won it in Glasgow 2014 and the Gold Coast 2018 alongside partner Chris Mears.
He also won gold in Thursday's one-metre individual springboard event and has a chance to add a third in Saturday's three-metre individual springboard, but was encouraged by Friday's performance.
"Two in two days, it's been great," Laugher said.
"I struggled to get to sleep last night a little bit, felt a little bit worse for wear this morning really, but I think I put together an okay performance.
"Anthony's done a great job and it was a massive ask to come out here in his first Commonwealth Games in front of a big crowd and to perform that consistently and that solidly, so it's a really, really good performance for a lot of reasons.
"Things need to be improved on, things need to get better, but overall really happy with the performance and two golds is obviously the best I can ask for."
While England boxer Delicious Orie is hoping a good luck message from former sparring partner and "inspiration" Anthony Joshua will boost his bid for Commonwealth Games gold.
Super-heavyweight Orie secured a medal in his home city on Thursday night with an impressive display against experienced Trinidadian Nigel Paul, a 2021 World Championships bronze medallist.
Orie, one of eight English boxers to guarantee themselves a medal at Birmingham, faces New Zealand's Leuila Mau'u in his semi-final on Saturday.