Back in 1994, Michael Schumacher won his first F1 title.
It was a magnificent day for the German, with the Benetton star managing to reign supreme in his battle with Damon Hill and etch his name into F1 folklore in the process.
---
While the F1 title belonged to Schumacher, the final race of the season was a controversial one. So controversial, in fact, that it's still discussed years later.
Schumacher collided with Hill, with both men failing to finish the race in Australia. That was enough for the German to win the first of his seven crowns during the prime years of his career.
Fast-forward to now, however, and close friend Roger Benoit has raised eyebrows.
Speaking recently, the former journalist said Schumacher should have his 1994 title 'taken away'.
"Of course, I know that he was world champion seven times," he told Blick.
"But the 1994 title should actually be taken away from him because he only won it because of his foul on Damon Hill."
Of course it shouldn't be, however.
Yes, Schumacher won the crown in controversial circumstances. Hill was furious after being, in his eyes, robbed of a prize he felt he deserved to win.
But stripping the German of his crown nearly 30 years on from the incident would make a mockery of F1 - and sport as a whole.
It's a similar story with Felipe Massa these days.
Enthused by comments made by Bernie Ecclestone, Massa is looking to claim the 2008 title from Lewis Hamilton.
But, like Hamilton with the 2021 crown, he must accept that it's not meant to be. He had his chance - and didn't take it. There have been developments since yet there seems to be little chance of the Brazilian getting his way.

That's not to say Hill and Massa shouldn't have grievances. They're allowed to, there's no rule against that.
Yet removing titles is a drastic step and Benoit, for his close friendship with Schumacher, has got it wrong.
Like it or not, both Schumacher and Hamilton won titles because of how they performed that season - rather than one isolated race.
Sure, it can be the difference between being first or second on the podium.
However, nobody can say neither was a deserving champion and triumphed on sporting merit.
Schumacher, it's also worth noting, always denied any wrongdoing during that chaotic, frantic final race in Australia. Hill has never demanded for the result to be overturned, too.
The FIA conducted an investigation in the aftermath, too, and came to the conclusion that no wrongdoing had been done. The FIA don't plan on examining the case either, with common sense prevailing.
Benoit's comments have come at a time when Schumacher's condition remains unknown following a devastating skiing accident back in 2013.

He has a legacy in F1 and removing one of his title triumphs would tarnish it.
LATEST DEVELOPMENTS: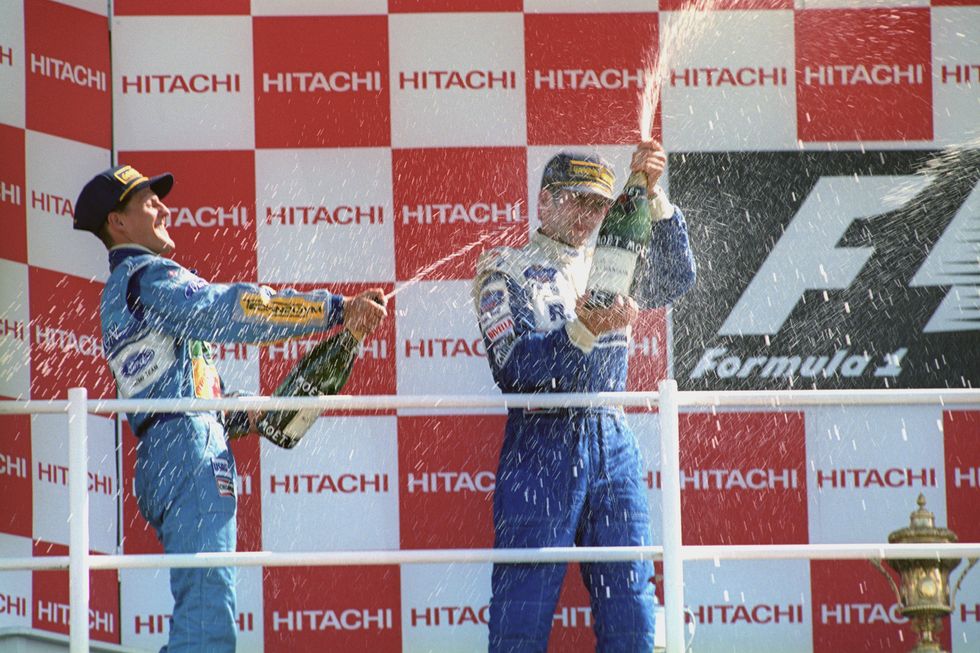 Michael Schumacher beat Damon Hill to the 1994 F1 title in controversial circumstances
PA
Schumacher doesn't seem to be in a position to defend himself. For that reason alone it's worth letting the past be the past - instead of digging it up with incredulous, unrealistic claims.