By Jack Otway
Published: 19/09/2023
-
08:25
Updated: 19/09/2023
-
09:21
Carlos Sainz Jr has been praised by F1 fans after appearing to pay tribute to Michael Schumacher following his victory at the Singapore Grand Prix on Sunday.
The Ferrari star beat Lando Norris and Lewis Hamilton to reign supreme, ending Red Bull's dominance of Formula One this season in the process.
---
After his win, Sainz Jr then paid tribute to Schumacher on the podium.
The 29-year-old waved his fingers in the air as if conductiing the music before then proceeding to raise his first.
This is a move Schumacher did regularly during his time with Ferrari, where he spent a decade between 1996 and 2006.
It has also been replicated by Sebastian Vettel, who previously drove for Ferrari between 2015 and 2020.
TikTok star Last Lap Lucy shared the moment on social media.
And fans in the comments were emotional, with one user saying: "I JUST GOT OVER CRYING ABOUT IT."
A second stated: "I just finished watching Barbie, I did not need to feel any more emotions."
A third said: "Excellent spot. Michael Schumacher is still one of the best."
A fourth said 'I didn't spot this no' while accompanying their message with a sad, pleading face.
And another supporter responded simply with the words: "Shivers."
Sainz Jr's update to Schumacher comes after a devastating health update on the F1 icon from close friend Roger Benoit.
Little is known about the German's condition these days following a tragic skiing accident back in December 2013.
That year, Schumacher was away with his family in France when he went off course and hit his head on a rock.
Had he not been wearing a helmet, he could have died.
The Schumacher family have kept the 54-year-old out of the public eye in the decade since - and Benoit said recently the Ferrari legend was a 'case without hope'.
"No," he told Blick when asked if he was able to provide an update on Schumacher and his condition.
"There is only one answer to this question and that is what his son Mick gave in one of his rare interviews in 2022: 'I would give anything to talk to dad'.
"This sentence says everything about how his father has been doing for over 3500 days. A case without hope."
Close friend Johnny Herbert has since responded and branded the update as 'horrible'.
"There's never any news. What we do know is we never hear any positive news," said the 59-year-old.
"That's the horrible thought that he is still not able to be close to the Michael that we all remember.

"And that is very sad."
LATEST DEVELOPMENTS: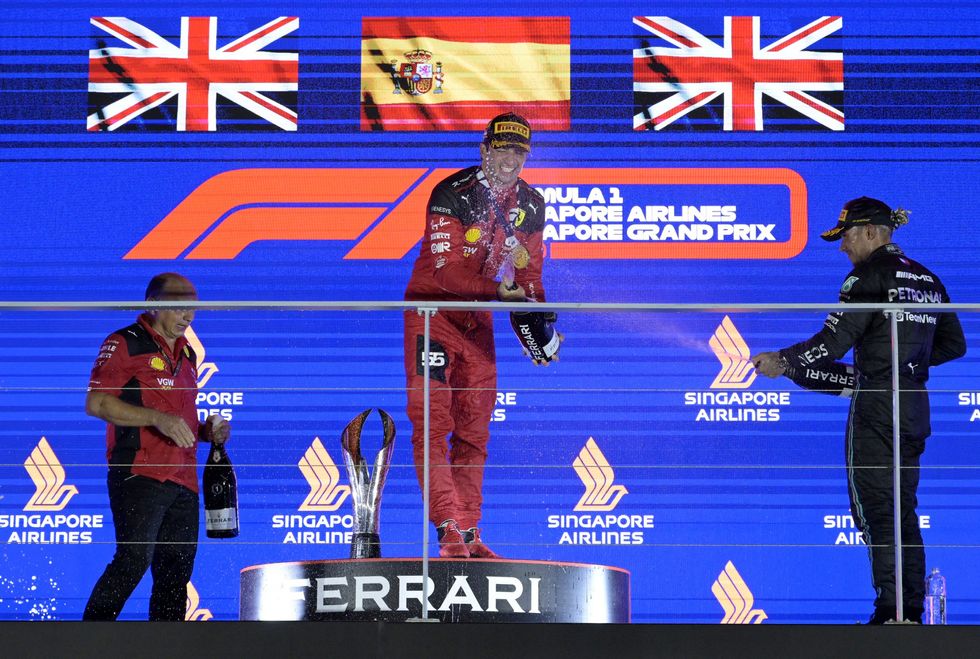 F1 star Carlos Sainz Jr paid tribute to Michael Schumacher after his win at the Singapore Grand Prix
PA
And Herbert also expressed a belief that Schumacher would have been a pundit had the accident not happened.
"I think Schumacher would have made a good pundit. He would have been outspoken," he stated.
"He was always very aware of what you can and can't do.
"His character was always in your face, telling you directly if you had done something to him on the track.
"Remember Spa with David Coulthard. He would have been very good."