In previous years, a bad start to the season would see the pressure mount on the manager of Manchester United.
Just ask Louis van Gaal and Jose Mourinho, with both bosses seen as dead men walking before the club finally put them out of their misery.
---
United started badly under Mourinho in the 2018/2019 campaign and, after losses to Brighton and Tottenham, he was destined to lose his job.
The Portuguese had whinged his way through that summer, bemoaning the club's refusal to give him the funds he felt he needed to seriously rival Manchester City.
United's 3-0 defeat to Tottenham on matchday three was dire. It was an insipid display, one that showed the club's alarming plight.
Fast-forward to now and the same things are being said and written once again following a nightmare 3-1 loss to Brighton on Saturday.
Goals from Danny Welbeck, Pascal Gross and Joao Pedro made it a sensational afternoon for Roberto De Zerbi's side.
For Erik ten Hag, however, it was yet another day to forget. Something that doesn't bode well with Bayern Munich next up on Wednesday night.
United have been well off the pace so far this season and haven't yet produced a 90 minutes of action where they've looked convincing.
Victories over Wolves and Nottingham Forest have been fortunate, certainly lacking the swagger and style of years gone by.
And United have been outplayed in defeats to Tottenham, Arsenal and now Brighton so far.
Unlike in previous years, however, Ten Hag's job is 100 per cent safe. The Glazers have no plans to sack the Dutchman - and that feels significant.
Behind the scenes at Old Trafford they feel they've finally got the right man.
It has been a case of hiring and firing in the decade since Sir Alex Ferguson walked off into the sunset with the Premier League trophy under his arm.
David Moyes, Van Gaal, Mourinho and Ole Gunnar Solskjaer have all come and gone, without ever scaling the heights so many expect.
Ten Hag, however, already has enough credit in the bank. Having won the Carabao Cup last term, while guiding United to third in the Premier League table as well as an FA Cup final, he's earned the chance to stay.
United are, admittedly, a shadow of the superpower they used to be.
But the club know Ten Hag has had to navigate crisis after crisis - which is another reason his job is secure.
There was the Mason Greenwood situation, with United only loaning out the striker following a backlash from fans, pundits and celebrities online.
Ten Hag is having to work without Antony at present as the Brazil international looks to clear his name amid allegations of violence.
And United chiefs back the Dutchman, instead of Jadon Sancho, with the two men currently at war behind the scenes.
There is also sympathy with the club's injury crisis, too.
United are without established first-teamers such as Luke Shaw, Raphael Varane and Mason Mount.
On Monday, things got even worse after it emerged Aaron Wan-Bissaka was crocked and was facing two months on the sidelines.
LATEST DEVELOPMENTS: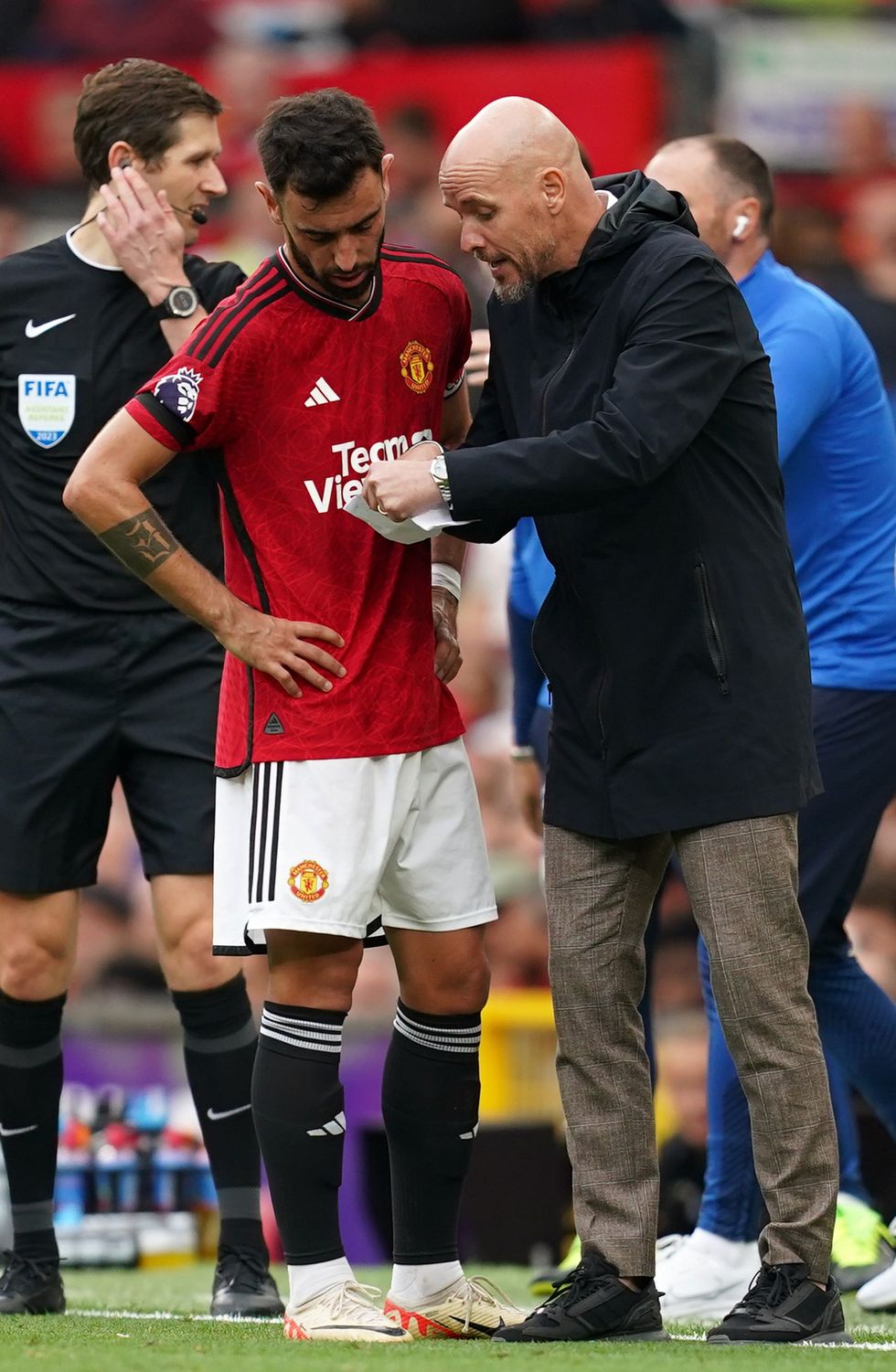 Man Utd believe Erik ten Hag is the right man despite the club's poor form ahead of Bayern Munich clash
PA
Mourinho sucked the life out the place by the end of his United tenure.
Van Gaal was a man past his best by the time he rocked up at Old Trafford in the first place.
Moyes and Solskjaer, with due respect to both men, were out of their depth.
But United feel things are different with Ten Hag. They trust him, they back him and feel he's the man to bring the glory days back. His eagerness to raise standards, in the eyes of the hierarchy, is well overdue.
Whether that's the right stance or not, with form and morale worsening, remains to be seen.