Lewis Hamilton has aimed a dig at Mercedes by controversially saying Red Bull were already developing their car for next year.
The 38-year-old has struggled so far this season, despite finishing third at the Singapore Grand Prix over the weekend.
---
Red Bull have been dominant on the grid this year, with Max Verstappen set to win the Formula One title for the third year on the trot.
However, they endured a race to forget in Singapore with Verstappen and Sergio Perez finishing fifth and eighth respectively.
Hamilton has now controversially suggested Red Bull are focusing less on the current campaign, instead setting their sights on more glory next year.
And the Stevenage-born racer also aimed a dig at Mercedes by hinting they still weren't ready to compete with the best.
"I don't really know why they're off, pace-wise," he told PlanetF1.com.
"But I think it's great to see that others, like [McLaren and Ferrari] have picked up a huge amount of pace.
"It's great to see that Ferrari have really stepped it up, and I think it's a positive.
"Probably, if you think about it, they haven't been developing.
"Obviously, McLaren brought an upgrade here, others are bringing up upgrades.
"They're working on next year's car so… they have less wind tunnel time, so they're probably using some of this year's for next year's, they would have definitely migrated before us.
"So no, I think it's just one of the things.
"They're so clear ahead that maybe they're developing their car less and we are still pushing to develop our current one. But time will tell."
While Hamilton was impressive in Singapore, George Russell was actually standout.
The Brit was, at one point, in contention to win the race.
However, he failed to finish the race after a crash having attempted to chase down Lando Norris.
Russell was left close to tears after the crash, with the Mercedes star ruing his failure to win.
Yet Hamilton defended his team-mate after the race and insisted the 25-year-old would bounce back.
"Well, we're all trying to be millimetre-perfect out there and it's very, very easy to make mistakes," he stated.
"It's very easy too for any of us to have been in the position that George was in.
"He's been driving phenomenally all weekend, so it was really unfortunate for him [on the] last lap to finish that way... but I know he'll bounce back.
"He continues to grow, he's continuing to improve, so I know that he's going to keep getting stronger and faster, and if there's any way I can help, I will be a part of that, naturally, in the next couple of years.
"But yeah, I have a lot of experience. I've been here a long time so putting together a race is… not that it's easy, but the race is where I'm most comfortable on track and yeah, I think it's just keeping your head down.
LATEST DEVELOPMENTS: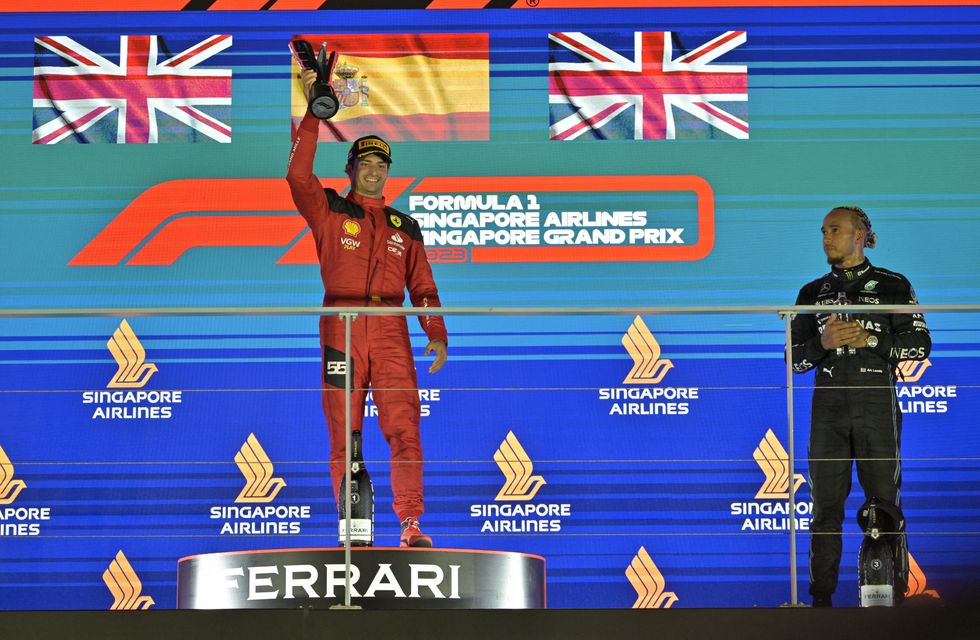 Lewis Hamilton finished third at the F1 Singapore Grand Prix on Sunday
PA
"If you look at last year for example, I made a mistake in Turn 7 and went off and crashed into the wall.
"So it can happen to any one of us and it's just one of those things."