By Tom Evans
Published: 14/07/2022
-
17:57
Updated: 14/07/2022
-
18:08
The Tory leadership race has been whittled down to the final five candidates.
Rishi Sunak, Liz Truss, Penny Mordaunt, Kemi Badenoch and Tom Tugendhat remain in the race, with Ms Braverman falling out.
---
Kemi Badenoch got 49 votes, Suella Braverman 27, Penny Mordaunt 83, Rishi Sunak 101, Liz Truss 64 and Tom Tugendhat 32.
After the disappointment on Thursday evening, Ms Braverman spoke to GB News in Westminster – and she remained in high spirits – while saying Mr Sunak and Ms Mordaunt are on the left of the Tory Party.
She added that members "deserve a choice" between left and right.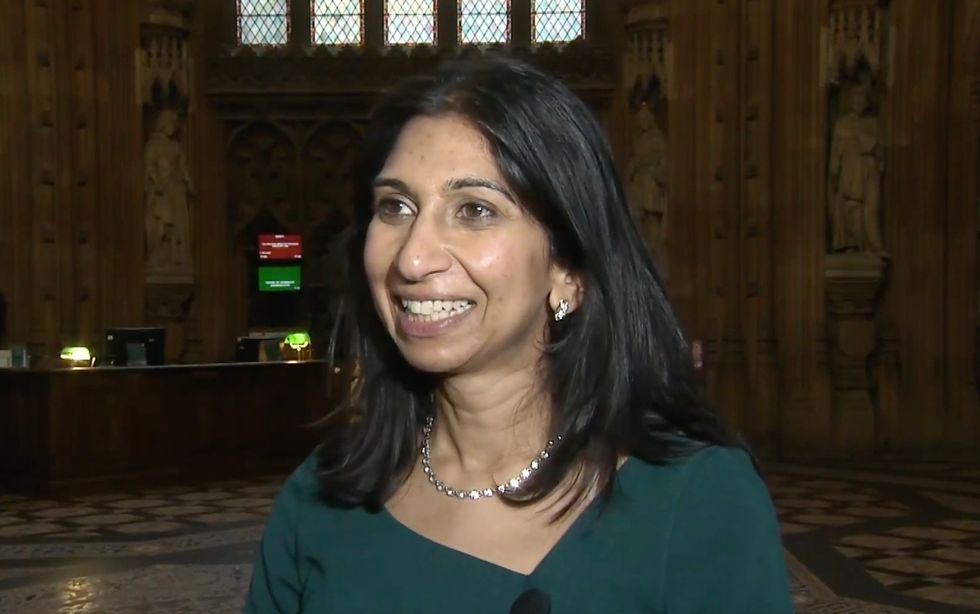 Suella Braverman speaking to GB News
GB News


Conservative Party leadership race: The five remaining candidates
UK Parliament
She said: "We ran a really clear policy platform on illegal migration, on Brexit delivery, on tax cuts and identity politics.
"And I have to say I'm just so blown away by the positive response that I got personally on my policy platform.
"I want to thank all of the MPs who voted for me for having faith in me, my team of MPs who worked incredibly hard, my staff team, the party, the 1922 Committee.
"I just feel a huge amount of gratitude and feel privileged to have just run to be Prime Minister of this country."
It comes as Mr Sunak and Ms Mordaunt maintain their places at the front of the race.
The remaining candidates will continue to face a series of votes among MPs, eliminating the last placed candidate in each round until a final two are left.
The remaining two will then face Conservative Party members at a series of hustings around the country over the summer, who will vote to select the new leader, and therefore Prime Minister.
Labour leader Sir Keir Starmer, meanwhile, says he wants a general election and a "fresh start" for Britain.
He said: "I don't think the answer to the stagnation of the last 12 years is to change the candidate or the leader of the Tory party.
"We need much more fundamental change that, therefore, whoever emerges as the new leader of the Conservative Party is not going to be able to address the fundamental failure of the last 12 years.
"This is like a club that's sinking into relegation, desperately changing the manager. That is not the change that we need. We need to change the Government, a fresh start for Britain, and that is what my Labour Party is able to offer."