Published: 30/03/2022
-
12:13
Updated: 30/03/2022
-
12:36
Labour Party leader Sir Keir Starmer has demanded Prime Minister Boris Johnson "treats British people with respect" over taxes before calling for him to resign over the ongoing Partygate investigation.
Sir Keir started Prime Minister's Questions (PMQs) by asking Mr Johnson: "Does the Prime Minister still think that he and the Chancellor are tax-cutting conservatives?"
---
Mr Johnson replied by referring to the Government's Spring Statement, which was launched last week.
He said: "I certainly do, because this Government that has just introduced not only the biggest cut in fuel duty ever, the biggest cut in tax for working people in the last ten years.
"70 percent of the population paying National Insurance contribution will have a substantial tax cut as a result of what the Chancellor did."
Referring to Labour, he added: "They always put up taxes, they love putting up taxes."
Sir Keir then urged the PM to "cut the nonsense and treat the British people with a bit of respect".
He continued: "Let me take him through this slowly, 15 tax rises, the highest tax burden for 70 years. For every £6 they're taking in tax rises, they're only handing £1 back."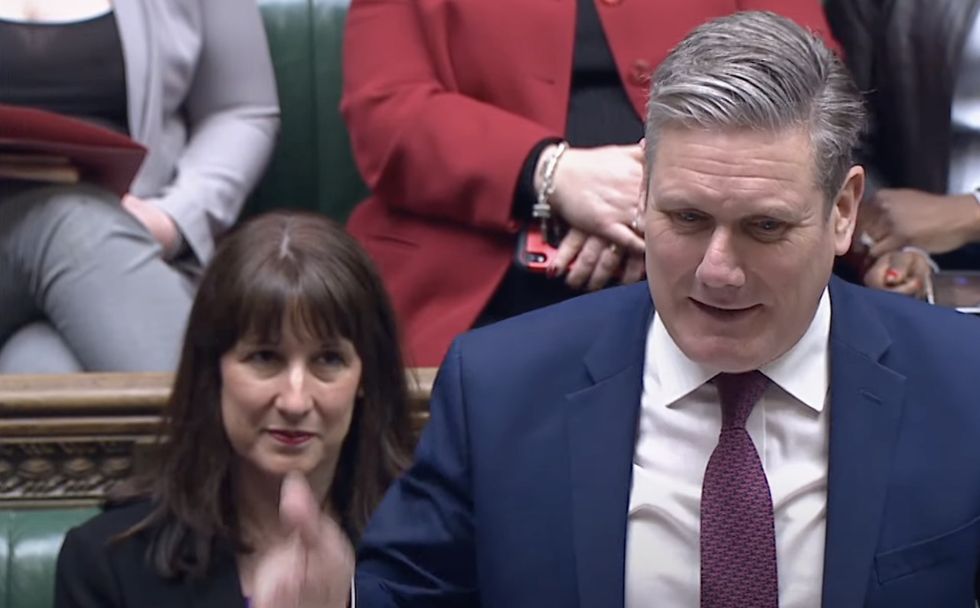 Sir Keir Starmer
Pool
The opposition leader proceeded by calling on the Prime Minister to resign over Partygate.
Sir Keir said: "He told the house no rules were broken in Downing Street in lockdown. The police have now concluded there was widespread criminality.
"The ministerial code says that ministers who knowingly mislead the house should resign, why is he still here?"
Mr Johnson hit back by saying: "Hang on a minute, has he just changed his position? We do expect some consistency from this human weathervane.
"It was only a week or so ago where you were saying I shouldn't resign.
"The investigators must get on with their job, but in the meantime we are going to get on with our job."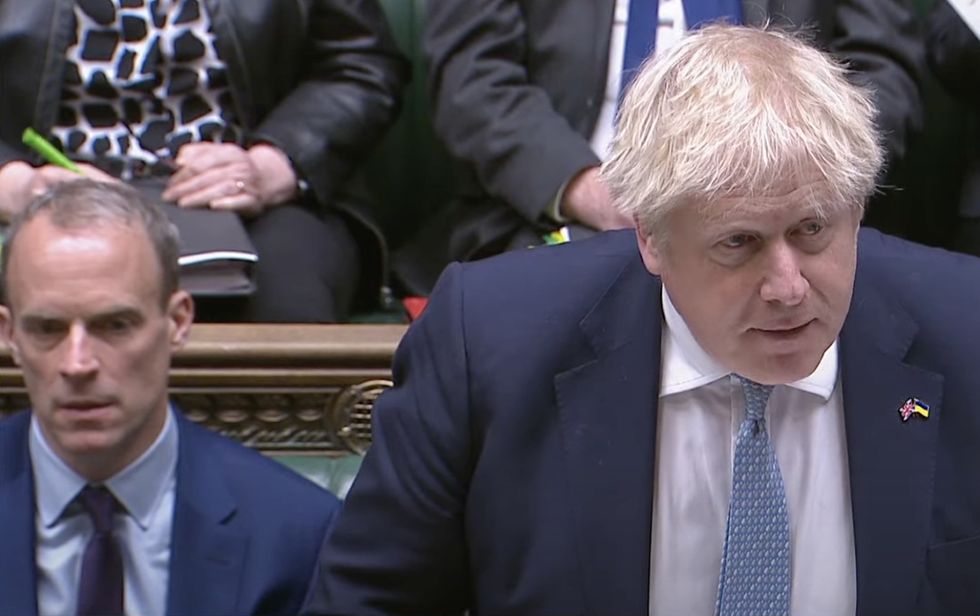 Boris Johnson speaking during PMQs
Pool
The Labour Party leader continued to probe: "There is only two possible explanations, either he is trashing the ministerial code or he was repeatedly lied to by his own advisers that he didn't know what was going on in his own house and his own office. Come off it!
"He really does think that it's one rule for him and another rule for everyone else, that he can pass off criminality in his own office and ask others to follow the law."
The comments come after the Metropolitan Police announced on Tuesday that an initial 20 Fixed Penalty Notices (FPN's) would be issued to individuals who breached Covid-19 regulations in Downing Street and Whitehall.
The Met investigation is looking into 12 separate incidents that are alleged to have broken Covid-19 lockdown rules, with up to six of those said to be attended by Mr Johnson.
These include a "bring your own booze" event in May 2020 and Mr Johnson's birthday celebrations in June 2020.
The PM has previously admitted to attending the "bring your own booze" gathering for 25 minutes, adding that staff "gathered briefly" in the Cabinet Room for his birthday.
Speaking to GB News about the incident just hours before PMQs, Defence Secretary Dominic Raab said it was "clear" there had been a law break, before coming to the defence of Mr Johnson.
He said: "In relation to the 20 cases, it's clear the law was breached. That's why the FPNs have been handed down.
"The Metropolitan Police investigation is ongoing and we'll respect and corporate with it as we've said all along.
"More generally the Prime Minister has taken action based on the Sue Gray interim report. He said he takes responsibility, he's overhauled No.10 and as he's made clear he's not just cooperated with the Sue Gray report but also the Metropolitan Police process.
"Of course that needs to run its course and I'm not going to prejudice or pre-empt or comment on any further aspects of it."
Mr Raab's comments come after Shadow Health Secretary, Wes Streeting told GB News that Mr Johnson's actions is a "basic sacking offence".
He added: "I don't think we should be casual or dismissive that the Prime Minister lied regularly and repeatedly to Parliament, to the country and to the Queen. I don't think that is something that we should dismiss lightly.
"The fact is that there was law-breaking in No.10 during the pandemic and to add insult to injury, the Prime Minister lied about it."