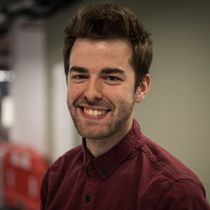 By Carl Bennett
Published: 26/10/2021
-
11:04
Updated: 14/02/2023
-
11:43
An environmental campaigner who has scaled a Government building in Westminster has told GB News the protesters "are not being a public nuisance, the UK Government are."
James is one of four activists from Animal Rebellion, an offshoot of Extinction Rebellion, who used ladders, ropes and harnesses to climb the Department for Environment, Food and Rural Affairs (Defra) office as high as "20 metres" on Tuesday morning.
---
Speaking to Patrick Christys and Mercy Muroki on To The Point, James said: "We are not being a public nuisance, the UK Government are being a public nuisance by spending £1.5 billion of taxpayer money on subsidies for the meat and dairy industry.
"That's an industry that's ultimately killing the planet and killing billions of animals. In the meantime they're spending £150 million on planting trees."
The group, which also let off flares, says it is demanding an end to subsidies for meat and dairy farming in a protest against climate change.
They plans to stay in place until Boris Johnson pledges to urge all world leaders to also end such subsidies when they attend the Cop26 summit next week.
Police are at the scene with the fire service and are liaising with the protesters, although no arrests have been made.
Animal Rebellion spokesman Nathan McGovern said: "Our protesters climbed the building in the early hours of this morning to send a clear message that we want an end to support for animal agriculture which is killing our planet.