By Alex Davies
Published: 08/09/2023
-
08:52
Updated: 08/09/2023
-
08:53
The Prince of Wales, Prince William was in the south coast town on Thursday to discuss his ongoing charity efforts with the homeless.
William was met by crowds of adoring fans in a Pret A Manger and was stunned to discover a very familiar face in the form of Paul Gascoigne among those greeting him.

---
After discussing with The Pret Foundation about their efforts to get the homeless back into work, William shook hands with the public but got more than he bargained for when he bumped into Gazza.
The pair shared a heartwarming encounter with smiles and handshakes aplenty but as the royal went to move on, Gazza planted a kiss on his cheek.
William took the moment in his stride as he smiled and moved on but the former footballer has come under fire from as it's a break in royal protocol to kiss members of the Royal Family.
On Thursday evening, Gazza joined Dan Wootton on his GB News show in a world exclusive where he delved into circumstances that led to the now-famous kiss.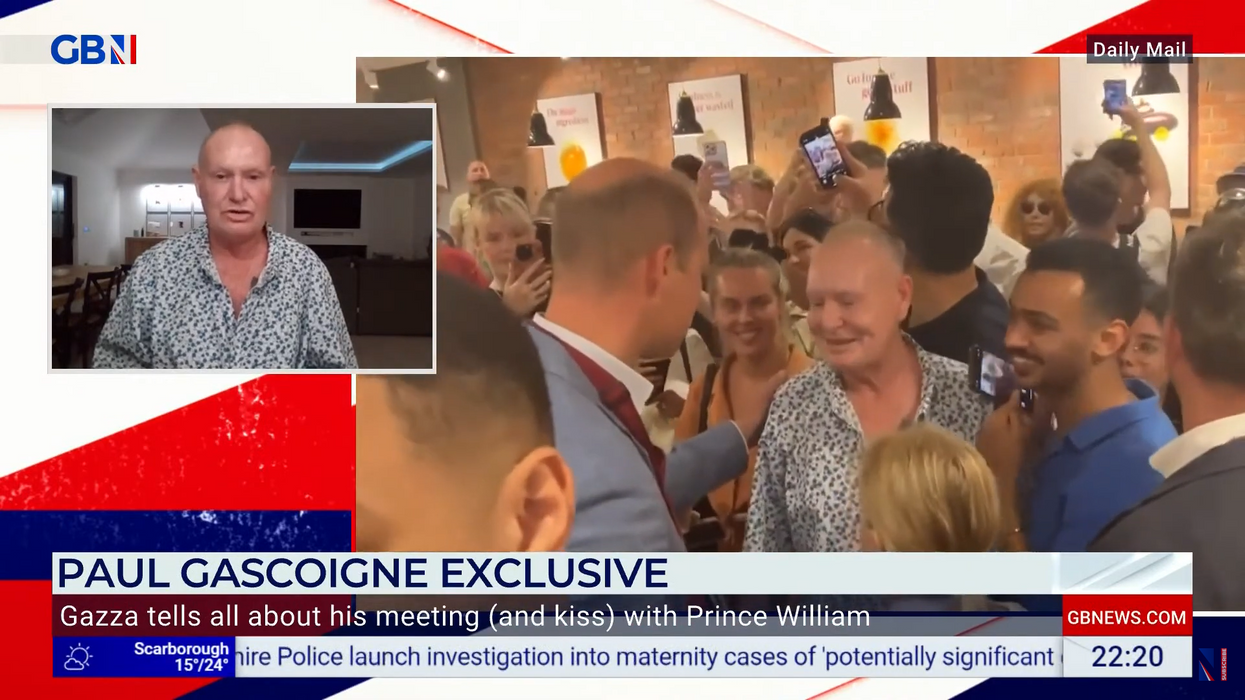 Gazza talked Dan Wootton through the meeting with the Prince of Wales
GB NEWS
After Dan asked if it was a total coincidence that Gazza was there, the former Spurs star replied: "I was just having a coffee with my manager, Katie.
"So as we were walking up, there were hundreds of people and dozens of cameras and I thought, 'Well, that's nice of them to turn up for me.'"
Dan let out a chuckle as Gazza continued: "But Prince William was there, so I said to Katie I'd met him at a couple of England games before, I thought I'm gonna say hello to him.
"So obviously I went in and I just started talking to him and, I don't know why, I just said, 'Prince, it's Gazza!'
"And he said, 'Is that you?' And I went, 'Yeah,' and then he said he'd been watching out for us.
"What a great guy, and I tell you what, he's good-looking and all!"
Keen to know more about the exchange, Dan asked what else William said to Gazza as they shared what appeared to be a private moment.
"Yeah, he just said he'd been looking out for us and making sure I was okay," Gazza revealed. "So it was nice of him to go out of his way not just to speak to us but his arm round us and that, you know.
"So, in fairness, I kept it in the family and I gave him a kiss," the 56-year-old went on which prompted Dan to ask more about the famous incident.
After Dan pointed out that "royal protocol dictates" people shouldn't kiss the royals, Gazza didn't seem too bothered.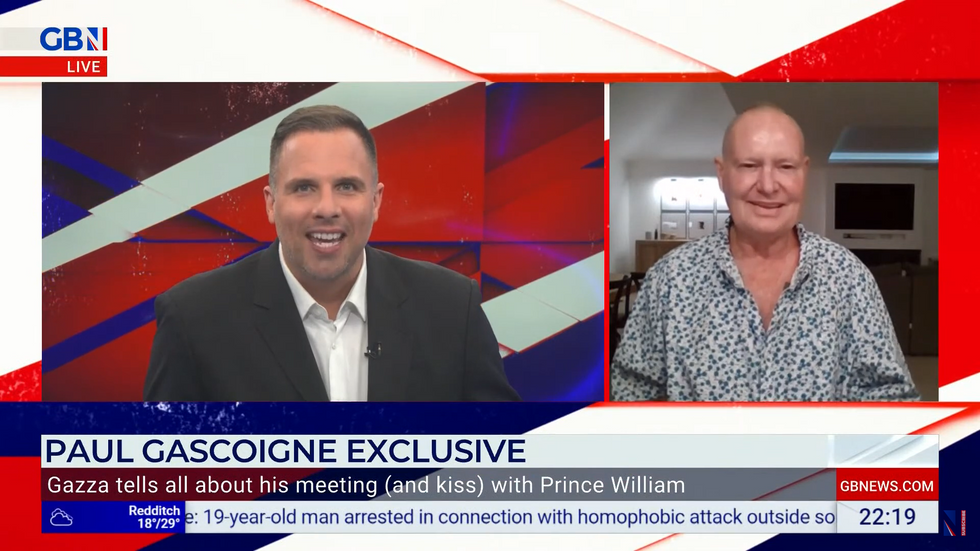 Dan Wootton and Paul Gascoigne spoke to each other on Thursday's show
GB NEWS
He revealed exactly why he planted the kiss to the GB News star: "That word's not really in my dictionary - I just couldn't resist it!
"I felt like I could've talked to him for ages and it was really nice you know for him to actually be in Bournemouth.
"And there was so many people there with the opportunity to meet the guy, you know - a really nice guy, a really nice guy.
"I thought I couldn't resist, I've gotta give him a kiss," Gazza added as a big smile dawned on his face.