By Jack Otway
Published: 18/09/2023
-
08:24
Updated: 18/09/2023
-
12:55
Sky Sports have reportedly decided to ramp up security following the alleged headbutt on Roy Keane during Arsenal's win over Manchester United earlier this month.
The 52-year-old was working for the broadcaster when the incident happened.
---
It emerged at the time that a fan had attempted to headbutt Keane while the pundit was making his way back to the Sky studio.
The supporter allegedly confronted Keane shortly after a late goal from Alejandro Garnacho, which was then ruled out by VAR for offside.
😭😭😭 pic.twitter.com/QGs3bHkTxy

— A. (@_Asznee) September 3, 2023
According to the Daily Mail, Sky are now set to beef up security for their staff and pundits.
Ahead of televised games, Sky staff will supposedly 'examine the logistics of each stadium and its gantry and media points'.
It is said attention will be paid to access routes, too.
They will look at the history between the clubs involved and their pundits, with Keane regularly clashing with Arsenal players during his career in football.
And bodyguards will be deployed at high-risk matches, too.
Keane is yet to discuss the incident but police arrested a man days after the game.
An eyewitness told the Daily Express that 'blood was left on the floor' at the Emirates Stadium.
"The incident occurred shortly before the 90th-minute mark in the Highbury Bar for platinum members," they said.
"The fan seemingly tried to head-butt Roy Keane.
"I then saw a mark between his eyebrows. Micah Richards stepped in and pushed the fan back against the door.
"I heard the altercation and I was shocked to see the individuals involved.
"Richards was very forceful at keeping the fan from attacking Keane and neither their security nor the door security could split the two apart. Keane was asking nearby staff to call the police.
"Additional security was called in and Richards and Keane followed until the fan was escorted downstairs via the escalator out of the building.
"Presumably, Keane and Richards then returned to their Sky Sports duties via the exit that they came in through next to where the video is shown.
"Afterwards, we noticed a small amount of blood on the floor on the route where the fan was led out.
"Seems like Micah Richards was acting as Roy Keane's bodyguard."
Sky then said Micah Richards was 'attempting to diffuse' the situation.
"We understand the police are investigating an alleged assault by a member of the public immediately preceding the footage circulating on social media," said a spokesperson.
"In the footage seen, Micah Richards was acting to diffuse a situation."
Arsenal are next in action against PSV Eindhoven in the Champions League on Wednesday night (8pm).
LATEST DEVELOPMENTS: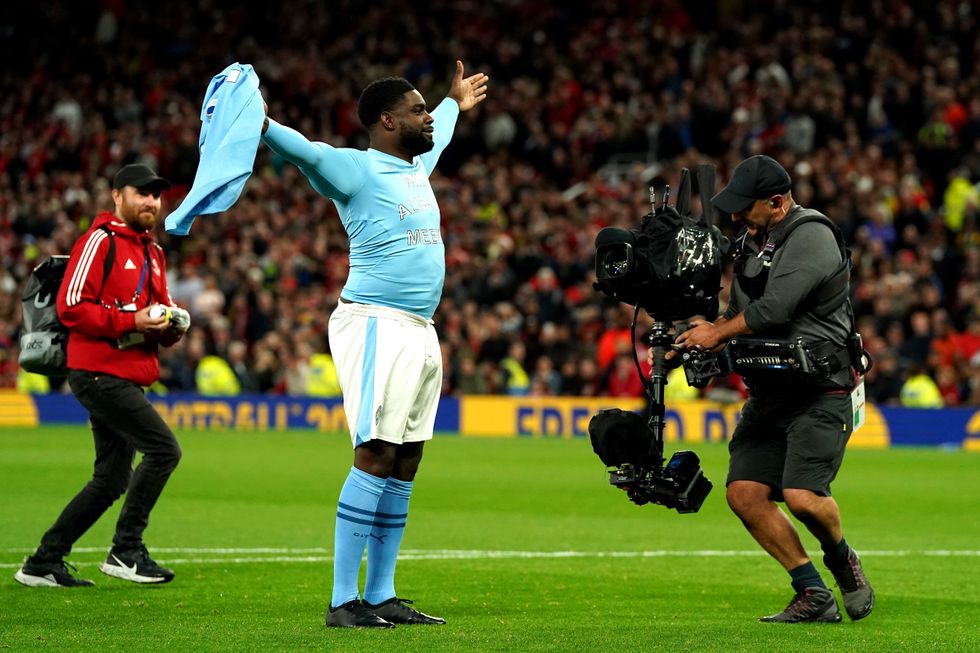 Sky Sports pundit Micah Richards defended Roy Keane in the wake of the alleged headbutting incident
PA
As for Manchester United, the Red Devils lock horns with Bayern Munich on the same night.