By Jack Otway
Published: 15/09/2023
-
08:13
Updated: 15/09/2023
-
08:14
Tennis star Carlos Alcaraz has been condemned by PETA after visiting a bull ring in Spain, with the group accusing the world No 2 of supporting 'torture'.
The 20-year-old has enjoyed a stunning rise to prominence over the last 18 months, winning two Grand Slam titles in that time.
---
Alcaraz won last year's US Open, though was unable to retain the trophy this time around with Novak Djokovic reigning supreme instead.
And he then proceeded to secure the Wimbledon trophy back in July, with Djokovic beaten in the final.
Tennis is a sport; animal abuse is NOT @CarlosAlcaraz!

STOP supporting bullfighting! ❌ pic.twitter.com/CPsVtb3cD5

— PETA (@peta) September 12, 2023
As ever, however, increased fame means increased scrutiny.
And Alcaraz has now been slammed by People for the Ethical Treatment of Animals (Peta) for visiting a bull ring in Spain.
Addressing the youngster, they started by saying: "Bullfighting is torture, not culture."
They then added: "There is nothing entertaining about the stabbing and torturing of animals – and the majority of young people in Spain reject bullfighting as the bloodsport it is.
"Please don't support bullfighting and pledge to never attend another fight again."
Alcaraz is yet to respond to the backlash.
The two-time Grand Slam winner has already been criticised by some corners of the tennis world for choosing to skip the Davis Cup.
Alcaraz cited fatigue as he withdrew from the competition in the wake of his elimination from the US Open at the hands of Daniil Medvedev.
"I was really looking forward to playing for Spain at the Davis Cup in Valencia," he said.
"But I have to listen to my body after a very long tour.
"The calendar is very demanding, there is still a lot of season left, and now I have to recharge my batteries.
"I don't think I'm gonna think about this loss (against Medvedev) for a long time.
"Of course, I have to learn about it. I want to be better.
"You know, these kind of matches help you a lot to be better and grow up in these kind of situations.
"I have to talk with my team, with Juan Carlos, and how I can be better, but days, weeks, but not much longer than that."
One player who is competing is Djokovic.
The Serb is eager to keep up his fine form, having won a record 24th Grand Slam on Sunday night by beating Medvedev in New York.
And Djokovic has defended Alcaraz for withdrawing from the Davis Cup, insisting he's got 'a lot of time' ahead of him.
"Maybe you guys are upset he's not playing for Spain, because he's 20 years old and I'm 36, and how he's tired and I'm not," he said.
"It's important to understand he's got a lot of time ahead of him."
LATEST DEVELOPMENTS: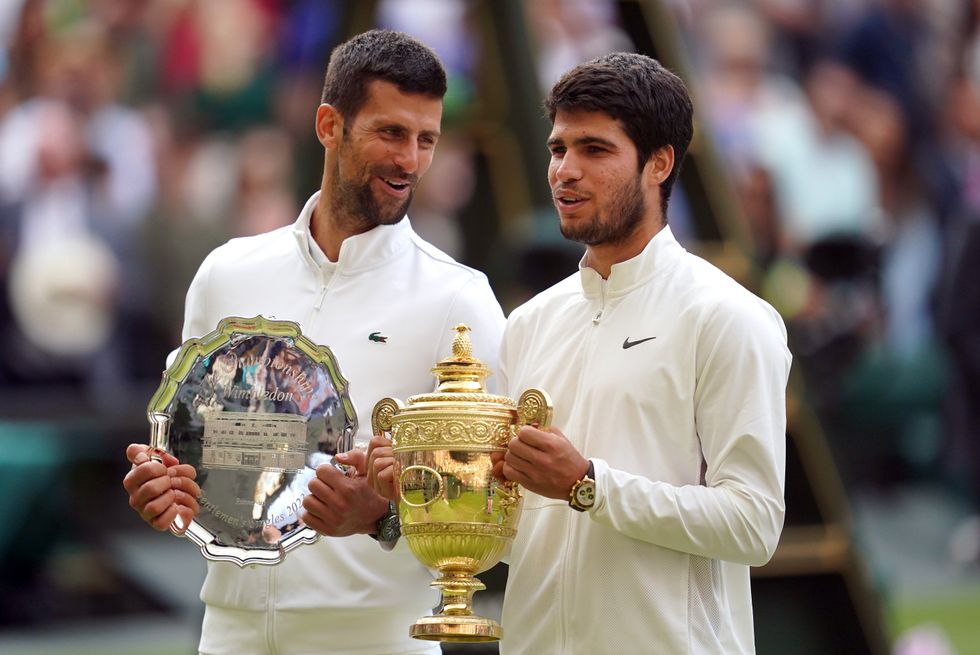 Novak Djokovic has defended Carlos Alcaraz following the Wimbledon champion's withdrawal from the Davis Cup
PA
The Serb added: "He already played for Spain last year, you can't forget that.
"He won the US Open last year and after a few days he was here playing for his heart and his passion for his country.
"I have skipped the Davis Cup several times, I know the backlash and reaction from my country was not so great and there's a lot of negativity when you skip playing for your country.
"It's difficult to always be perfect and always available.
"We're part of an individual sport, you represent your country but also yourself and there's a lot of tournaments, and he has played a lot."