Published: 07/11/2022
-
09:07
Updated: 07/11/2022
-
12:01
A Just Stop Oil boss has been arrested amid a secret plan to shut down the M25 motorway.
Roger Hallam, 56, along with two other Just Stop Oil activists, were arrested as the group reportedly planned to scale motorway gantries as part of their latest protest.
---
The Metropolitan Police confirmed that a 56-year-old man had been arrested on suspicion of conspiracy to commit public nuisance.
Mr Hallam remained in custody on Sunday night.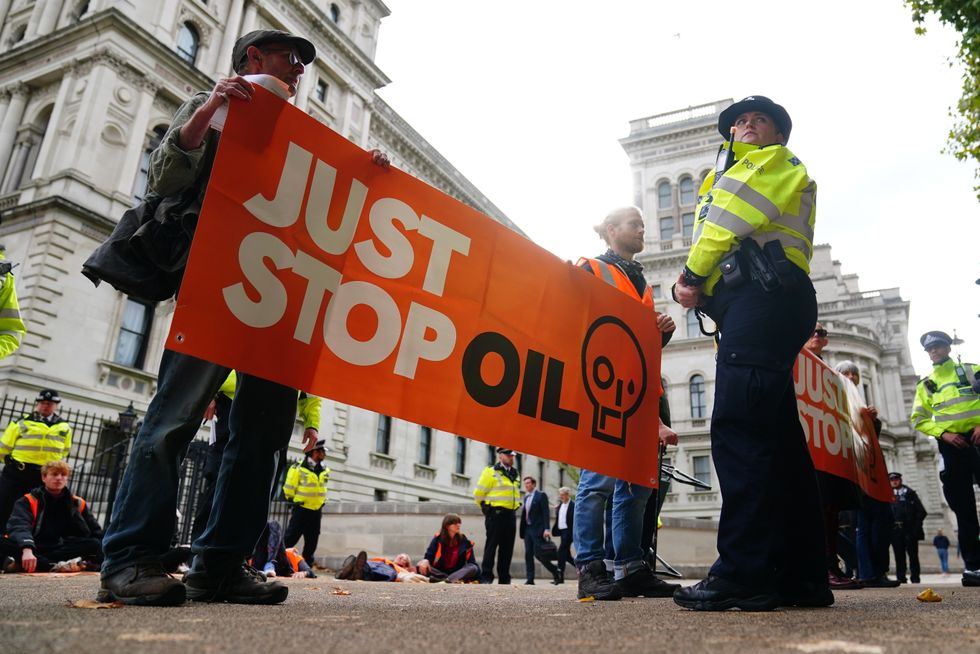 Just Stop Oil supporters
Victoria Jones
Assistant Commissioner Matt Twist said: "Our investigation has reason to suspect the Just Stop Oil group intend to disrupt major motorway networks which would risk serious harm to the public, with reckless action to obstruct the public on a large scale."
While National Highways also secured a High Court injunction over the weekend preventing the activists blocking the motorway.
The injunction meant that anyone who enters the motorway and fixes themselves to any object or structure on it, and anyone who assists in such an act, can be held in contempt of court.
They could face imprisonment, an unlimited fine, and the seizure of assets.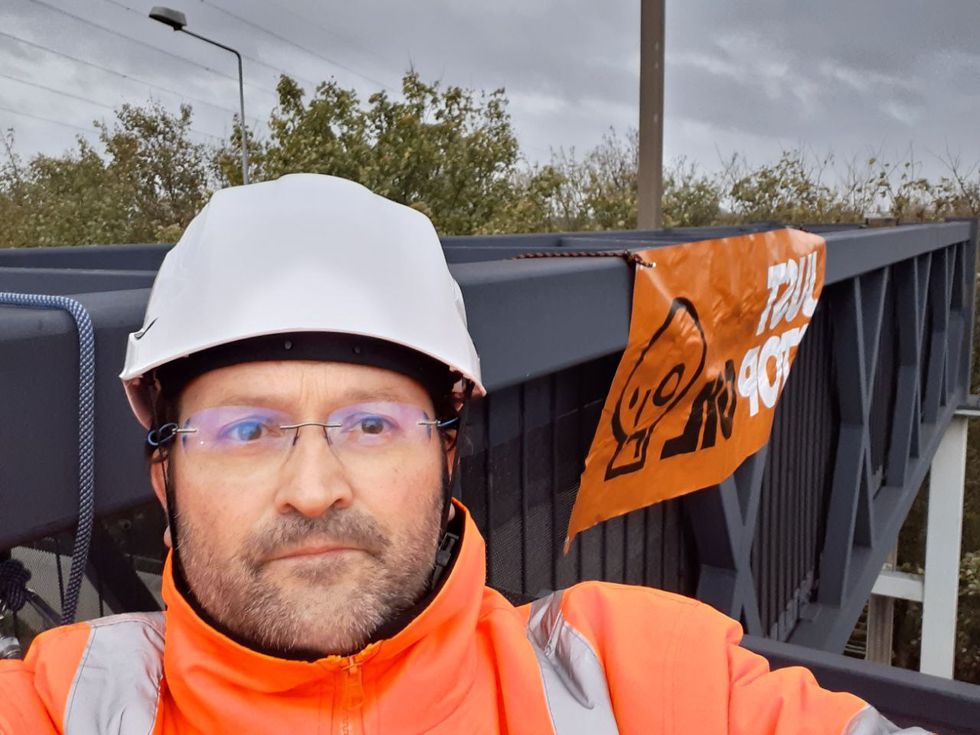 A protester has climbed a gantry on the M25 between junctions six and seven in Surrey
Just Stop Oil
But despite the arrests and the injunction, supporters still carried out protests on Monday morning, climbing on top of gantries in multiple locations across the M25.
A Just Stop Oil statement on Twitter said: "Yesterday evening, Just Stop Oil contacted the Metropolitan Police and National Highways Ltd to advise them that there would major disruption on the M25 and asked them to implement a 30mph speed limit."
While protester Louise, 24 added: "I'm here because I don't have a future.
"You might hate me for doing this, but I wish you would direct all that anger and hatred at our Government.
"They are betraying young people like me — I wouldn't have to be here if they did their duty."
The group said last week that it would pause disruption after 32 days of protests to give the Government time to "consider their responsibilities to this country".
Activists gave ministers until the end of Friday (November 4) to respond to their calls for new oil and gas licences to be halted.
If it did not get a response by then, the group vowed to "escalate" its activities.
The group said: "From today Just Stop Oil will pause its campaign of civil resistance. We are giving time to those in the Government who are in touch with reality to consider their responsibilities to this country at this time.
"If, as we sadly expect, we receive no response from ministers to our demand by the end of Friday November 4, we will escalate our legal disruption against this treasonous Government.
"Our action will be proportionate to the task of stopping the crime against humanity which is new oil and gas."