Published: 12/11/2022
-
17:43
Updated: 12/11/2022
-
23:59
Thousands of Albanian nationals have descended on the streets of London to protest against Home Secretary Suella Braverman's "invasion" comments and the Government's approach to tackling the migrant Channel crossings.
Footage shared by @MitchMila21 on Twitter shows swathes of people waving Albanian flags and placards as they slowly march across Westminster Bridge, bringing traffic to a standstill. All while the Met Police attempt to make preparations ahead of Remembrance Sunday.
---



Nigel Farage shared a video of an Albanian flagged draped over the statue of Winston Churchill in Parliament Square - a regular target for protests and demonstrations held in the capital - adding "what is happening in London today is a disgrace!"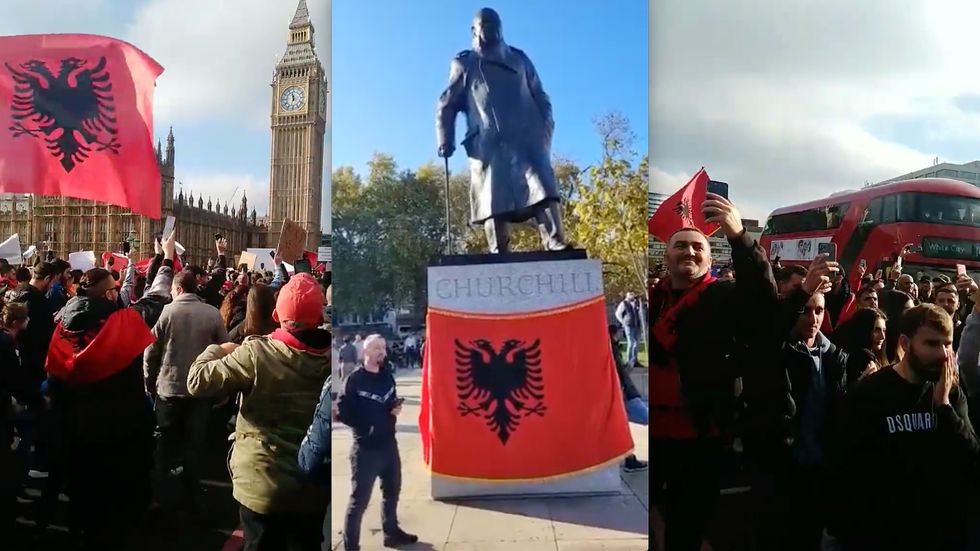 Footage shows crowds blocking traffic on Westminster bridge and waving Albanian flags
MitchMila21/Twitter
GB News' Calvin Robinson also reacted to the scenes in Westminster, tweeting: "The utter disrespect. You're in someone else's home!"
The protests come following a record amount of migrants crossing the Channel this year, with British politicians suggesting Albanian nationals making the crossing are behind the surge.
These people care nothing for our country or the sacrifices of the past. What is happening in London today is a disgrace! pic.twitter.com/4UTdADEPn7

— Nigel Farage (@Nigel_Farage) November 12, 2022
Earlier this month Albania's Prime Minister, Edi Rama, accused the British Government of using Albanians as "scapegoats" for "policy failures" when it comes to immigration.
The Albanian PM said Britain was falsely targeting Albanians "as the cause of its crime and border problems" and attacked what he called the "insane" and "easy rhetoric."
His comments follow Home Secretary Suella Braverman speaking on the "surge in the number ofAlbanian arrivals" in the House of Commons.
She faced criticism after saying the amount of boats arriving at England's southern coast were akin to an "invasion" and that many of the young, single men arriving in the UK were either part of organised criminal gangs or would become involved in criminal activity such as drugs.
Albanians made up 42 per cent of people travelling on small boats between May and September this year, according to British government figures released on Wednesday.
Just over 11,000Albanians arrived in those five months, compared with 815 in 2020, the figures showed.
Asked about Rama's comments, a spokesperson for the British government said it was committed to building on its cooperation with theAlbanians, including on tackling illegal migration.
"Working together, we will continue to take every opportunity to intercept the activities of organised criminal gangs and people smugglers," the spokesperson said.