Published: 06/04/2022
-
19:46
Celebrity chef Cyrus Todiwala OBE has slammed the new policy that restaurants and takeaways with 250 or more employees will be required to display the calorie information on meals.
Speaking to Nigel Farage, Mr Todiwala said: "It might make some difference to people who are highly conscious, but if you write everything down it is going to scare you."
---
He continued: "One of the biggest mistakes we make in Britain is we try to legislate everything rather than start educating people at a young age about good food, good eating habits and home cooking."
"Everyone one of us are guilty at some stage of eating a McDonalds or KFC and they have been printing calorific values on their products for years, yet their sales turnover is still increasing significantly year on year – it doesn't stop people eating that kind of food."
He added: "It's the people with slightly lower incomes that cannot afford to eat food better for you health-wise that are always going to suffer and this needs to be considered."
GB News presenter Dan Wootton has also slammed the plans to put calorie labels on restaurant menus as "Nanny state on speed".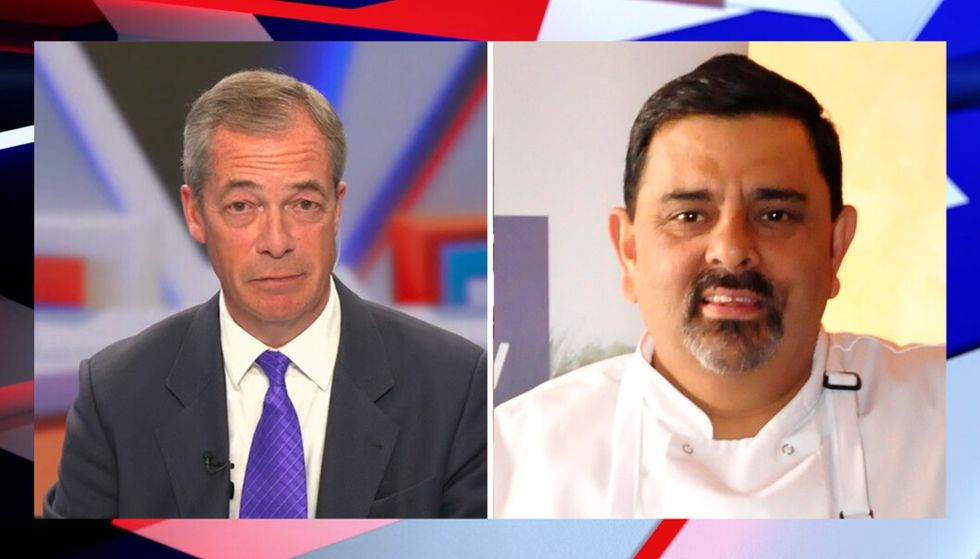 Nigel Farage speaking to Celebrity chef Cyrus Todiwala
GB News
Panel guest Columnist Carol McGiffin agreed saying: "The Government says this is to tackle the obesity epidemic, it's too late!"
She added: "People know that food is fattening, they know that already, but they still eat it. All that does is just spoil everybody's dinner out."
The measures, which form part of the Government's wider war on obesity, have been introduced to help consumers make more informed, healthier choices when eating out or ordering takeaways.
It is estimated that overweight and obesity-related conditions cost the NHS £6.1 billion each year.
Almost two-thirds (63 percent) of adults in England are overweight or obese – and one in three children leaves primary school at an unhealthy weight.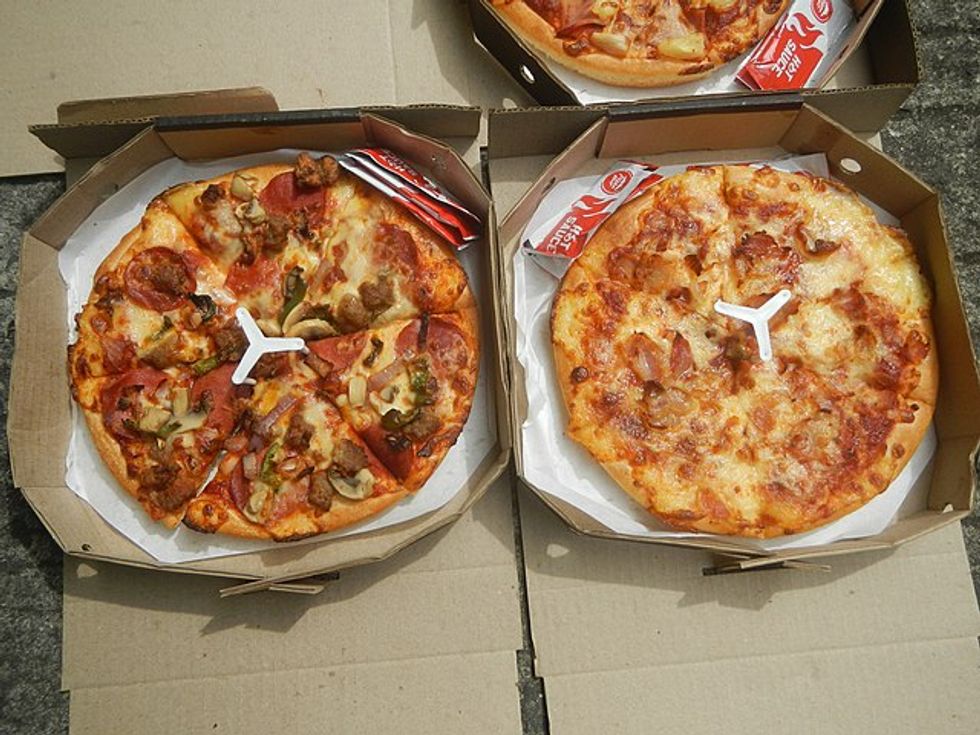 Takeaway pizza
Wiki Commons
In a Public Health England survey on calorie reduction, 79 percent of respondents said they think menus should include the number of calories in food and drinks.
However, the move has received a mixed response, with one charity warning the move will negatively affect people with eating disorders.
Tom Quinn, director of external affairs at Beat, said the eating disorder charity was "extremely disappointed".
He said: "We know from the people we support that including calories on menus can contribute to harmful eating disorder thoughts and behaviours worsening.
"For instance, it can increase a fixation on restricting calories for those with anorexia or bulimia, or increase feelings of guilt for those with binge-eating disorder.
"There is also very limited evidence that the legislation will lead to changed eating habits among the general population.
"1.25 million people in the UK have an eating disorder, and sadly we know that the pandemic has contributed to more people than ever before needing support for these serious mental illnesses.
"Beat has continually asked the Government to consider the impact on people affected by eating disorders and to take an evidence-based approach when creating health policies.
"This should involve consulting eating disorder clinicians and experts by experience at every stage of the process."
A Department of Health and Social Care spokesman said: "Obesity is one of the biggest health issues we face as a country and clear food labelling plays an important role in helping people make healthier choices for themselves and their families.
"We are all used to seeing nutritional information on products sold in supermarkets and displaying calorie information on menus can help us consume fewer calories when eating out or getting a takeaway.
"The regulations will also allow businesses to provide menus without calorie information at the request of the customer."