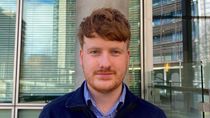 Published: 07/04/2023
-
13:18
Nigel Farage has been serenaded in Norwich with a brilliant tribute to the GB News presenter.
Farage at Large was live from Norwich this week, with Nigel talking to the local crowd about the issues that matter to them.
Music legends Bell & Spurling, famous for their hit song "Sven Sven Sven", joined Farage at the end of the show.
The duo performed their new song "Nigel Says" and were met with a rapturous applause from the crowd.
Watch the performance above.
Farage is live, Monday to Thursday from 7pm, only on GB News.