By Alex Davies
Published: 19/09/2023
-
08:48
Updated: 19/09/2023
-
09:02
Eamonn Holmes and Isabel Webster were joined by Managing Director of Westerhill Farm, Clive Baxter, on Tuesday morning following new reports that almost 50 percent of farmers could face losing their livelihoods in the next 12 months.
Joining Breakfast with Eamonn and Isabel via video link, Eamonn was keen to learn where the blame lies for the dire situation.

---
Putting the supermarkets in the firing line, Eamonn began: "We thought all was fixed, we had this great love-in from the government saying they support British farming... what's going wrong here?
"We hear that nearly a third of supermarkets have cancelled farming orders with no explanation.
"And again, another high figure, almost a third, are failing to pay within 30 days.
"I've got a new thing to suggest... why don't we all go and get our weekly shop and say, 'We'll pay you in a month!'"

Baxter replied to Eamonn's suggestion by admitting the supermarkets was just one of a number of factors behind the perilous state of British farming.
"I think you're being a bit simplistic I'm sorry to say about the way our problems are," Baxter replied. "We have a number of problems and bestly the risk-reward balance is out of kilter.
"The retailer section is just part of that (because) we've got things like climate, problems with labour - there's a lot of things causing farmers to think about stopping growing fruit or veg.
"The government's actually introducing schemes to take fruit out of production as well.
"So it's a number of things that are contributing to what's happening."
Baxter's response led Eamonn to question why anybody would want to take up farming in this day and age.

The farmer let out a giggle before he replied: "That is a very good question!
"We actually do like being farmers but it is a business at the end of the day and it has to make money.
"And if it doesn't make money, then you have to do something else," Baxter warned.
He added: "So if fruit isn't making money, if veg isn't making money, you have to consider stopping doing that and I think you'll still see farmers but they'll be doing things in a different way and that doesn't feed the nation!"
Baxter then informed Isabel about the negative impact wonky veg has on his business as it actually ends up reaping a negative value for farmers.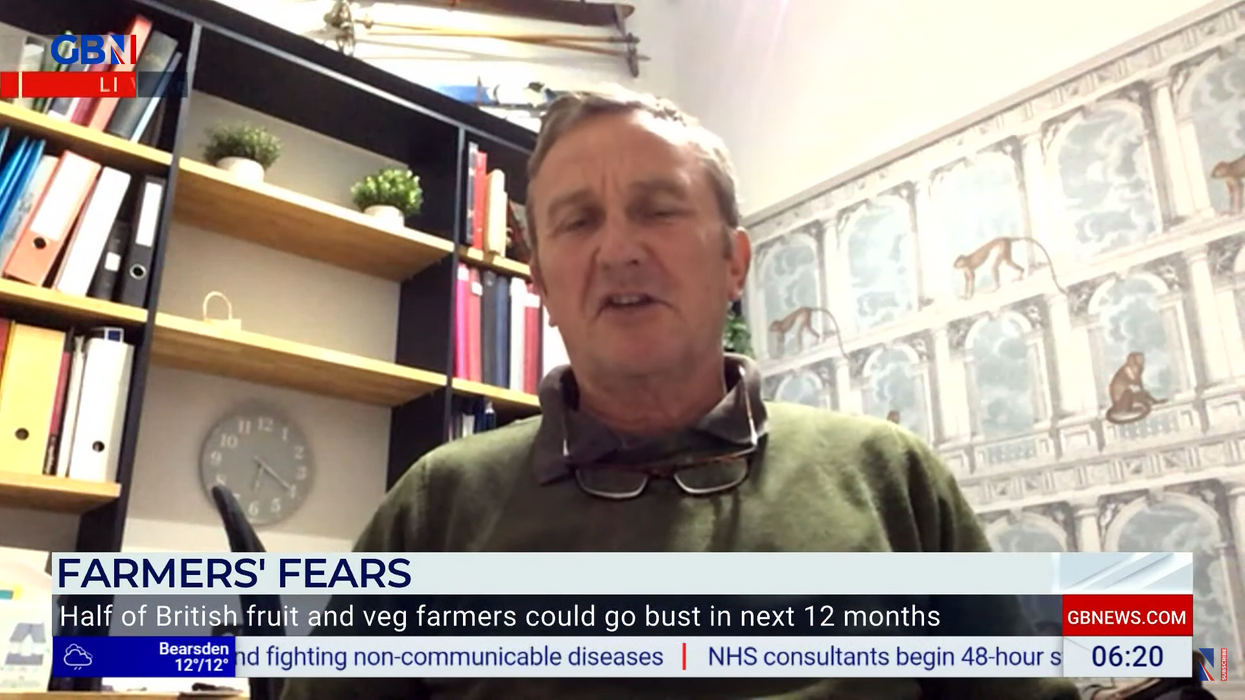 Clive Baxter shed light on the current state of affairs for farmers
GB NEWS
"We get a much, much lower price and it's not viable," he told Isabel. "You don't help me at all by buying wonky veg."
Eamonn put the spotlight back on supermarkets as he asked: "Are the supermarkets helping you? Who is not pulling their weight in terms of supporting British farming?"
"Well, the supermarkets are actually buying fruit but they're under pressure to keep food inflation down," Baxter explained.
Pointing out the holes in the supermarkets' current approach, he added: "So they're in a very difficult position. But they need to relook at the way they buy and how much margin.
"They take huge margins in the fruit and veg sector, do they need to do that? I don't think they do!"