Published: 31/08/2023
-
10:53
Updated: 31/08/2023
-
10:55
An Iberian plume has been tipped to send the mercury in Britain soaring with a mini-heatwave set to hit the country.
Weather maps show that between 2 and 10 September, the UK could experience soaring temperatures, climbing up to 29C at its peak.
---
Areas in England such as London, East Anglia and the Midlands are expected to feel the best of the heatwave over the nine-day period.
According to Max heat maps on Netweather.tv, temperatures are set to rise to around 25C and will return each day before peaking on 4, 6 and 7 September with highs of 29C on the south coast.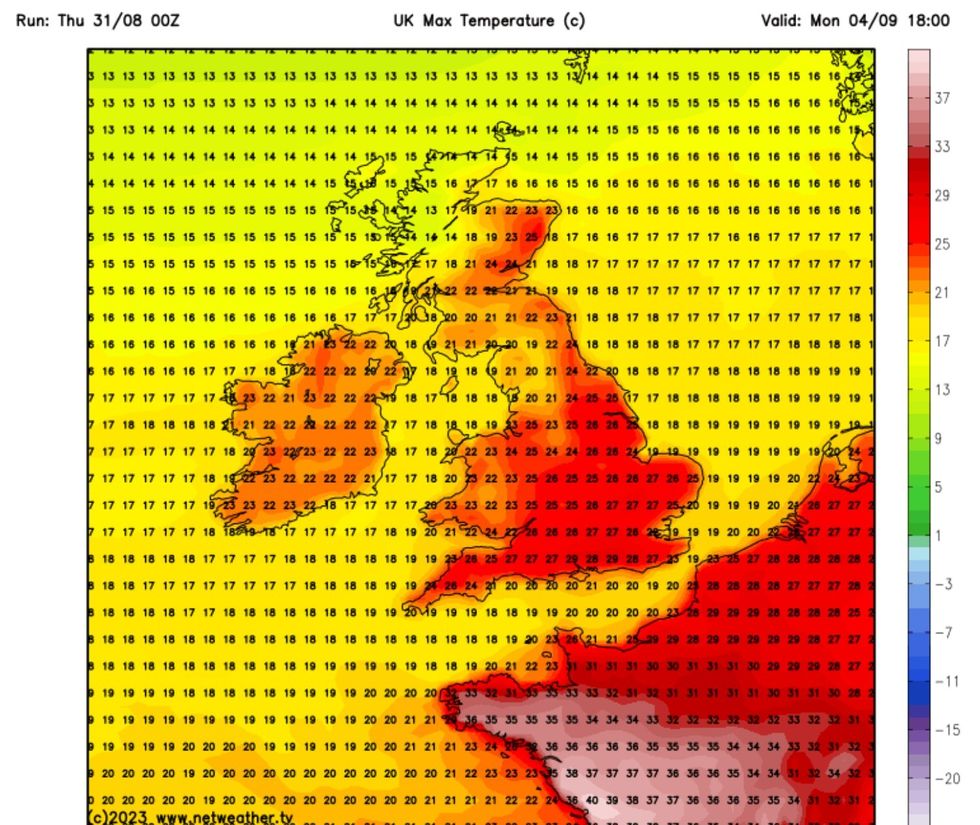 Netweather map showing max temperatures for 04 September
Netweather
According to BBC weather maps, Barcelona will match the UK at 29C next Monday while dropping to 27C on Wednesday.
Despite remaining in the mid-twenties, temperatures will start to drop off later next week and into the following weekend according to the Netweather maps.
It comes after Europe experienced one of the most deadly heatwaves in recorded history with temperatures catapulted towards 50C and sparking hundreds of wildfires.
The Met Office has given a more reserved forecast, predicting that temperatures will remain "close to average" but may feel "rather warm in any sunshine".
WEATHER LATEST: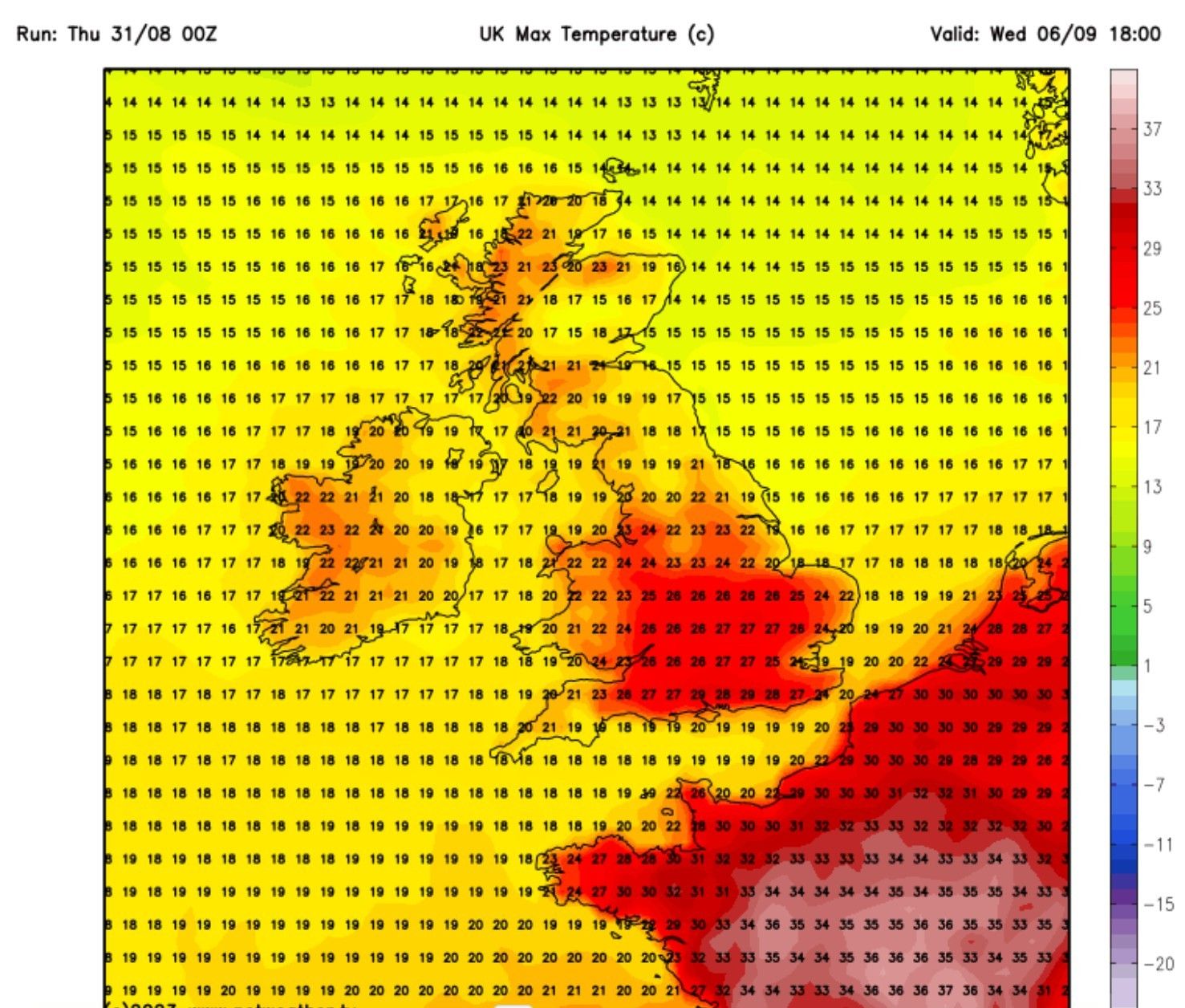 Netweather map showing max temperatures for 06 September
Netweather
"The chance of some thundery showers towards the south is likely to remain, while any unsettled spells will probably be confined to the northwest," the Met Office long-range forecast predicted.
Met Office spokesperson Graham Madge said: "At this stage, signals suggest a typical mix of conditions in September, with more unsettled conditions more likely in the northwest, and drier conditions further south and east, though large local variations are possible.
"A westerly flow of weather for the UK is most likely, with a mix of drier spells as well as interludes of rain through the month, as you'd normally expect.
"Temperatures are likely to be near-average at the start of the month."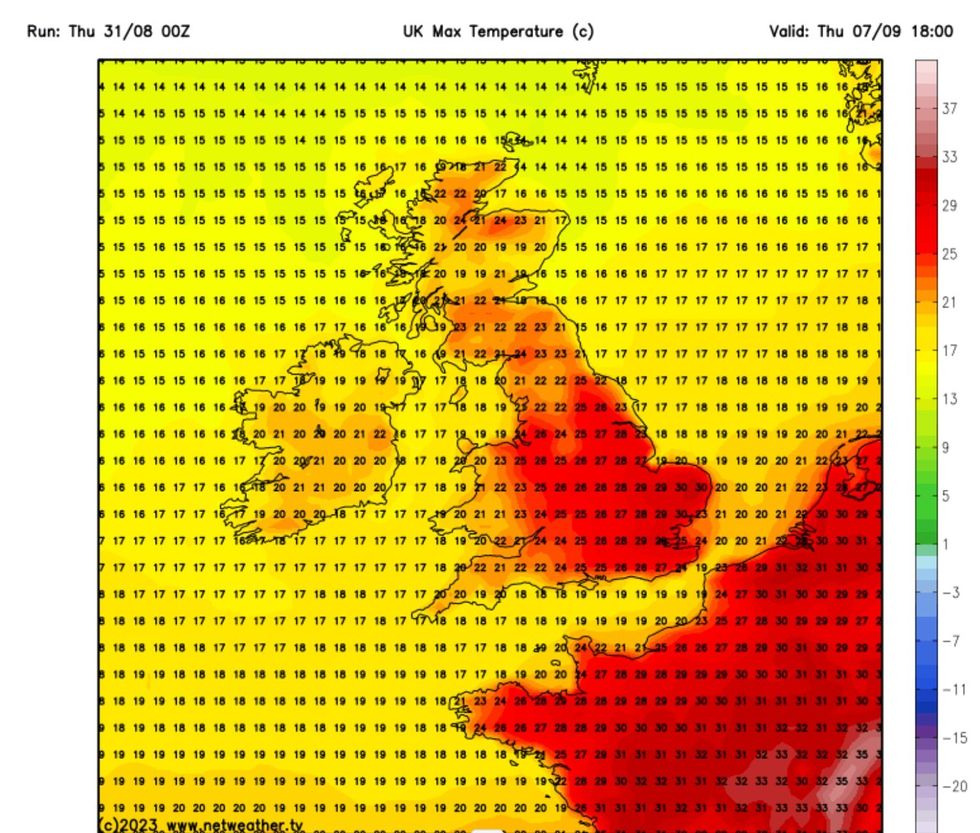 Netweather map showing max temperatures for 07 September
Netweather
Looking ahead to this Friday and the coming weekend, the Met Office predicted "scattered showers" and will remain "mostly cloudy".
The Met Office said: "The best of any sunshine most likely across Scotland. Rather humid in the south."

Then looking at the weekend, they added: "Largely fine on Saturday, perhaps a few showers towards southeast England.
"High pressure keeping it settled for Sunday and Monday, though rain could move across northwest Scotland at times."