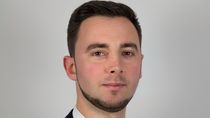 By Dan Falvey
Published: 15/05/2023
-
12:25
Updated: 15/05/2023
-
12:48
This is the moment a protester invaded the stage of the National Conservatism conference while Jacob Rees-Mogg was giving a speech.
The Tory MP and GB News presenter was addressing the room about the the Government's "U-turn" over scrapping EU laws when he was interrupted.
A man interjected at the lectern to tell the audience: "Ladies and gentlemen, you're very nice people and I'm sure you are fantastic.
"I would like to draw your attention to a few characteristics of fascism."
The audience booed whims he attempted to speak, before he was dragged off the stand.
Climate change group Extinction Rebellion has claimed credit for the stunt.
Watch the video above to see the moment he was hauled off stage.