Published: 29/01/2023
-
18:32
Updated: 29/01/2023
-
18:34
A LEADING feminist has blasted Nicola Sturgeon's handling of the gender identity debate.
In an explosive attack, author Julie Bindel said Ms Sturgeon was a "disgrace" and that she hoped the fallout from recent events would lead to the end of her political career.
---
Appearing on GB News she told Camilla Tominey: "I think it's an absolute obscenity that we put the so-called rights of men who just identify as women.
"I think Nicola Sturgeon is a disgrace. I think this is all about political expediency. She is looking at getting plaudits.
"She wants to be seen as a kind, inclusive person.
"She wants to be praised by all of those that don't give a damn about women's rights because of course, it's really deeply unfashionable to be a feminist and say, men do commit acts of violence and that this is wrong.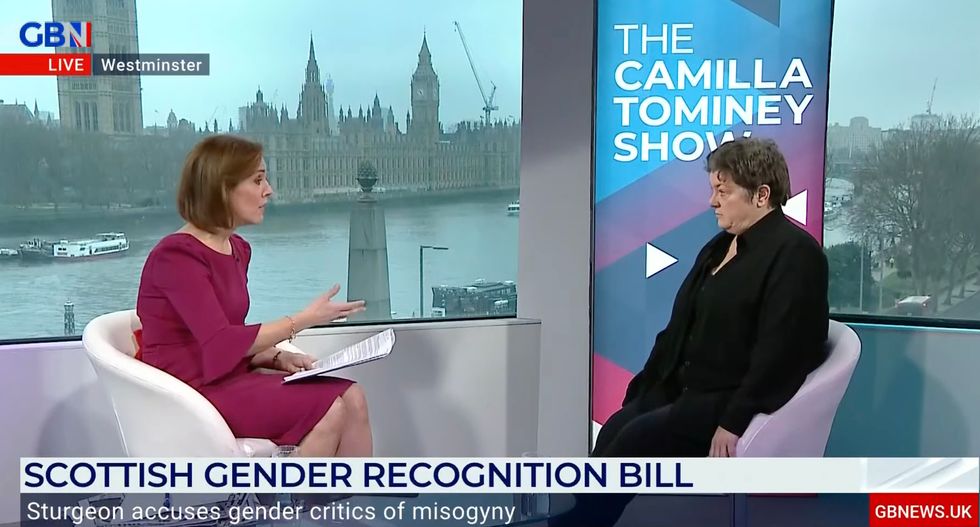 Julie Bindel was speaking on the Camilla Tominey Show
GB News
"It is a deeply unattractive and unpopular thing to say to people. It gets their hackles rising, and I've known this for over 40 years."
Outlining why she believes Ms Sturgeon had let women down she continued: "Nicola Sturgeon is anything but a feminist.
"She's a betrayer of women. She's a disgrace.
"And I do hope that this ends her political career, and that it serves as a warning to all the others who engage in posturing that come after her."
Commenting on the wider debate of prions and the rights the trans community should have to choose where they serve their sentence, added: "I actually would say that there is no space no place at all for any man, whether they're convicted sex offenders or not in women's prisons and women only spaces.
"And the idea that gender identity somehow trumps sex is nonsense."
The row comes as Scotland's Justice Secretary announced no transgender detainee with a history of violence against women will be placed women's prisons. Keith Brown also ordered an "urgent review" into the issue.
Mr Brown announced the measures on Sunday, after MSPs voiced anger at reports that prisoner Tiffany Scott's request to move to the women's estate had been rubber stamped.
Earlier in the week, Isla Bryson was initially sent to the women's prison at Cornton Vale after being convicted of two rapes – which were carried out when she was a man – before being moved to a men's prison.
After Bryson's case was raised at First Minister's Questions, Nicola Sturgeon said the prison service carried out individual risk assessments in such cases and no "formal direction" had been given by the Scottish Government.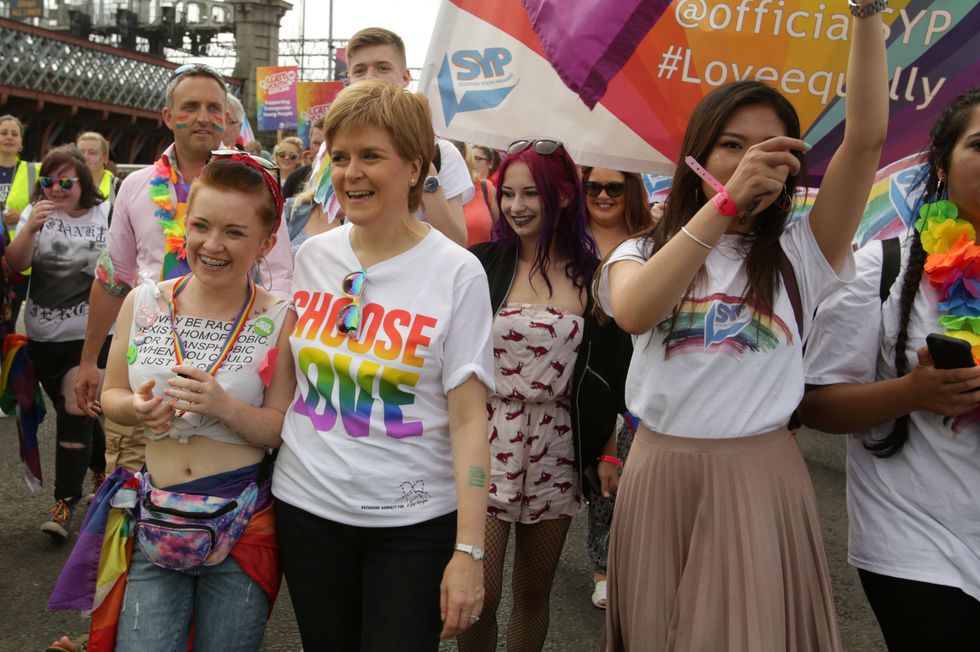 Nicola Sturgeon has betrayed all woman, according to Julie Bindel
David Cheskin
In a statement, the Justice Secretary said the measures would be in place until the Scottish Prison Service completes a review of its management of trans prisoners.
Mr Brown said: "I understand that the issue of any trans woman being convicted of violent and sexual offences is a highly emotive subject and that the public concern is understandable.
"As the First Minister pointed out last week, we must not allow any suggestion to take root that trans women pose an inherent threat to women.

"Predatory men are the risk to women. However, as with any group in society, a small number of trans women will offend and be sent to prison.
"Therefore, I hope that the measures I am about to highlight will offer reassurance in the ongoing ability of the prison service to manage trans individuals and ensure the safety of all prisoners.
"We must also never forget that there are victims in these cases. My thoughts remain with them."
He introduced two rules, the first being that no transgender person already in custody with any history of violence against women will be moved from the male to the female estate. The second is that no newly convicted or remanded transgender prisoner with a history of violence towards women will be placed in female prisons.