Published: 16/07/2023
-
09:07
Updated: 16/07/2023
-
09:35
Britain has joined The Comprehensive and Progressive Agreement for Trans-Pacific Partnership (CPTPP), with Business and Trade Secretary Kemi Badenoch signing on the dotted line on Sunday.
The pact prizes open new markets for UK producers to export cars, textiles, whisky, cheese, beef, lamb and other goods.
---
The CPTPP agreement might also result in cheaper imports of clothing, electronics, coffee and kiwi fruits.
Kemi Badenoch, 43, has touted the deal as the "clearest demonstration" yet of Britain's freedom outside of the EU, as she claimed Britain would be sat on the "top table" of the Indo-Pacific group.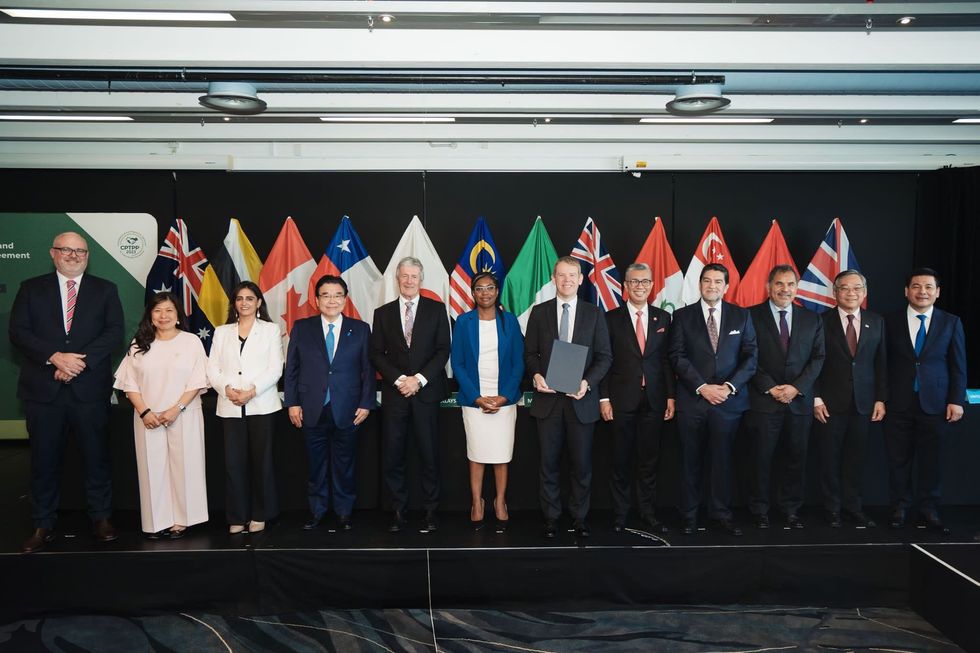 Kemi Badenoch signed the deal in Auckland alongside New Zealand Trade Minister Damien O'Connor, Canadian Trade Minister Mary Ng, Japanese Minister for Economic Revitalisation Goto Shigeyuki, and Australian Deputy Trade Minister Tim Ayres
Twitter/Kemi Badenoch
Signing the pact in the early hours of Sunday, Badenoch said the deal "simply would not have been ­possible if we were still stuck in the EU".
Britain has become the first European country to join the trading bloc, which consists of 11 major economies including Australia, Canada, Malaysia, Mexico, Japan and Vietnam.
As agreed of the deal, nearly all exports to this bloc will pass through with zero tariffs.
The CPTPP has a population of over 500 million and currently accounts for around 15 per cent of global GDP which is reportedly worth £12 trillion in GDP.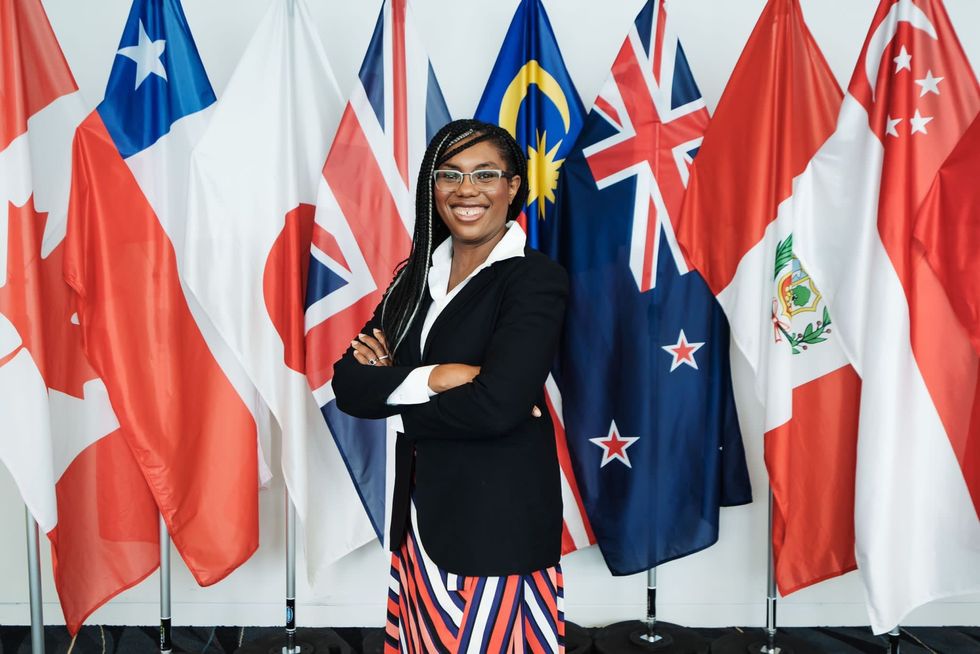 Economists have forecasted that the trade deal will provide a 0.08 per cent boost to Britain's GDP.
Twitter/Kemi Badenoch
Speaking ahead of the signing, Badenoch said: "I'm delighted to be here in New Zealand to sign a deal that will be a big boost for British businesses and deliver billions of pounds in additional trade, as well as open up huge opportunities and unparalleled access to a market of over 500 million people.
"We are using our status as an independent trading nation to join an exciting, growing, forward-looking trade bloc, which will help grow the UK economy and build on the hundreds of thousands of jobs CPTPP-owned businesses already support up and down the country."
Former Prime Minister Liz Truss told the Sunday Express: "One of the immediate benefits of Brexit was taking back control of UK trade policy, which had been set for us by Brussels for more than 40 years.
"That's why, as International Trade Secretary, I was so keen to get negotiations underway on a raft of new trade deals with old allies and new partners around the globe."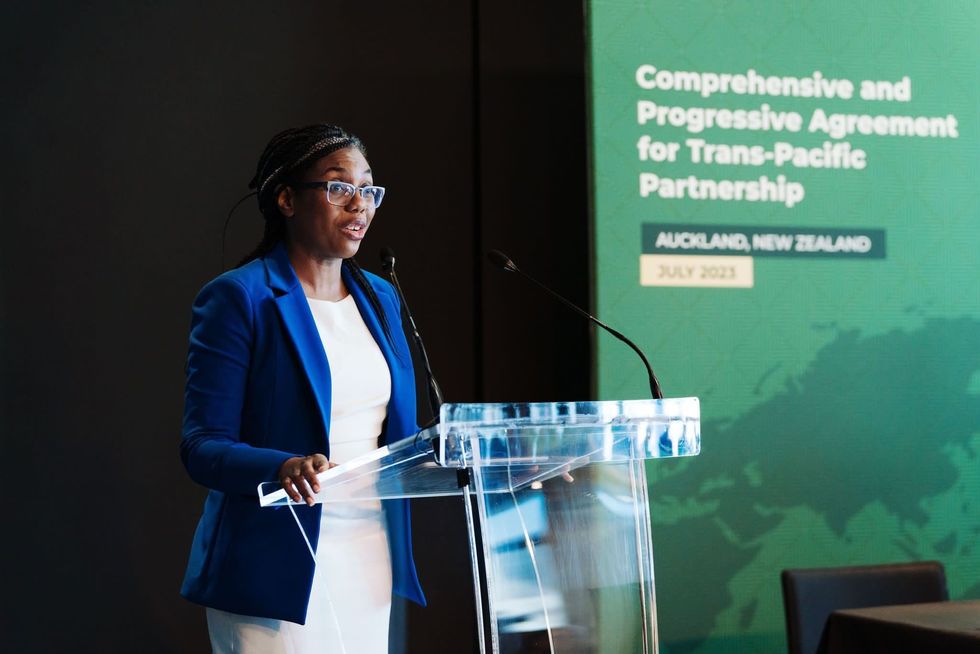 ​Badenoch has been bullish about the benefits of Brexit Britain
Twitter/Kemi Badenoch
She added: "There's also an important ­geopolitical impact, with the CPTPP serving as an essential bul­­wark against China."
Economists have forecasted that the trade deal will provide a 0.08 per cent boost to Britain's GDP.
Ian Stuart, CEO at HSBC UK, said: "The UK's formal accession to CPTPP marks a significant milestone for UK trade, enabling ambitious British businesses to connect with the world's most exciting growth markets for start-ups, innovation and technology.
"At HSBC UK, we are incredibly excited about the opportunities this agreement presents; as the world's leading global trade bank we will support UK businesses to achieve their full potential and open up a world of opportunity.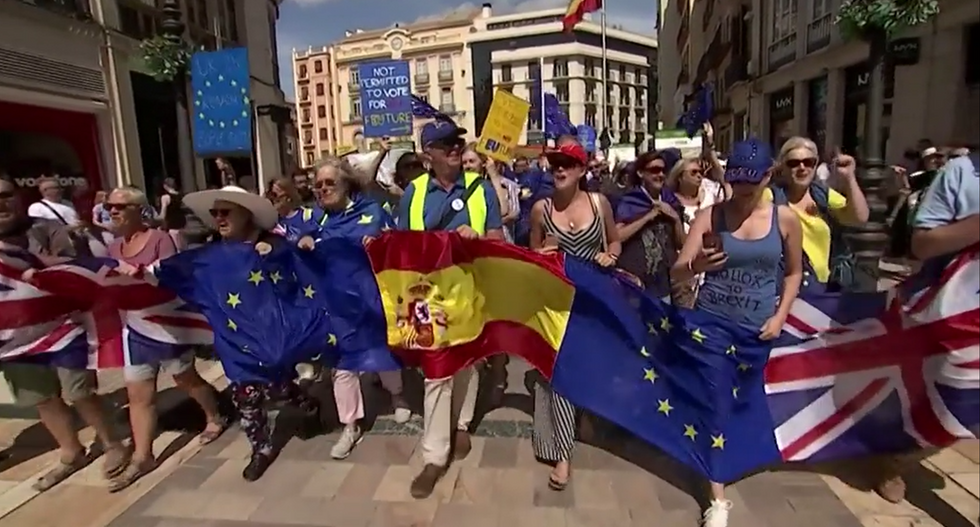 Anglo-Spanish relations have become fraught amid post-Brexit talks about GibraltarReuters
Former Brexit minister David Jones said: "The CPTPP is a ­massive opportunity for the UK. It's an association of some of the most dynamic economies in the world, with a population of more than 500 million.
"It differs from the EU in that we're not expected to cede our sovereignty to some supra-national organisation.
"All in all, this is a massive opportunity for the UK, entirely attributable to our decision to leave in 2016."
Marco Forgione, director-­general for the Institute of Export & International Trade, said: "Manufacturers in the Midlands and Yorkshire will benefit from more integrated supply chains, bringing in car parts from Mexico and critical minerals from Japan, shipping the finished products across the globe.
"Brewers and distillers across the UK will be able to ship high-quality beers, wines and spirits tariff-free.
"We can fly the flag for brand Britain with our desirable fashion lines. Clotted cream from Corn­­wall, shortbread from Scotland and, of course, delicious Welsh cakes will be readily available to a new audience."