More than a year since the murder of George Floyd in America sparked international condemnation and globalised the Black Lives Matter movement, the impact and consequences of this movement continues to be felt.
Black Lives Matter (BLM) has reignited a long-standing debate in Britain about racism, communities and the police. It has prompted many police forces to adopt a range of measures to improve relations with the communities they serve, as well as measures to change the structure and makeup of the institution itself.
---
For example, in November 2020, London mayor Sadiq Khan called upon Scotland Yard to double its target to recruit double the amount of ethnic minority people from 19 per cent to 40 per cent by 2022 to better reflect the capital's population.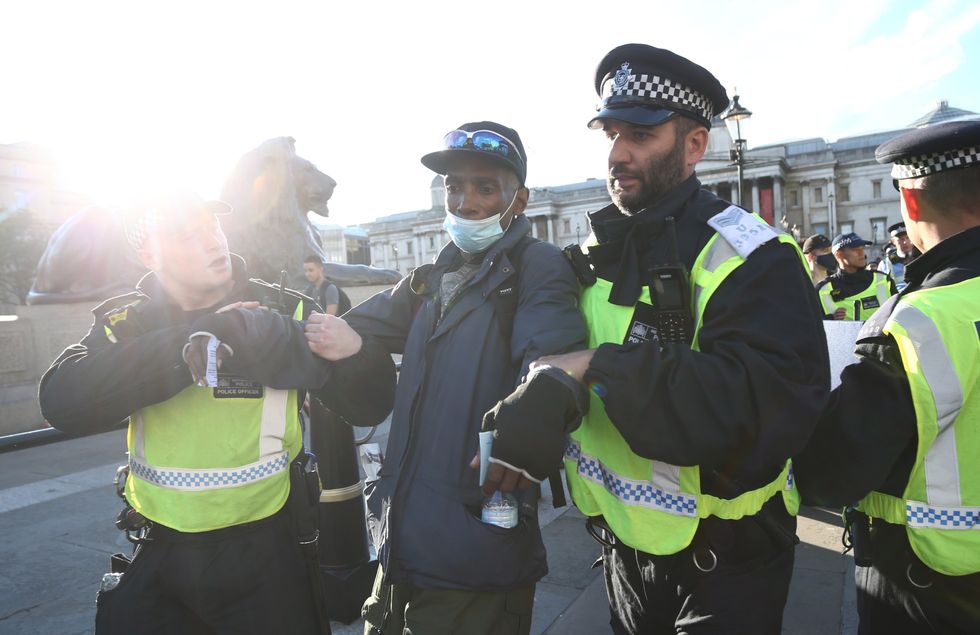 A man is led away by police during Black Lives Matter rally in Trafalgar Square, London.
Yui Mok
However, critics argue the diversity target is unattainable, that the police force does not have a problem with institutional racism and that reluctance to challenge anti-police narratives are allowing negative rhetoric about the police to dominate the conversation, contributing to division within communities and an inaccurate perception of what policing is really like.
The Metropolitan Police told GB News that they have been "carrying out a wide range of activities to build stronger relationships with our communities and understand their tensions". Some of these measures include:
A new anonymous 'Listen Survey', created to understand and respond to the concerns of young Londoners. Those who take part are offered the chance to go on a ride-along to see for themselves the work of frontline officers.
Creating Police Encounter Panels, which they hope will give communities an opportunity to feedback, watch Body Worn Video (BWV) footage and offer views on what went well or what could improve.
Bringing in Independent Advisory Group members and other community members into operational settings to demonstrate the complex and challenging situations we police, and to gain their views on how certain tactics and approaches may be perceived by certain parts of our communities.
Inviting members of Black, Asian and Multiple Ethnic Heritage (BAME) communities in to speak to new recruits, including individuals who have had negative experiences with police in the past.
Widening out the range of community representatives and stakeholders they engage with central strategic advisory groups in place for race, disability, LGBT+, use of force, stop and search, and handcuffing and scrutiny groups.
Whilst the police undoubtedly have a significant role in fostering positive relations between communities and institutions, the role that communities and civil society organisations have in forging good relations with the police is also important.
Concerns have been raised about anti-police narratives in society, especially from the BLM protests, which may also contribute to difficult relations between the police and ethnic minority communities.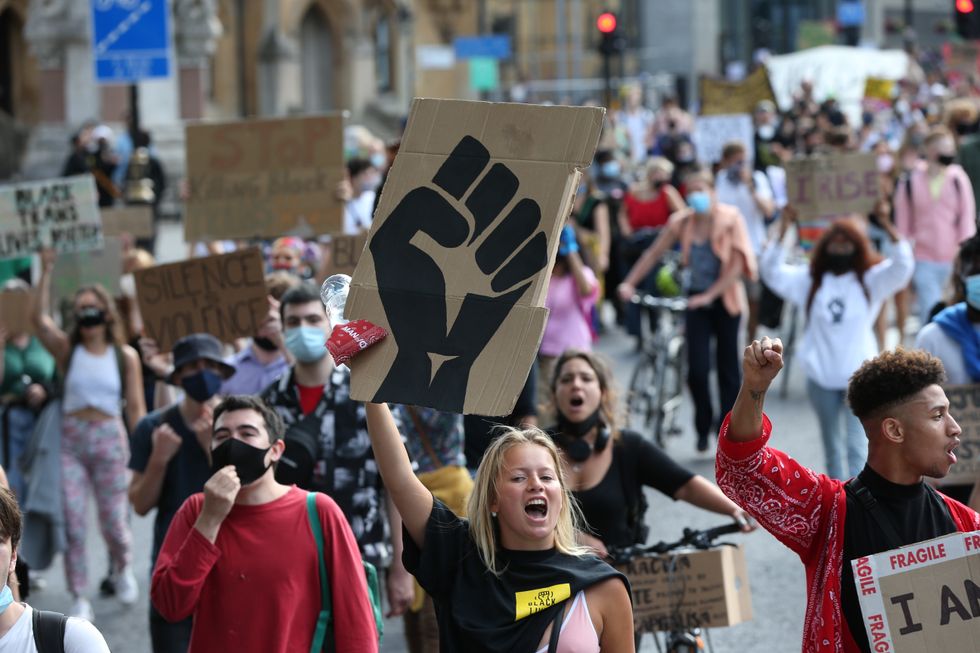 People during Black Lives Matter rally walk along Victoria Street in London.
Jonathan Brady
This year, The Telegraph reported that more than 430 racially-aggravated incidents were recorded against BAME officers between June and September last year, up from 150 in the previous four months. These racially aggravated attacks included everything from harassment to grievous bodily harm (GBH).
Whilst it is understood that far-right protesters were also believed to have been responsible for some of the increase in racially aggravated attacks on officers, it is understood that a significant proportion of the attacks were from BLM supporters. Last year, the equalities minister Kemi Badenoch spoke in Parliament of how a black police officer was called a 'pet-n****' by a white protestor.
Dr Rakib Ehsan, a social cohesion and institutional trust expert, argues some of the abuse suffered by police may be attributed to the perception that ethnic minority people joining the police are "race traitors" and have "betrayed their own racial groups".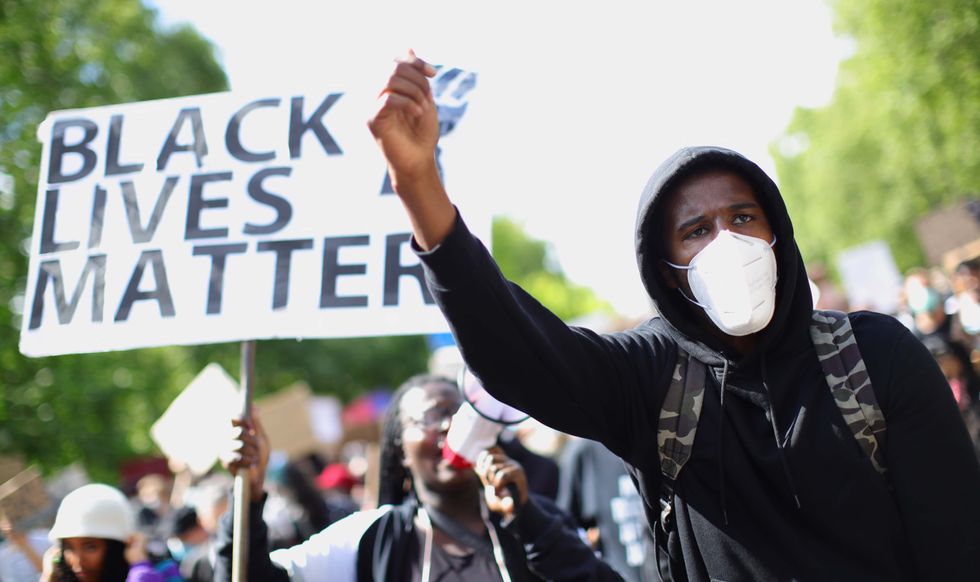 People march in central London after attending a Black Lives Matter rally in Hyde Park, London.
Aaron Chown
However, Dr Ehsan stresses that the BLM movement must not be confused with ethnic minority communities themselves, which, according to research, do not have many of the strong anti-police attitudes which have come to be associated with the movement.
Dr Ehsan said: "A summer 2020 study by Hope Not Hate found that a comfortable majority of ethnic-minority people believe that the police, on the whole, is a force for good.
They do not believe racism is a 'systemic' problem in policing, but rather a matter of rooting out 'bad apples'."
"A recent crime survey for England & Wales found that when compared with the white British mainstream, people of Indian, Chinese, Bangladeshi and Black African-origin are more likely to have confidence in their local police force.
"The key problem is the majority of Black British people feel that they are unfairly treated by the police, on the grounds of their racial identity." Chris Donaldson, a black former Metropolitan police inspector, argues the narrative that police are betraying their community is "rubbish" and instead that "a police officer in London does more for the anti-racist cause than any part-time protester calling me a judas does".
Donaldson states that "abuse and racist abuse of police officers is common" but that "the subject is spoken about a bit too much and given far too much weight". "I can't emphasise enough policing is not a place for the fainthearted - the very least you have to worry about is people calling you nasty names at a demonstration," he said.
"There is a whole host of different policing scenarios that are far more challenging. Personally, I never lost sleep over anything that was said to me." Donaldson, who has stated he does not believe the police are institutionally racist, is strongly critical of diversity targets within police forces and how negative stories about the police far too often go unchallenged.
He said: "The targets the government have set are unrealistic and they know that - but by setting them so high they think they can collect their moral and ethical medals.
"The same old things still affect the recruitment of BAME [people], the negative image the police have in the BAME community, reinforced by high profile [people] who served long careers in the police, collected the medals and the pension, but decided to pull the ladder up after them."
"Quite often their storyline isn't challenged which is a big mistake by the police." "Not enough good stories are publicised - positive role models should be promoted far more by the police instead of letting the usual suspects hog the headlines."
Donaldson argues that we shouldn't treat BAME applicants like "aliens" and that they have the same wants and needs as all applicants.
He added: "My instincts and reasons to join the police were the same as my white colleagues - wanting to do good, wanting to do an exciting and challenging job, wanting a reasonable wage and opportunities to progress and diversify into specialist areas."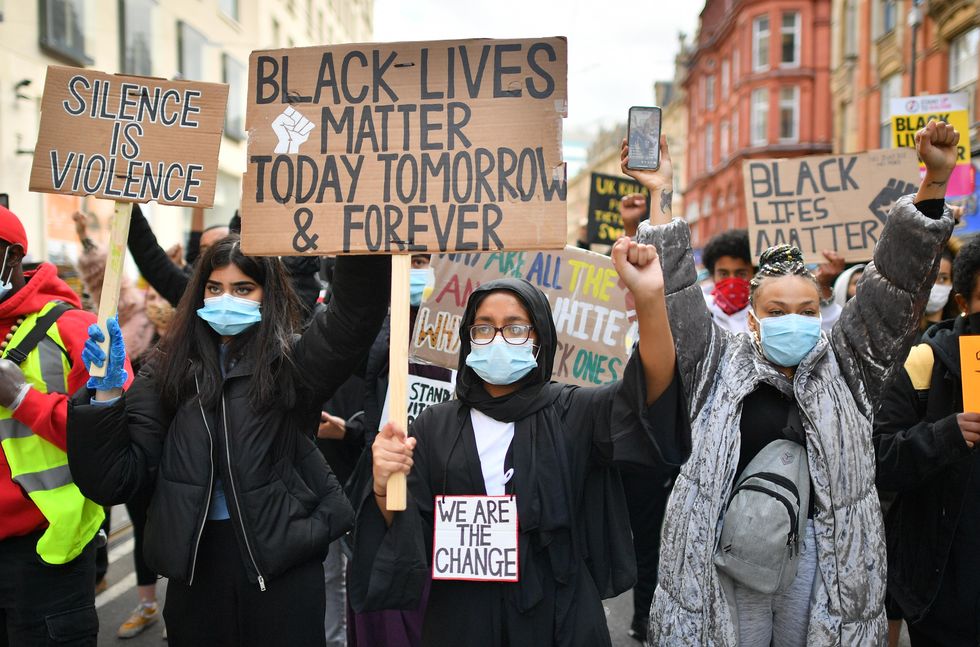 People during Black Lives Matter rally in Birmingham.
Ben Birchall
In the last week, recently elected Conservative police and crime commissioner for Leicestershire Rupert Matthews wrote in ConservativeHome that he urged his staff not to have contact with BLM.
He wrote: "Why are we meeting an organisation that wants to defund the police, has put police officers in hospital, and desecrated the cenotaph in London?
"Come the meeting, I have a dozen or so faces looking at me from the Teams screen. 'Any Other Business'. 'Yes,' I say. 'As of now this organisation will have absolutely no contact at all with Black Lives Matter.' "There is a deathly silence. Meeting over, the screen goes blank."
This highlights the impact the BLM movement has had on policing is likely to continue to be a focal point for public discussion and debate.
And the British public themselves have mixed attitudes towards the BLM movement. A November 2020 YouGov poll found that 55% of the British public, including a plurality of ethnic minority people, believe that the summer protests had increased racial division in society, with only 17% disagreeing.
Therefore, the BLM protests have contributed to the police initiating more measures to improve relations with ethnic minority communities and ensure it's a place that people from a wide variety of backgrounds will want to apply to.
However, concerns remain that while anti-police narratives continue to dominate the conversation, there is a reluctance to challenge them. The obstacles to diverse recruitment will continue and inaccurate perceptions of the police will remain.