Published: 29/06/2021
-
11:52
Updated: 29/06/2021
-
12:02
E-scooters must be better regulated and drivers need to identifiable - otherwise we could end up with injuries and fatalities on our roads, a criminal justice lawyer has warned GB News.
Casualties in London soared by more than 570% in just a year – but the true increase is likely to be far higher.
---
Currently, people driving e-scooters are not easily identifiable like motorists due to a lack of number plate or registration number.
Private e-scooters cannot legally be used in the UK except on private land - but more than 500 of the devices seized by the Metropolitan Police in the space of a week earlier this month.
Nick Freeman warned while public hire scooters are limited to up to 15 mph, some privately bought scooters can reach up to 68mph.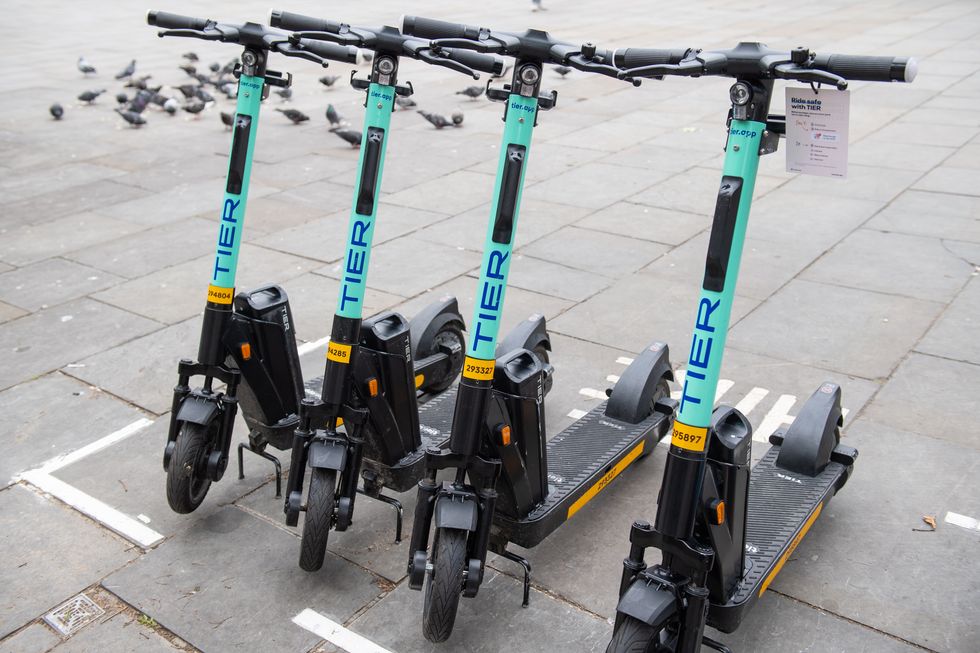 General view of E-Scooters operated by Tier at an E-Scooter hire point in Kensington, west London Picture date: Tuesday June 29, 2021.
Dominic Lipinski
"I think because the design of them is inherently dangerous, the wheels are too small, and if you want to indicate, you have to stick your hand out. People aren't trained to ride them," he told GB News.
"There are all sorts of problems. I think they need to be in a designated cycle lane. I don't think they fit well with cars. In the absence of a cycle lane, I think there is going to be some serious accidents or fatalities."
He added: "The vast majority of e-scooters we see on the road are illegal and should be seized by police.
"In relation to law surrounding e-scooters, it's exactly the same as cars. There's a penalty point system, you can go to prison.
"The big problem is that there is no registration system. What I'm proposing is whether or not riders of scooters should wear some sort of tabbard so if they were to commit a misdemeanour, they could be traced and identifiable in the same way a motorist is identifiable.
"When you make people accountable, they ride more responsibly."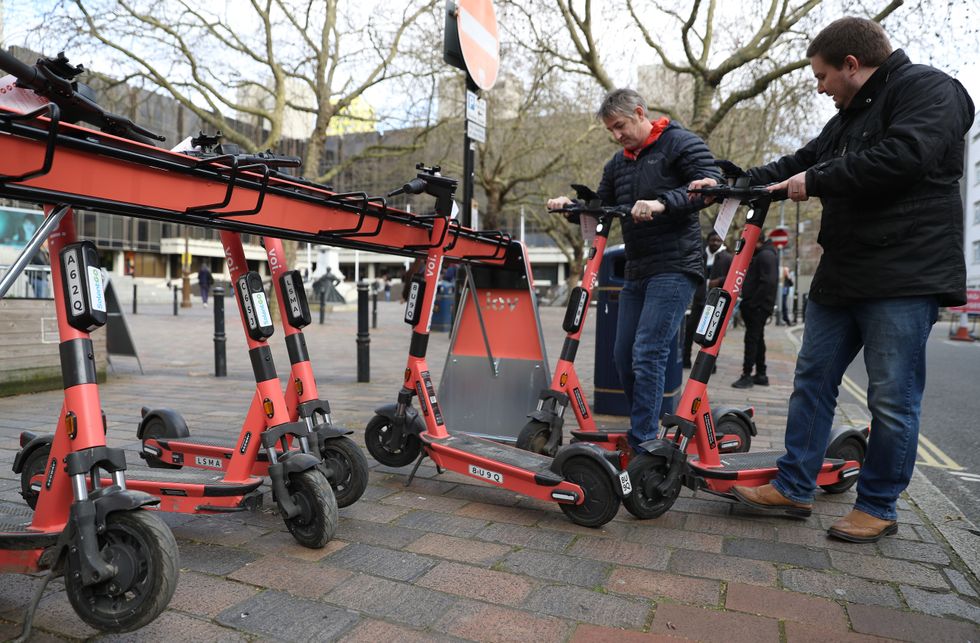 People take a Voi rental e-scooter from outside the Guildhall in Portsmouth as part of a Department for Transport trial on Portsmouth's roads. Picture date: Tuesday March 16, 2021.
Andrew Matthews
His warning comes as figures show the number of riders injured in collisions in the capital leapt from 27 in 2019 to 181 between January and November 2020.
The number of pedestrians hurt by e-scooters doubled over the same period, from 13 to 26, according to data released under Freedom of Information legislation.
There have been long-running safety concerns about e-scooters. E-scooter rider Shakur Pinnock, 20, died in hospital on June 18, six days after he was involved in a crash with a car in Wolverhampton.
He is believed to be the second e-scooter rider to die following an incident on UK roads. YouTube star and TV presenter Emily Hartridge died after she was struck by a lorry while riding one of the devices in Battersea, south London, in July 2019.
In April, a three-year-old boy suffered serious injuries when he was hit from behind by an e-scooter while walking on a pavement with his grandmother in Feltham, west London.
Charity Guide Dogs has called for the sale of private high-speed e-scooters to be banned, and expressed fear that their use means some people with sight loss are being forced to change their route or avoid independent travel altogether.